Visit Us in Peterborough, Ontario!
KARA is located at 730 The Kingsway, Unit 3, Peterborough, Ontario K9J 6W6. Our Centre is open Tuesday, Wednesday, Friday & Saturday 1 – 5 p.m., excluding major holidays. Get in Touch. Contact the Volunteers at KARA. By Phone: (705) 743-7668
By Email: office@karagen.org
Learn about your Ancestors
Want to know the FIRST STEPS to begin learning about your ancestors? What was great grandma's maiden name? Who were her brothers and sisters? Interested in learning more about your family history?
As we age, thinking about the earlier generations of our family is a natural interest. It becomes a growing desire within us to learn about those people we can just recall from our earliest years. We want to tell our own children and grandchildren a little about the folks we knew when we were ourselves but young kids. We delight in sharing memories of family.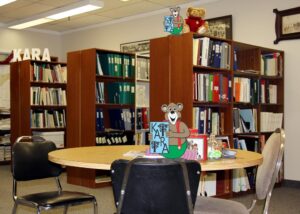 People enjoy discovering their roots
Wondering how to find out these interesting bits of information about your great aunts, uncles, grandparents, and cousins? Not sure where to begin? Visit the KARA Research Centre and ask us how to start researching your family history.
So many questions!
Confused by hundreds of entries in search results on the web? Don't know what a Vital Statistic record is? Wondering how often the Canadian census records were completed?
We have lots of answers. KARA volunteers can help you get started down the path of learning about your family members of long but, not so very long ago.
Contact KARA
Be sure to stop in for a visit at KARA. We have volunteers on staff, who are happy to answer your questions. They have years of experience with how to go about researching family history. They enjoy helping others get started in the fun of learning about those old folks.
Staff on duty are happy to answer questions about researching in general, local history and families of the area.  If you have a question, contact us at 705-743-7668.
Visitors please pay upon arrival, the $10.00 per person daily fee and enjoy your research time with us.
Get in touch with KARA: