Pioneers, Bartholomew and Margaret Downey
Bartholomew Downey, pioneer, his wife, Margaret Malone and their four young children came to Upper Canada in 1825. They sailed from Cork, Ireland, upon the ship Elizabeth as part of the Peter Robinson emigration.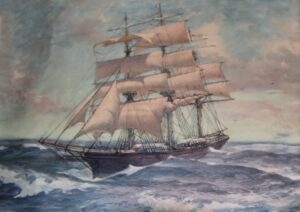 Sailing Ship of the 1800s
Arrival in Upper Canada
By August of that year they arrived at the port of Quebec and had traveled inland to the Newcastle District. Within the district was the area that would one day become the city of Peterborough. There they were encamped on the flood plains of the Otonabee River for some weeks. Gradually Peter Robinson settled all the arriving families onto homesteads. He was the man in charge of this immigration program on behalf of the British Government of the day.
Living in the Open
During the weeks of August 1825, as the family camped in tents on the flat land to the west of the river, Margaret was now into her seventh month expecting their next child. Her oldest daughter, Mary, was fourteen years. Owen, their next eldest, was eleven, John six and Ellen five years. Margaret gave birth to another daughter, Catherine, on 1 October 1825.
The family of Bartholomew and Margaret (Malone) Downey were granted the east half of Lot 6 in Concession 9 of Emily Township. They were settled onto their property by 24 November 1825. Peter Robinson sent men along with the family to show the settlers the way to their new homestead grant and there to assist in building a rough shanty dwelling. This small little "house" would see the family through their first few years in the township. In time, when enough land was cleared and enough food was being produced to feed the family year round, then they could build a more substantial log home in which to live.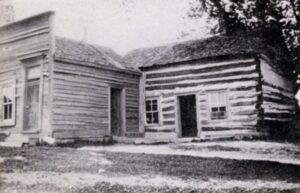 Early log house on right with wood frame shop attached.
Located on the Downey Family homestead at
Concession 9 Lot 6 east, Emily Township
Bartholomew and Margaret's family lived on their Emily Township homestead through their earliest years in Upper Canada. The area where they resided came to be known as the back woods of Upper Canada. Two more children were born to the family. Bartholomew Downey Jr., was born in 1828 and Thomas in 1832.
Bartholomew Downey Sr., died at their Emily Township home on 15 July 1855. His remains were buried alongside those of his son, Thomas, who had died in 1848. They rest in the Downeyville Pioneer Cemetery.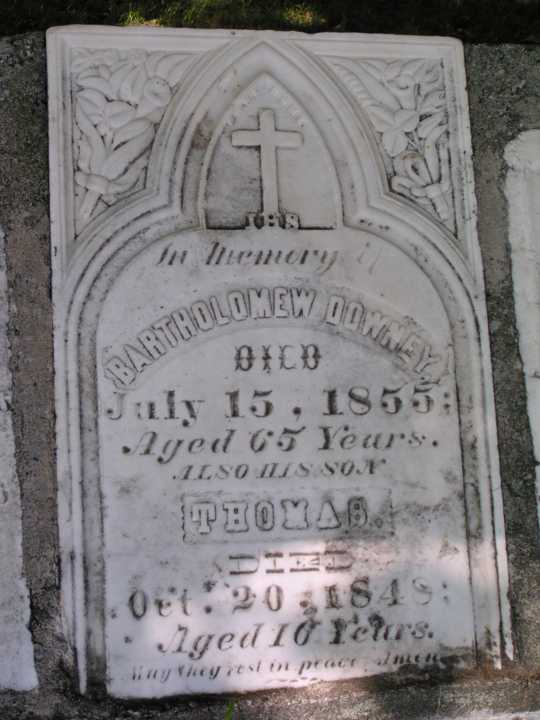 Bartholomew Downey Headstone
Land Passes Down the Generations
Left a widow, Margaret (Malone) Downey continued on, managing the farm with the help of her children. By 1861, Bartholomew was the new owner of the family land. He and wife, Ellen Clarke, remained on the homestead their entire lives. Bartholomew died 15 August 1902. His wife, Ellen (Clarke) Downey predeceased him. The homestead passed from Bartholomew and Ellen on to their children and descendants.