On 2 February 1831, at Market Hill, County Armagh, Ireland, Robert Coulter was born. He was a son of Jonathan Coulter. Market Hill is a small village along the southern side of Gosford Forest Park and near the town of Armagh. The family were members of the parish of Mullaghbrack.
Military Service
Robert enlisted in the First Battalion Rifle Brigade on 6 September 1848. He served in the Crimean War 1853-1856 as well as serving in many other places. He received a number of medals, including ones for service at the Cape of Good Hope and the Crimea. Robert's medal from the Crimea was with clasps for Alma, Inkerman and Sebastopol. Another medal he received was for service in British North America. He also earned four good conduct badges.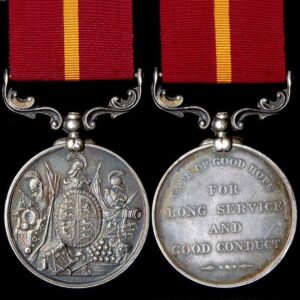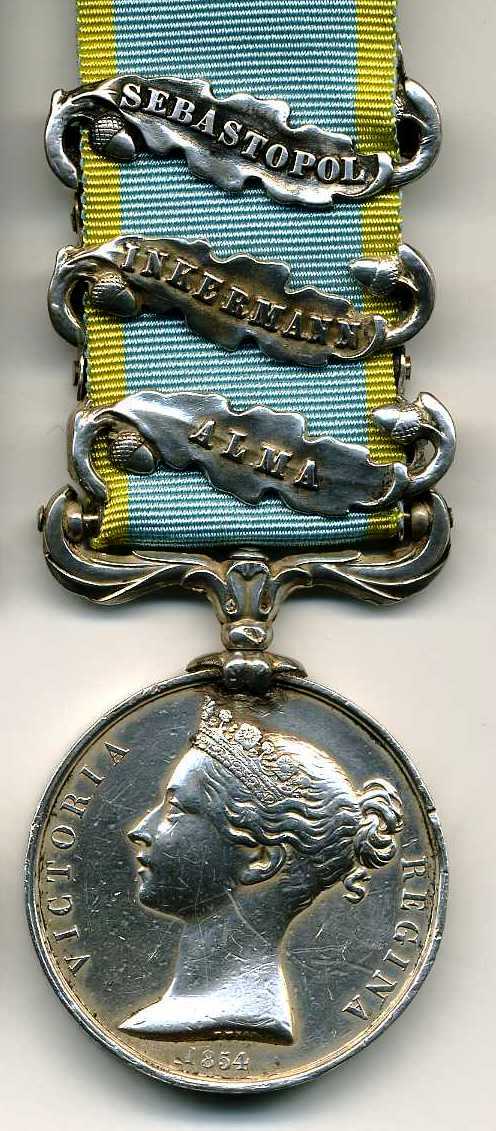 Immigration to Canada West
Leaving his military career behind, Robert came to Canada West in 1861. He established a residence in Hamilton, Ontario. Then, some years later in February 1870, he married Elizabeth Meredith. On 11 August 1871, a daughter was born to them. She was named Bessie Meredith Coulter, after her mother. A couple of years later, on 26 October 1873, another daughter was born.  Robert and Elizabeth named her Margaret Alice.
By the mid 1880s, the family moved to Peterborough, Ontario. At first, their home was at 356 Downie Street. In town, Robert obtained work as a laborer. By 1891, the girls were grown to young women. Bessie had work as a dress maker in 1893. Maggie worked for the Examiner newspaper. The family moved to a different home at 415 Downie Street, in 1897.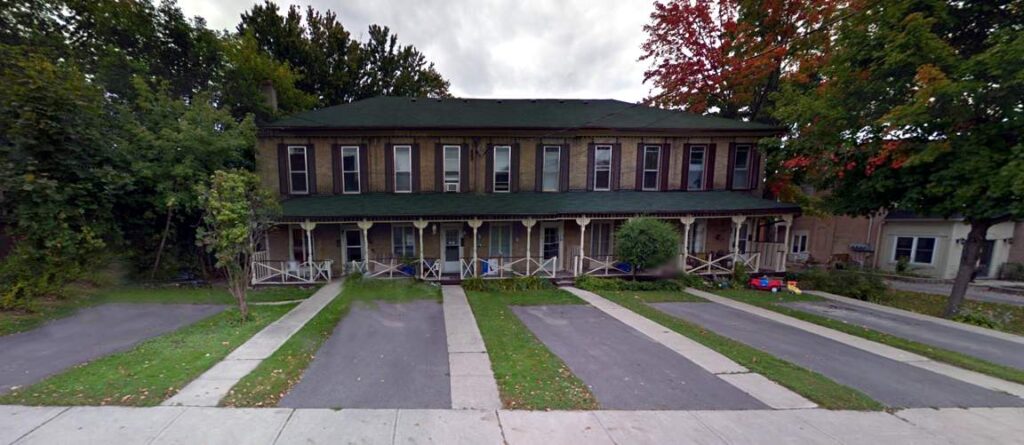 415 Downie Street, third door from left.
Source: Google Maps Street View September 2011
Margaret Weds at Peterborough
In February 1904, Margaret married Archibald McIntyre. The wedding took place at Peterborough. Her husband to be was born in 1857, at Keene, a small village in Otonabee Township. The village is not far from the town of Peterborough. Archibald was a son of Donald and Annie (West) McIntyre. Margaret was his second wife. In April 1934, Margaret (Coulter) McIntyre died. Archibald later remarried.
Elizabeth (Meredith) Coulter died in Toronto on 25 March 1911. Robert Coulter died on 5 April 1911 in Peterborough. They are both interred in Little Lake Cemetery, Peterborough. Their daughter, Bessie Meredith Coulter, died in 1919 and was buried next to her parents. She had never married.