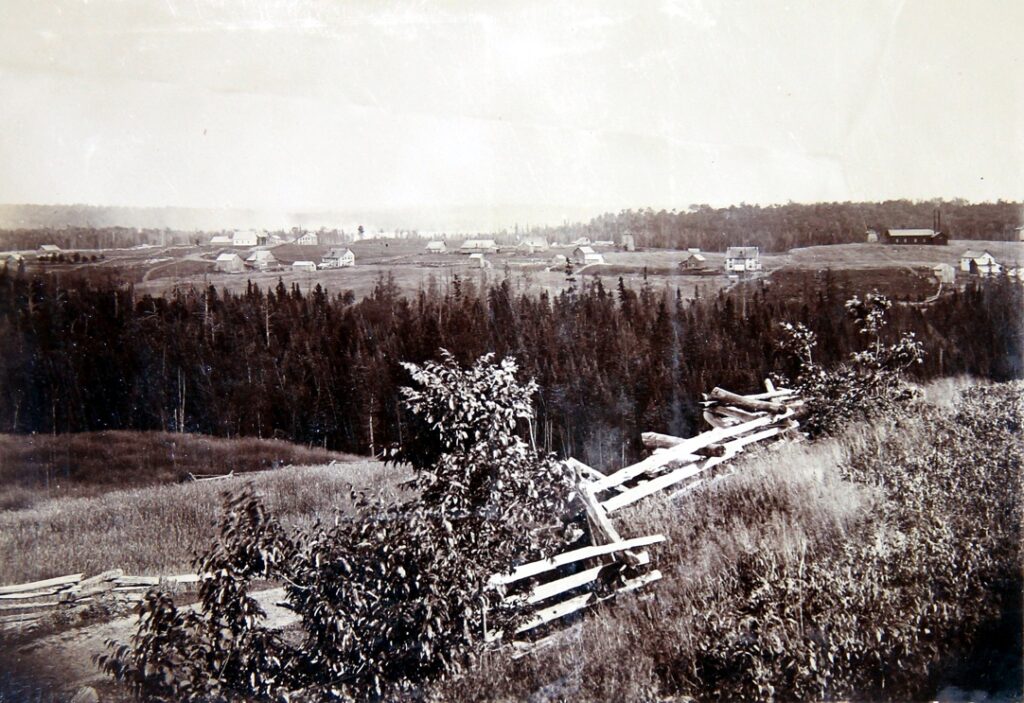 Hamlet of Coe Hill circa 1891
View of Coe Hill, Hastings County, Ontario, probably taken in August 1891 on a camping trip organized by Joseph Keele. Included on this trip were George H. Harvey of Hamilton; C. J. Barr and H. W. Gregory of Lindsay. The photograph comes from the Barr family album thus pointing to Charles James Barr being the one who took the photo. Joseph Keele, born in Birr, Ireland in 1863, immigrated to Peterborough, Ontario at the age of 15 years. Here he had an uncle of the same name, a partner in a local shoe business, Keele and Wright. The young man from Ireland, would enjoy a busy and illustrious life, including among his many areas of interest, working as a surveyor and geologist with the Geological Survey of Canada in Ontario and the Yukon. Joe Keele died in Ottawa on 21 February 1923. His friend, Charles James Barr was born in 1871 in Lindsay, Ontario, a son of Charles Denroach Barr and his wife, Elizabeth Henrietta Young.
The first name given to this community was Salem. It was later known as Welch Corners after a Moses Welch who opened a store here in 1882. That same year, Harry Johnson was to discover iron deposits in a nearby hill. William Coe, a gentleman from Madoc, formed the Coe Hill Mines company. For some years the place was then known as Coe Hill Mines.
Also in 1882, the Central Ontario Railway, which had begun in 1879 under the name Prince Edward County Railway, began building a line towards Coe Hill and its newly found iron fields. The rail line reached Coe Hill in 1884, the mine was found to contain only low grade ore, a situation that nearly sent the company into bankruptcy. With the loss of mining, the focus for the community gradually shifted to lumbering.