Queen Alexandra Sanatorium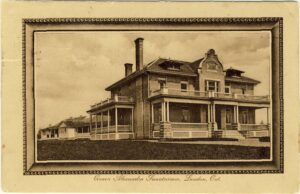 A post card from 1913 shows the Queen Alexandra Sanatorium in London, Ontario. Such facilities were opened for the treatment of tuberculosis. Among a growing number of centres across Canada, this one in London, opened in April 1910. By 1917 as the war came to an end, soldiers were returning from overseas service.
Many men returned home suffering from consumption as it was generally called, and were in need of these medical services to restore their health. So their weakened health became the driving force for expansion of rest homes and beds. That year, 1917, a fund raising drive took place in Canada to collect additional money for the needed expansion of beds in available sanatoriums.
The Queen Alexandra Sanatorium was located in the city of London, Ontario. Situated on a high bluff overlooking the Thames River that flows through the city, this home for recuperating soldiers and others affected by TB would see many years of use.
In 1949 it was renamed The Beck Memorial Sanatorium and continued in used up until September 1972.
In August 1913, this particular post card was sent by "Ethel" to her friend "Ada". The card was addressed to Mrs. Erastus Martin at Lakeside, R.R. No. 1, Ontario. Lakeside is located in south western Ontario, some miles distant from the city of London.
Ethel tells her friend that she was thinking about coming for a visit this fall and planned to stay a week or two.
While we cannot decipher who Ethel might have been, the same is not so for her friend, Ada. On 12 June 1912, in North Dorchester Township, Middlesex County, Ontario, Ada Ellen Thornton married Erastus Martin. Ada was twenty-one years old that year. Erastus was 23 years old. She was a daughter of John N. Thornton and his wife, the former Hanna Borron. Erastus was a son of George King Martin and Hanna Robinson.
In 1911, the John and Hannah Thornton family resided in the village of Dorchester. Ada had a younger brother, Lewis, born in 1894 and a younger sister, Eva, born in 1909.
George and Hannah Martin living in East Nissouri Township. Erastus was their only child living at home that year.