Rockcroft School - S.S. 6 Harvey Township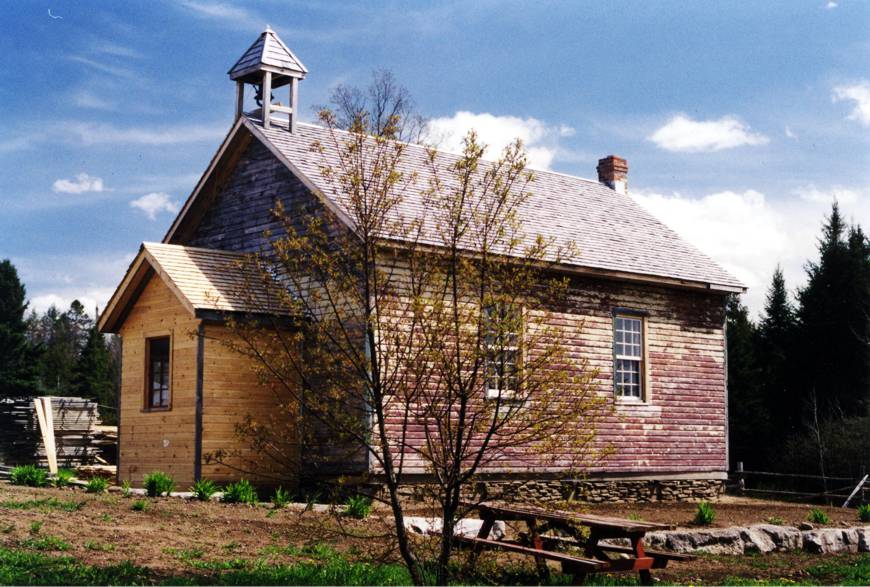 Rockcroft School S.S. No. 6 in Harvey Township, Peterborough County
The first school in this part of the township was built in the 1860s. It was constructed of logs and later given an exterior clapboard covering.  The log school was located on Lot 26 Concession 8 and was designated as SS No. 6. There were eight to ten family early families who settled in the area and had children who attended SS 6.
The James and Ellen Egan family had seven children. Those old enough to attend school in the 1860s were Mary Ann, James, Margaret, John, and William. By the close of the 1860s Mary Ann and James were finished with their school years.
Not far from the Egan household, lived the William and Eliza Taylor family. They had a family of nine children. Of these, William and Emaline were old enough to go to school in the 1860s. Some years later, the younger children, Eliza, Sarah, Richard, Barton, Lena, Belanda and Anson began attending classes at the Rockcroft School.
Next to the Taylor family, resided John and Nancie Dunford with their family of five children. Going to schools in the 1860s were Samuel, Elizabeth and John. A few years later the older children were followed to school by William and Mary.
Another family near the Taylors, was that of Samuel and Elizabeth Guthrie. Their children were not old enough to attend classes until the mid 1870s, when Mary Ann and William began going to school. Elizabeth, wife of Samuel, was a daughter of John and Mary Mooney, the family residing a short distance away.
John and Mary Mooney's older children attended the log school house in the later 1860s. This included Margaret, John and William. In the 1870s, they were joined by younger siblings, Jane, Adam and Sarah.
John and Elizabeth Bateson were married only a few years in the latter 1860s. Their children would not attend school until well into the 1870s.
For nearly three decades, the little log schoolhouse served the educational needs of children in the community. The log schoolhouse burned down not long after the turn of the century. In 1903, another school was built on land provided by John Spence. The new frame structure was located on Lot 24 Concession 8, a mile south of where the original schoolhouse had stood.
Getting to and from school in their day, required a long walk for some of the children. Viola Pluard who later married Clifford Guthrie, had to walk three miles to school and, of course, three miles back home again for the years she attended classes. She attended the Rockcroft School in the early 1900s, probably from about 1908 through 1916.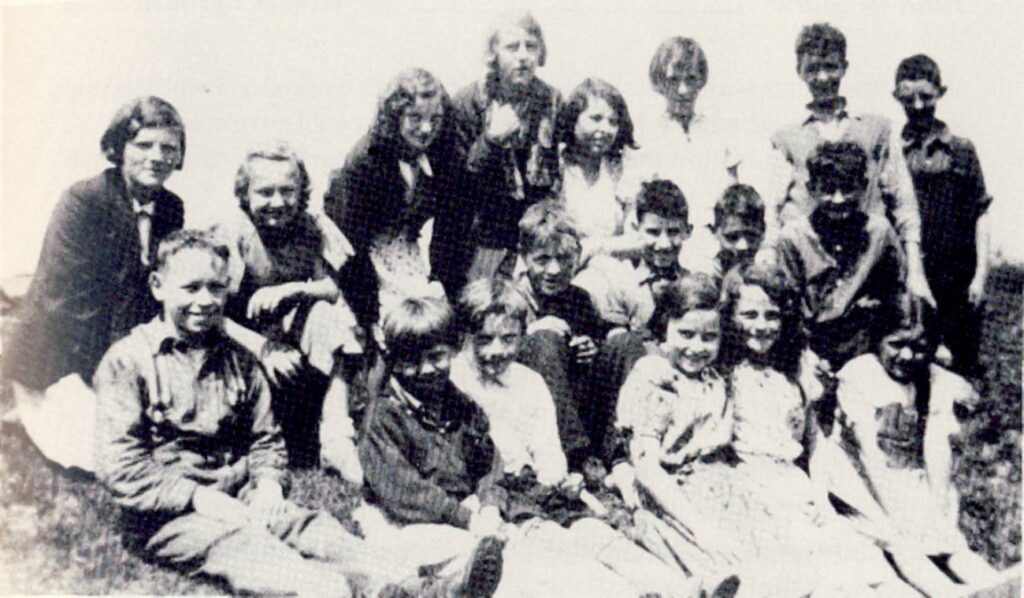 Students at S.S. No. 6, Rockcroft School in May 1934
Front Row (left to right): Keith Flynn; Vern Warbutron, Willie Spafford, Audrey Pluard; Pearl Finley; Hilda Mooney
2nd Row (left to right): Noble Tate, Morely Pluard, Elmer Flynn; Gordon Finley
Back Row (left to right): Freda Irwin, Mildred Windover; Myrtle Spafford; Mildred Finley; Luella Spafford; Ada Tate; Bernard Pluard and Jack Pluard