Agnes Murphy Hendrahan Lewis
Early Years
Agnes Lewis was born to the family of Michael Hendrahan and Elizabeth Murphy. Their surname is variously spelled Hendrahan, Handerhan, Henderhan and in Peterborough it was found as Hanrahan.
Michael and Elizabeth lived in Murray Township, Northumberland County, Ontario in the 1830s and 1840s. They had come from Ireland, possibly arriving as a newly married couple. Six of their eight children were born in Murray Township, Northumberland County, Ontario. These children included Sarah, born 1834; Thomas born 1836; Mary Ann born 1838; William born 1841; Elizabeth born 1842 and Catherine born 1844. The two youngest daughters were born in Sidney Township, Hastings County. These two girls were Bridget born 4 February 1850 and Agnes Murphy Hendranhan, born 21 October 1852.
Married Life
Agnes married Thaddeus Milligan Lewis at St. Peter in Chains Catholic Church in Trenton, Ontario on 25 May 1873. Thaddeus was born in Whitby Township, Ontario County in the year 1852. On his marriage registration, he named his parents as John and Lydia Lewis. Thaddeus and Agnes lived in Trenton for the next twenty-five years. There he was employed as a carpenter.
They had a family of five children, although twins, born in 1884, did not survive. The eldest child, Lydia Agnes, was born 23 February 1874; Annetta was born 15 December 1879; twins Minnie and George were born 3 March 1884 and John Joseph Stanley, known as Stanley, was born 30 August 1892.
Relocation to Peterborough
Around the mid 1890s, the family moved to Peterborough where shortly thereafter, Lydia was married to Michael J. Costello. Her wedding took place in Peterborough on 29 September 1896. Michael and Lydia would eventually have a family of four children: Daniel born in 1897; Francis born 1901; Agnes Annetta, born 1903 and Gladys born in 1907.
Thaddeus and Agnes Lewis, made their home at 57 Park Street in town. He obtained work as the foreman in the William Donell Planing Mill at 165 Dublin Street. Their daughter Nettie was a music teacher and taught lessons from the family home.  By 1899, the family had moved to a different house, located at 476 Park Street. They were to remain at this address for the next six years.
Thaddeus Lewis Moves West
Before 1905, Thaddeus had moved to St. George, British Columbia, pursuing his trade as a carpenter. He would remain out west for another eight years.
In Peterborough, Agnes still resided in their home at 472 Park Street. Her brother William Hendrahan now lived in the house as well. He died unexpectedly in May of 1904. William's death was reported in the local paper:
The Funeral of Late William Hanrahan took place this morning – The funeral of the late William Hanrahan, who died on Saturday, aged 63 years, at the residence of his sister, Mrs. Lewis, 472 Park St., took place this morning, at nine o'clock to St. Peter's Cathedral, thence to the Roman Catholic cemetery, where interment was made.
A Move to St. Catharines, Ontario
Agnes continued to make her home in Peterborough until 1906. She then moved with her young son, Stanley, to St. Catharines to reside with her younger daughter. Annetta had recently married George Alexander Scott, in Peterborough,  on 20 October 1906. The newly weds moved to St. Catherines where George was able to find work as a pattern maker. In 1909, they had a son, Thomas. Sadly Annetta died following the birth of her second child in 1911. Her infant son died as well.
The year 1913 was again a difficult period for Agnes. Her son, Stanley, who was working as a druggist, died on 30 April 1913 in St. Catherine's, Ontario. His body was returned to Peterborough for interment in St. Peter's Cemetery. Then on 12 May 1913, her husband, Thaddeus Lewis, died at St. George, British Columbia. His body was also returned to Peterborough for burial at St. Peter's Cemetery.
By 1921, Agnes had returned once more to Peterborough, now making her home at 476 Aylmer Street. Here she lived with her widowed daughter Lydia Costello and her two children, Arthur and Gladys.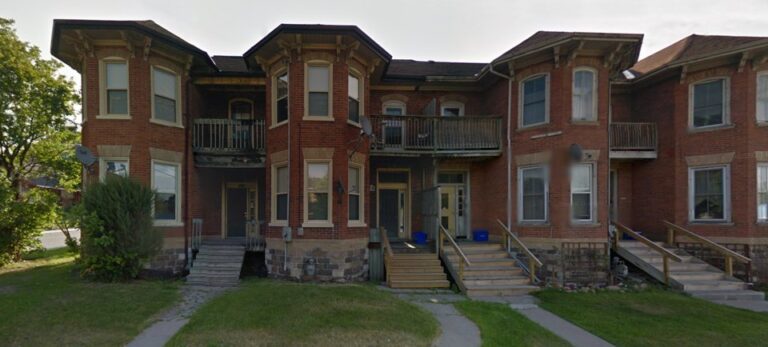 476 Aylmer Street, Peterborough, third door from left.  Source: Google Street Maps 2015
Agnes Murphy (Hendrahan) Lewis, died 21 October 1941. She rests in St. Peter's Cemetery, Peterborough, Ontario. She was a remarkable woman, remaining a strong support to her family through many difficult times.