Byam's General Store - Tyrone, Ontario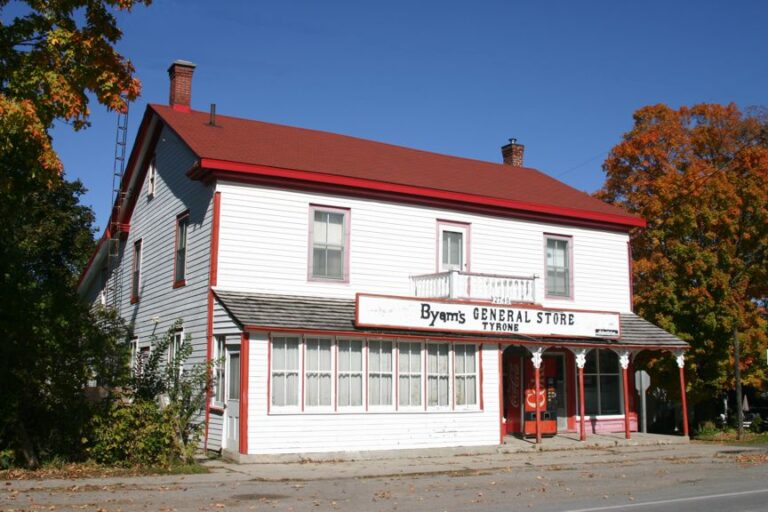 Byam's General Store, Tyrone
Roswell Martin, destined to become the father-in-law of Frederick Byam, was born in Upper Canada in 1808. Before 1851, he would marry Neurina Tyerman, a young woman born about 1826 in England. They would wed in Canada West for Neurina had arrived here in 1850. Roswell Worked as a carpenter in Clarke Township, where they resided. Before 1867, this couple would have a large family of nine children. However, Roswell died before 1871, leaving Neurina to raise the children on her own.
Clarissa Martin, A Future Family Connection
Clarissa Martin, the fourth daughter and fifth child of this couple, was born 3 March 1860 in Clarke Township, Durham County, Ontario. At the age of 23 years, she married Frederick G. Byam of Darlington Township. Fred and Clara were married 21 November 1883 in the town of Lindsay, Ontario.
Fred Byam Established in Tyrone Village
Born 2 January 1859 in Prince Edward County, Ontario, Fred was a son of George F. Byam and his wife, Maria Pike. After his marriage to Clara, he brought his new bride to his home in the village of Tyrone, Ontario.
Tyrone is a small village in the Township of Darlington, County of Durham.  It is about 36 miles from Cobourg and 45 from the city of Toronto.  By 1869 the population of the village numbered 300 souls. By 1890, when Fred Byam's General Store is listed in a local directory for Tyrone, the population had increased to about 380.
A Family for Fred and Clara
A baby daughter was the first child born to Fred and Clara. Born 23 October 1884, they named her Ada May. A son, George Roswell, was born 25 February 1888. Two more sons were born to the family. Frederick Lionel, who went by his second name, was born 21 May 1895. Earl Martin Byam was born 19 April 1902.
It was around 1900 when Clara (Martin) Byam was photographed with a number of her siblings and  her mother, Neurina (Tyreman) Martin. Clara is standing in the back row on the left. Next to her is Joseph, then Maggie and Tom Martin, standing on the far right. Seated in front are Nellie, Neurina and Annie.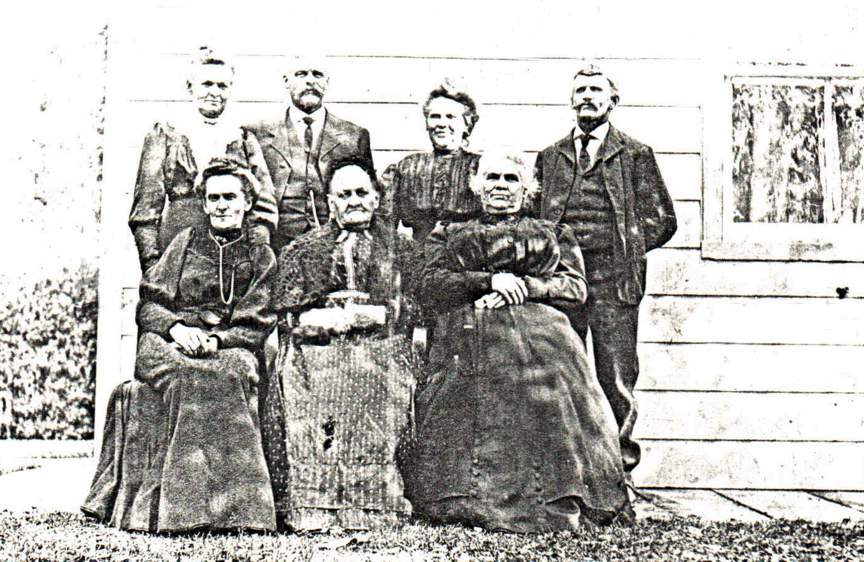 Eurina (Tyreman) Martin with some of her children circa 1900
Generations of Continued Service
The Byam family continued to reside in Tyrone and operated Byam's General Store for many years.  After Fred's death in 1918, their son Lionel took over the store operation. Clara (Martin) Byam died 17 June 1940. She and Fred along with other family members are buried in nearby Bethesda Cemetery.
The Byam General Store continued in operation into the latter decades of the 1900s. Lionel had married Ethel May Lillicrap in 1919. They lived in Tyrone with their daughter Doreen, born in 1920. Lionel died in 1982. Ethel predeceased him, her death taking place in 1961.
Looking for more about this area?
CLICK THE LINK BELOW TO VISIT OUR
WEB STORE:
Out of The Mists