A Peterborough Blacksmith
Early years
George Rickey was born 23 December 1832 in Ireland and came to Canada West in 1853.  His wife, Ann Jane Armstrong, was born in Ireland on 31 October 1831, the daughter of John Armstrong and Anna Bella Wiggins. Ann Jane arrived here in 1859. Somehow Ann Jane and George met and came to know one another. About the year 1860, they were married.
Young Married Life
Where they lived during the 1860s is not known, but it is possible that they had already moved to Peterborough shortly after their wedding. Within a couple of years their first child, a little girl, was born and they named her Mary Anne. In 1864, a son, Thomas John, was born to the family. Another two daughters, Bella Jane and Frances Elizabeth were born in 1867 and 1870.
During the 1870s, George and Ann Jane lived in the village of Ashburnham, Ontario. There  in the hamlet, George had employment as a blacksmith. In 1874, George Albert was born, then another son, Alfred William Bruce , was born in 1877.
Living in Town
In 1883, George and Ann Jane resided in Peterborough, where they rented a place on the east side of Water Street south of Simcoe. In town, their youngest child, Mabel Adelaide, was born in 1884. By 1888-1889, the family lived at 262 Dalhousie Street in Peterborough. Within a few years they had moved once again, now residing, in 1893, at 24 Albert Street. Here they would  stay until the end of 1906.
Throughout his years in Peterborough, George worked continuously as a blacksmith. For some years he ran his own smithy and, in 1888-1889, had a shop at 196 King Street. From 1894 until 1906, George worked for A. McDonald in his Saw Mill Manufacturing shop on Point St. Charles. McDonald died in 1907 following which George took employment with the Canada Cordage Company.
Early in 1907 George and Ann Jane moved to 108 Aylmer Street. It was their home but a short time, for George died 27 August 1907. Ann Jane continued to live in the Aylmer Street house until her death on 9 March 1909.
Lives of the Children
All except one of the children of George and Ann Jane, reached their adult years. One child, George Albert Rickey, born in 1874, lived only nine days. The infant was interred in Little Lake Cemetery following his death on 4 August 1874.
Mary Anne Rickey, born in 1863, married George Davis on 1 July 1883 in Toronto, Ontario. Born about 1854, in Murray Township, Northumberland County, he was a son of Charles and Derinda Davis.
Thomas John Rickey, born about 1864, married Elizabeth Ann Welch on 17 November 1896, in Peterborough. Elizabeth was the daughter of Thomas James Welch and Jane Guthrie.
Bella Jane Rickey, born in 1867, married James Greer on 12 February 1890. James, born in Cavan Township, Canada West on 20 July 1859, was a son of John Greer and Mary Eagleson. Bella and James farmed in South Monaghan Township. James died 15 May 1915. Bella Jane died 2 September 1950. They rest in the Bailieboro Cemetery, South Monaghan Township.
Frances Elizabeth Rickey, born in 1870, married George Wanless at Peterborough on 27 June 1894. They lived in Toronto, Ontario and raised a daughter, Gladys.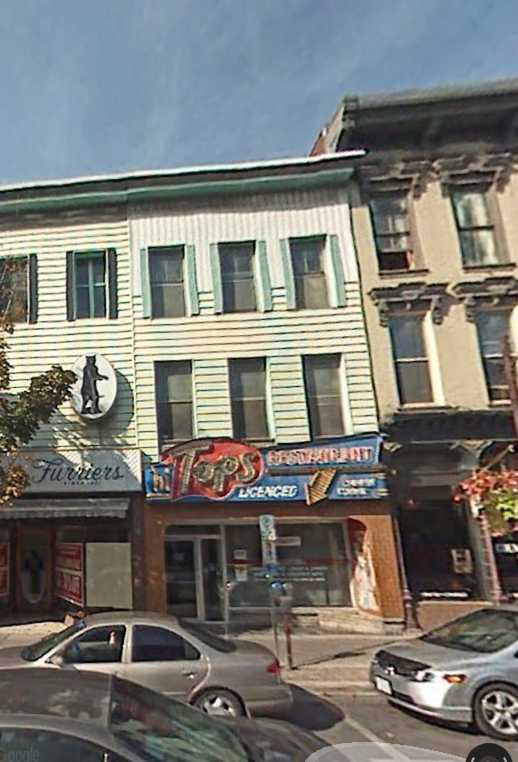 Hi-Tops Restaurant, for many years located at 415 George Street, Peterborough, from Google Street Maps 2009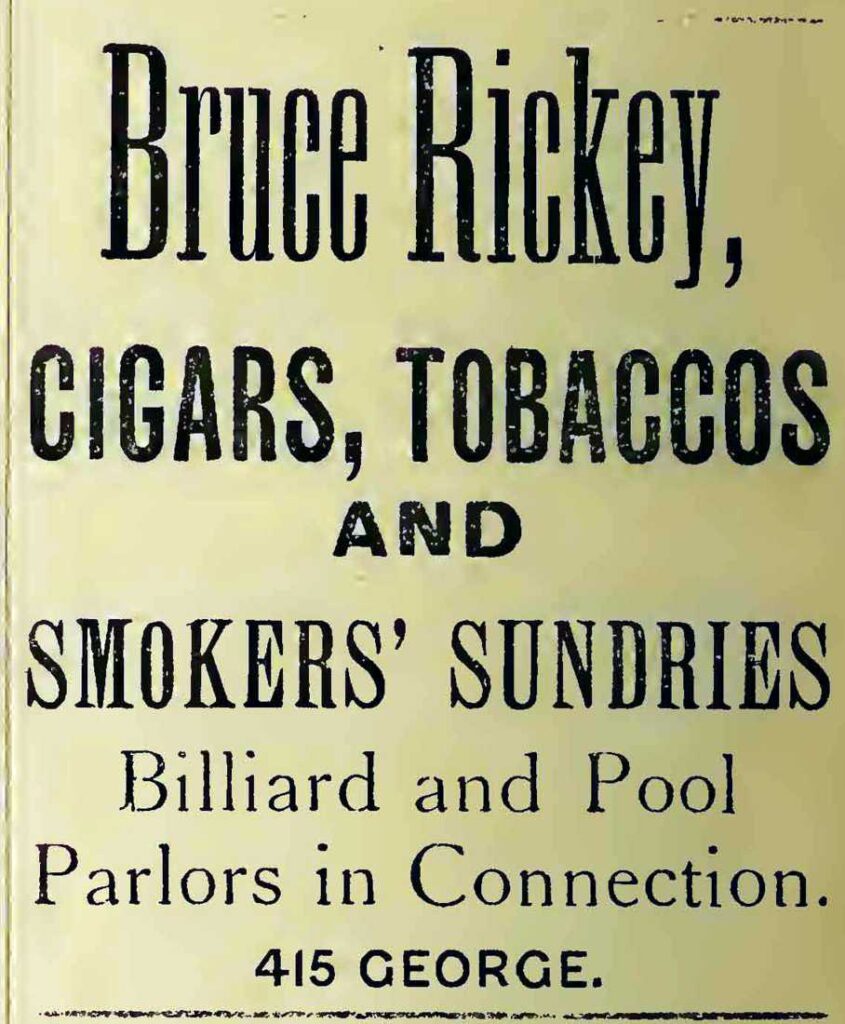 Bruce Rickey Cigar Shop 415 George Street, Peterborough 1897
Rickey's Cigar Shop
Alfred William Bruce Rickey, was known as Bruce much of his lifetime. He was born 9 March 1877 in Ashburnham village, Peterborough County, Ontario. In 1897, Bruce operated Rickey's Cigar Shop at 415 George Street, Peterborough.
For many years in more recent times and until 2011, this store on George Street was the location of Hi-Tops Restaurant. It became Real Thai Cuisine by 2014.
The exterior of the building in 2009 compared to the restored brickwork of 2015, shows how much of the decorative window styling was covered over for many years by the siding applied to the face of the building.
Married Life in Toronto
Bruce and Catherine lived in Toronto during their married lifetime. Their family included three daughters and a son.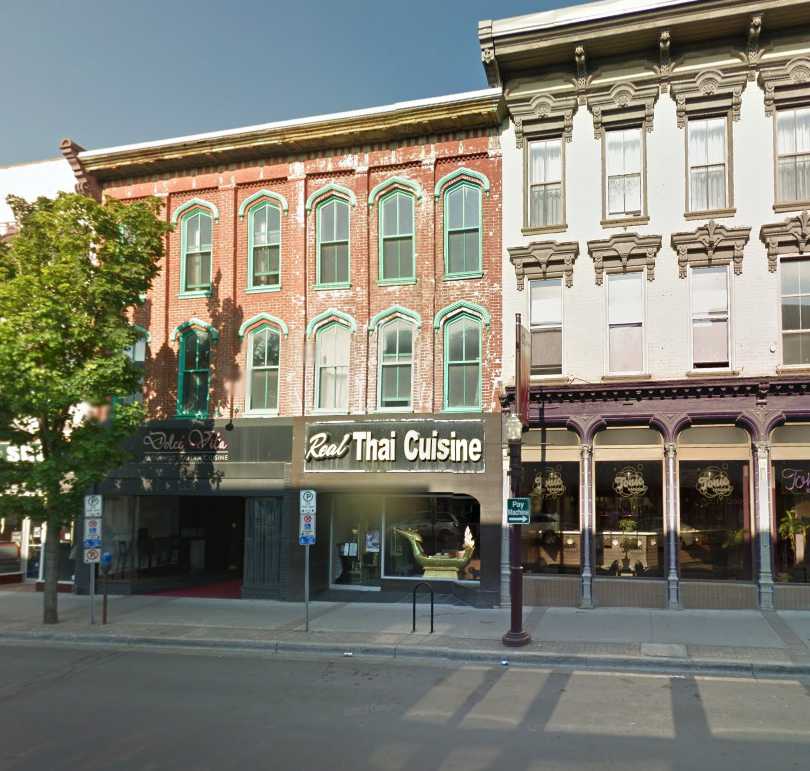 Real Thai Cuisine Restaurant located at 415 George Street, Peterborough, from Google Street Maps 2015
Catherine died after 1921 but before 1934. Bruce died 25 August 1934 in Toronto. His body was returned to Peterborough for burial at Little Lake Cemetery.
Mabel Adelaide Rickey was the youngest of the children of George and Ann Jane. Mabel married Ernest Alexander Welch at Peterborough on 2 April 1907. Ernest was a son of Thomas James Welch and Jane Guthrie. He was also a brother to Elizabeth Welch who married Thomas Rickey, the older brother of Mabel.