Early Life
Ashton Edward Mosley was born in the community of Egginton, Derbyshire, England on 24 October 1866. He was the third son and sixth child of the Reverend Rowland Mosley and Jane Charlotte Rose Every. The Reverend Mosley was Rector of Egginton Parish at the date of Ashton's birth. On 22 July 1888, Ashton's father died at Egginton. Three months later, Ashton sailed for North America on board the ship Republic. He arrived at the port of New York on 19 November 1888, ready to make his own way in the world.
Mosley Sets Up Livery Service
Livery Services in the closing years of the 1890s required that not only did the owner maintain vehicles for hire, but also kept a stable with horses that were used to pull the carriages, wagons or stage coaches around town or from one village to another.
Ashton is first found within records for the town Peterborough, Ontario at the date of the 1893 directory. He was boarding at 338 Stewart Street and ran Mosley's Livery Service at 193 Simcoe Street. He would continue to run the livery service over the next several years from its Simcoe Street location. In 1893, John Dunford and Edward J. Ferguson both worked for Ashton.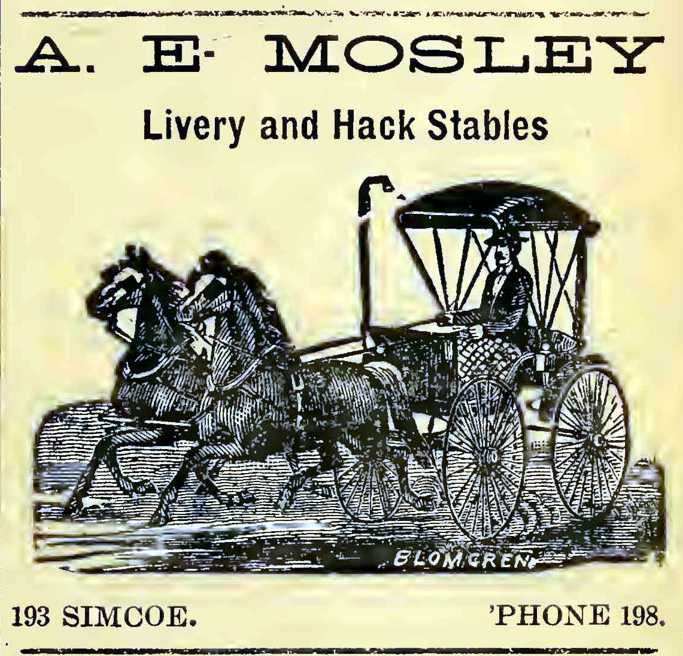 The Business Grows
The following year Ashton had moved his home location to 165 McDonnell Street where he had taken a room. In 1894, he now employed three men. John Dunford was manager of the Livery Service. Edward Ferguson was a cab driver and William Guy was a groom.
During the next two or three years, Ashton lived at 184 Charlotte Street. He now hired Joseph Batten, a blacksmith to work at the Livery Service. John Dunford continued as manager and William Guy was still employed there as well. Ashton kept his business running until about 1902.
Mosley Livery Service Closed
By the following year, 1903, he had his residence in a house at 176 ½ Simcoe Street. He would spend the remainder of his life at this address. Ashton no longer kept his livery service business. From 1903 until his death in 1911, he appears to have had sufficient money to live comfortably. There is no indication in any city directories that he took employment nor ran any other type of business. Ashton became ill about mid year 1911. Taken to Nicholls Hospital, he succumbed to a condition identified as neuritis. Ashton died on 16 July 1911. His remains were interred at Little Lake Cemetery with a headstone noting that Ashton was the son of the Rev. Edward Mosley, Rector of Egginton, Derbyshire, England. Ashton's brother, Colonel Godfrey Mosley looked after the administration of his estate which amounted to almost £1500.00, a tidy sum in that day.