William Johnston - A Tailor for Peterborough

It is with George, son of William Johnston, that this interesting family story unfolds. George was born in Peterborough on 15 July 1849. It was a time when this part of Ontario was known as Canada West. His early education and studies took place in local schools. However, his family story begins a generation earlier with the arrival of his father.
Ireland to Canada West
William, the father of George, was born in Drum, County Monaghan, Ireland on 12 July 1819. He was a son of James Johnston and Jane Campbell. William became an immigrant to Canada West in 1842. Arriving in the company of his uncle, George Campbell, these two men settled in the village of Millbrook.
Three years later, William's parents and siblings also came to Canada West. The family of James and Jane Johnston took up residence in Cavan Township. Five children arrived with their parents in 1845. They were: George, born in 1823; Sarah Ann born in 1833; James Jr., born in 1836; Louisa born in 1837 and Margaret Jane born in 1840.
Although there had been another child named Eliza, she had died in Ireland in 1830. No doubt the parents often recalled this little daughter. One they had left, asleep in an Irish grave, far across the sea.
A Time of Confederation
Twenty years into the future, in 1867, four of the grown Johnston children were still residents in the village of Millbrook, Ontario. Together they celebrated Canadian Confederation.
A Tailor in Peterborough
William Johnston became a resident in the town of Peterborough in 1846. Thereafter it became his permanent home. In 1847, he married Jane Mitchell, daughter of Thomas and Elizabeth (Henderson) Mitchell of Emily Township. Jane was born 4 March 1826.
A younger brother, George, also moved to Peterborough. Since both men had experience as tailors, they operated a tailor shop together for some years. In 1858, it was located on Water Street. By 1871, George had left the business to become a police constable in town. William continued on with the tailoring business.
William participated in community development. He assisted in promoting the Peterborough Mechanics Institute. Also, he took an active role on the school board and became a volunteer with the 57th Battalion. For several years William held the position of Secretary as a member of the Peterborough Rifle Association. At St. Paul's Church, under the charge of Reverend J. M. Roger, William was a dedicated parishioner.
William and Jane's Children
The family of William and Jane included four children. George Henry, born in 1849, was the eldest. Next was another boy, Alfred James, born in 1851. The two youngest children in the family were, Eliza Jane, born in 1861 and Harriett Frances, born in 1863.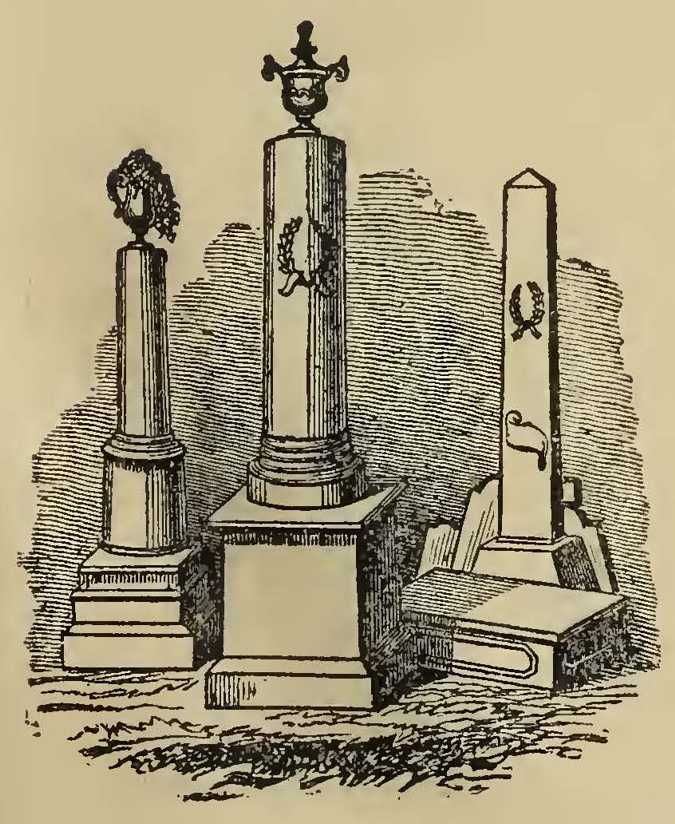 William's Demise
On 28 December 1876, William died suddenly of a heart attack. It was a terrible shock to the family. He was just 57 years old. A outpouring of sympathy flowed from the community in which he was well known and highly respected.
William's remains were laid to rest in Little Lake Cemetery in Peterborough. The funeral, complete with full Military Honours, was held on 1 January 1877. Friends, family and local community members all attended the service. One area newspaper, the Peterborough Review, published a lengthy tribute to William.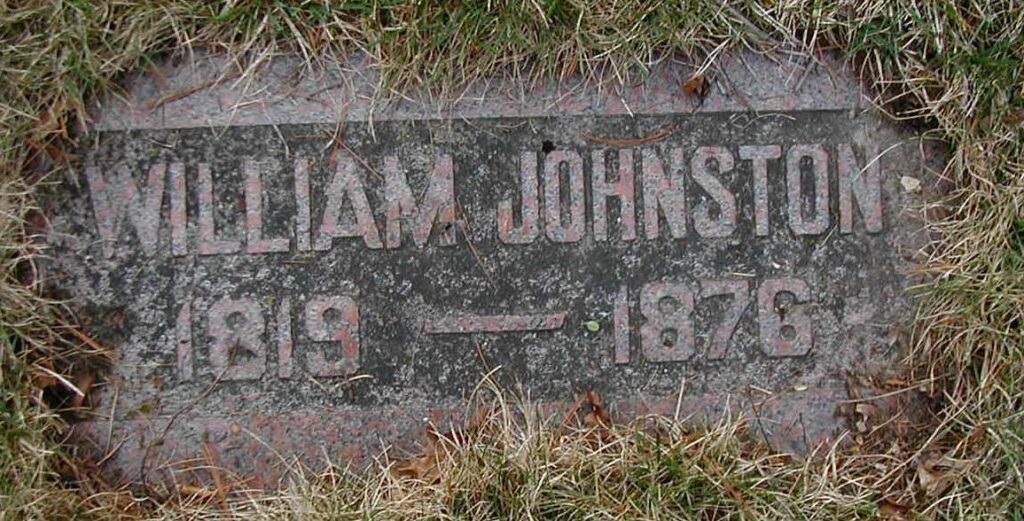 William Johnston Grave Marker
Jane (Mitchell) Johnston, widow of William, continued to live in Peterborough for a number of years. After 1891, she moved to Ottawa. There she made her home with Eliza, her daughter. Jane died in that city on 25 May 1894. Her remains were returned to Peterborough for burial alongside those of her husband, at Little Lake Cemetery.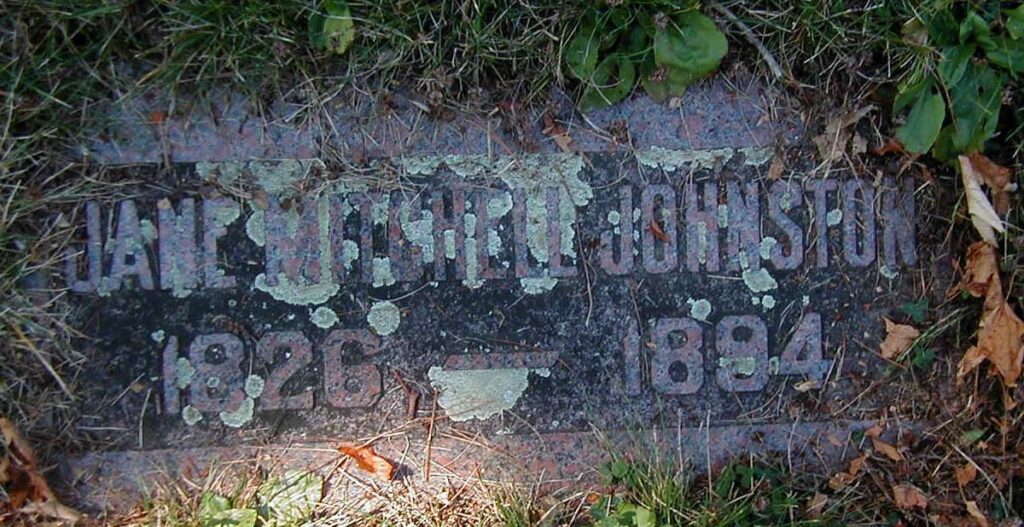 Jane Mitchell Johnston Grave Marker
A Young Man in the World of Business
George Henry Johnston, born 15 July 1849, was the eldest of the children of William and Jane. After completing his elementary education, George held the position of clerk in the company of Thomas Bradburn. Some years later, George became a clerk for the firm of Messers Hall & Innes. During the mid 1870s, Robert and Richard Hall and Robert Innes owned this merchant company. Their business location was on Simcoe Street east of George Street.
The Oddfellows viewed George as a hard working young man. Consequently, he was invited to join their organization and was initiated as a member of Peterborough Lodge on 13 July 1873.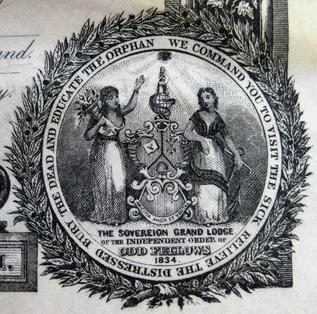 Seal of the Sovereign Grand Lodge of the IOOF
Source: By (WP:NFCC#4), Fair use, https://en.wikipedia.org/w/index.php?curid=48134880
The Independent Order of Odd Fellows (IOOF) is a non-political, international, fraternal order. Their primary purpose is to do charitable works.
In the year 1882, George left Peterborough. Heading west, he eventually found himself in Stonewall, Manitoba. There he met and courted Jennie M. Beynon, daughter of the Reverend George Beynon, a minister of the Methodist Church.
Marriage to An Ontario Girl
On 3 October 1883, in the town of Stonewall, George and Jennie married. Their lovely wedding took place at the home of her brother-in-law, W. R. Clark. Reverend Beynon, father of the bride, performed the marriage ceremony. He traveled all the way from Brampton, Ontario to attend and perform his daughter's wedding. Jennie's brother, Reverend T. B. Beynon of Virden, Massachusetts, also assisted during the service.
Even though Jennie had a number of family connections in Manitoba, the young couple lived there for only five years. Hearing of better opportunities available "out west", they left Manitoba to settle in Lethbridge, Alberta.
For many years in Lethbridge, George was a local businessman. He took an active part in building up the town and served on the school board. As well, he became a member of Lethbridge Lodge, A.F. and A.M.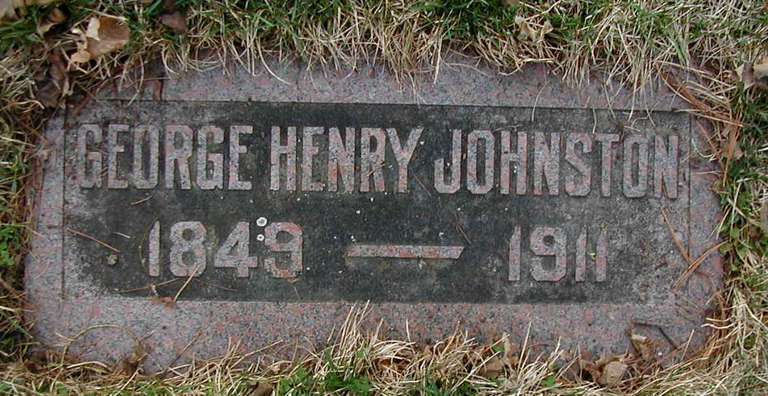 George Henry Johnston Grave Marker
At the age of sixty-one years, nine months and eleven days, George Henry Johnston died at his home in Lethbridge, Alberta. As a result of the strong family ties in Ontario, Jennie accompanied her late husband's remains back to Peterborough. Here a funeral took place from the residence of his brother, Alfred James Johnston of 19 Dennistoun Avenue. George was buried at Little Lake Cemetery.
Younger Brother of George
Alfred James, was the next child in the family of William and Jane (Mitchell) Johnston. He continued to reside in Peterborough and there became a druggist. Alfred married Grace Simpson Stephens in September 1887.
Younger Sisters of George
Eliza Jane Johnston, born in 1861, was the older of George's two sisters. Eliza married Thomas McJanet in 1887 and went to live in Ottawa, Ontario.
Harriet Frances Anna Johnston, George's youngest sister, was born in 1863. She married James H. Billington in December 1886. They resided in Winnipeg, Manitoba.