Born in Otonabee
Let me introduce to you, Mr. John Mann, born in Otonabee Township, Upper Canada, on September 1, 1836. He lived in Peterborough County all his life, save for a few years when he resided in the town of Port Perry. John was a Blacksmith by trade.
Born in Mariposa Township on June 19, 1846, Elizabeth Down consented to be John's wife and they were married in 1863.
Family Resides in Port Perry
In 1881, Elizabeth and John lived with their three children, Lillie age 13, Ernest aged 11 and Clotilda aged 7 years in the town of Port Perry. John worked at his trade as a blacksmith, possibly working for, or out of, the shop owned by A. H. Reynolds. There were a number of blacksmiths known to work in this manner.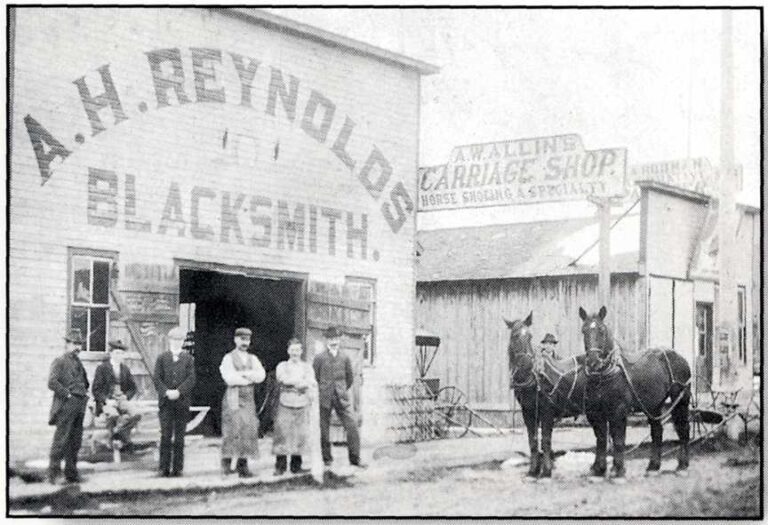 Reynolds Blacksmith Shop, Perry Street, Port Perry, Ontario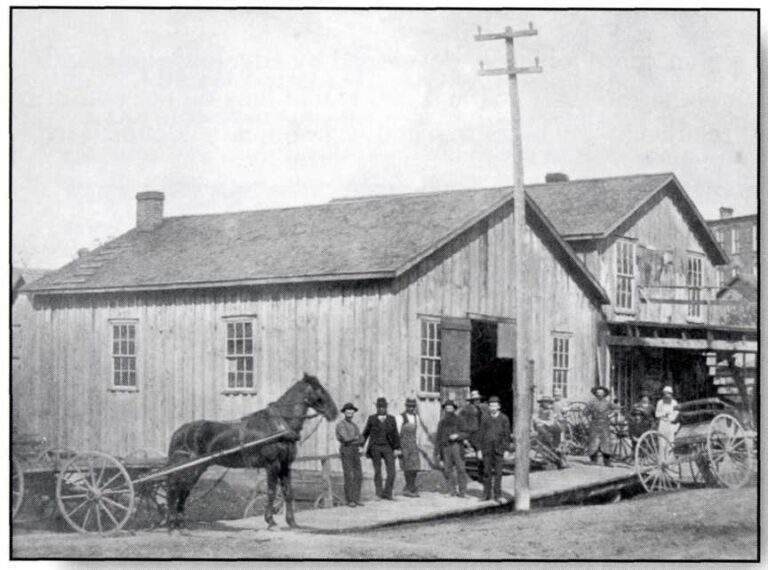 Reynolds Blacksmith Shop on Perry Street in Port Perry, Ontario circa 1879
A devastating fire took place in Port Perry in 1884. The out come was the loss of a significant area of the downtown Port Perry business section.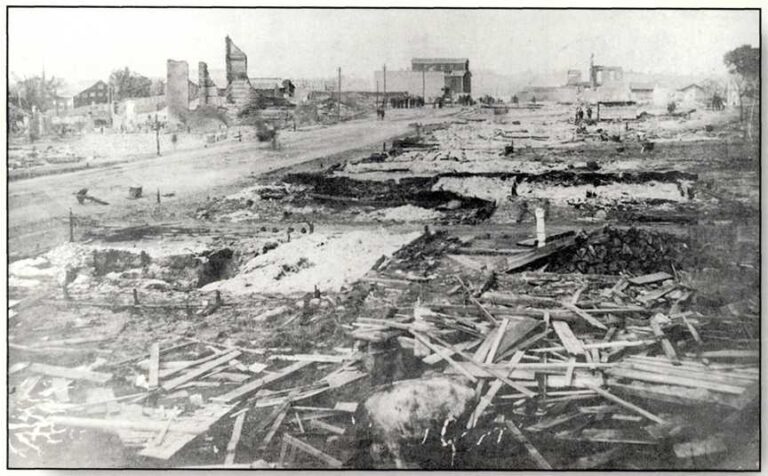 After the 1884 fire, Port Perry
By 1891 the Mann family was again living in Peterborough. Elizabeth and John's daughter Lilley was then 22 years old, Earnest was age 21 and Clotilda was 17 years old.
Changing Careers
In 1894, at the age of 59 years, John made a major career change.  Forced to give up his profession as blacksmith due to ill health, he chose as his next occupation, to be a baker. For the next thirteen years he conducted a bakery business. In 1899 his Baker & Grocer Shop was located at 643 George Street, Peterborough. His home was at the same address.
When he died in 1907, John was survived by a brother and sister. His brother was David Mann and the sister was Mrs. J. Hare of Thornbury, Ontario.
During his lifetime, John was a member of the Port Perry Lodge IOOF and a loyal member of St. Andrew's Presbyterian Church.  He was buried in Little Lake Cemetery, Peterborough from his home at 643 George Street on January 29, 1907.
Grown Children Wed
In 1907, only two of the children born to John and Elizabeth (Down) Mann, were still living.  These were Ernest H. Mann of Peterborough and Miss Clotilda Mann who still resided at home with her parents.
Ernest had been born in Mariposa Township, Victoria County, in 1870.  He married Maggie Beavis, daughter of Archibald and Ann Beavis of Douro Township, Peterborough County.  Ernest and Maggie were married April 19, 1893 at the Peterborough home of Maggie's father, Archibald Beavis.  At the date of his marriage, Ernest worked as a Cheese Maker in Douro.
Clotilda Evelyn Mann was born December 31, 1873 in Mariposa Township. She never married. Clotilda worked as a dress maker and died at her Mother's home at 209 Murray Street, Peterborough, on July 10, 1922.