Leary Livery & Hack Stable
Early Life

Robert Henry Leary was born in the bustling town of Peterborough, Canada West, on 16 October 1861. He was a son of Christopher Charles Leary and wife, Ann Weir, who farmed in North Monaghan Township. Robert was the second youngest of six children, five sons and one daughter. The eldest of the Leary boys was John, born in 1854. Next was Daniel, born 1856 and then William born in 1857. He was followed by Catherine, the only daughter, born in 1860. Robert came next followed by the youngest child, Charles Christopher born in 1866.
Rose Wass Wright was a daughter of Patrick Rose Wright and Mary Ann Chapman. They also were a farming family who lived over forty years in Hamilton Township. Rose was born at her parents' homestead on 5 December 1860. She had six older brothers and sisters as well as one younger brother and one younger sister. Older than Rose, were: William born 1848; Robert born 1850; Lilibus Jane born 1853; Mary Ann born 1855; Eugenia born 1858; and Walter born 1860. George born 1864 and Atta born 1865 were the two youngest children in the family.
Robert Leary & Rose Wright Wed
Robert Henry Leary and Rose Wass Wright were married on 12 February 1890, in Hamilton Township, Northumberland County. They set up their home on a farm in Emily Township, Victoria County. A couple of years after they were married, Robert and Rose moved to Peterborough.  They had their home at 588 Stewart Street . Across town Robert opened a Livery, Sale & Boarding Stable on the west side of Water Street, one lot south of Hunter Street. That year, he hired Alex Ralph to work as a groom at the stable.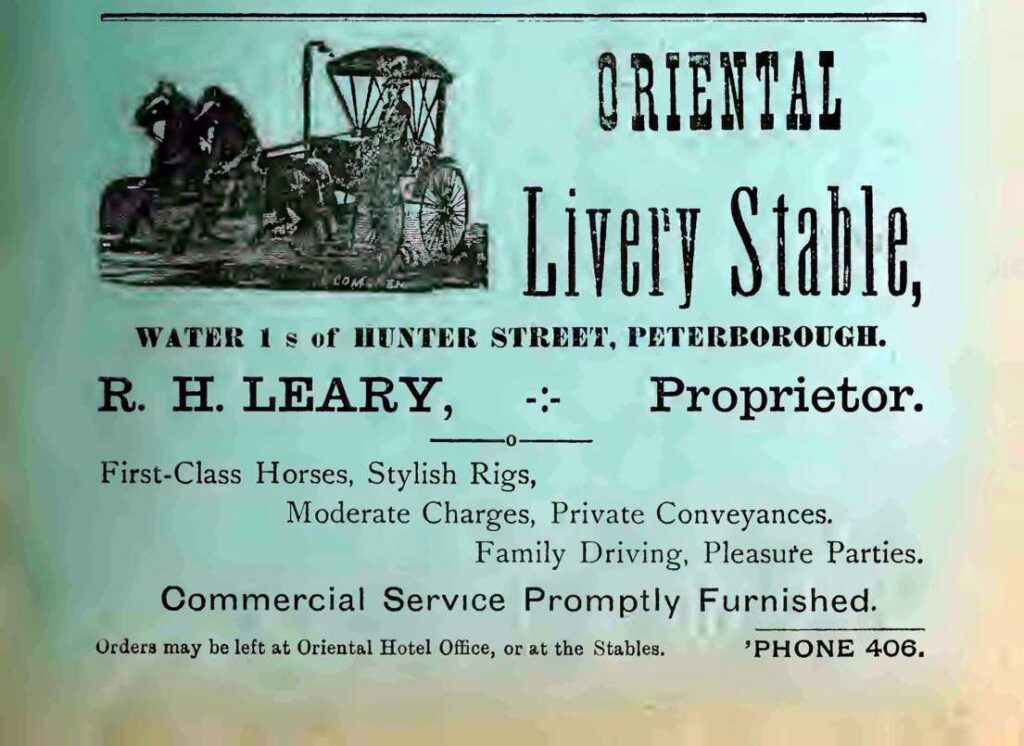 Oriental Livery Stable – R. H. Leary Proprietor
In 1895, Robert moved his Livery Stable to 383 Water Street. In that year, Charles Smith worked for him. The Water Street address of the Livery Stable is known today as the location for the Dixon Book Store.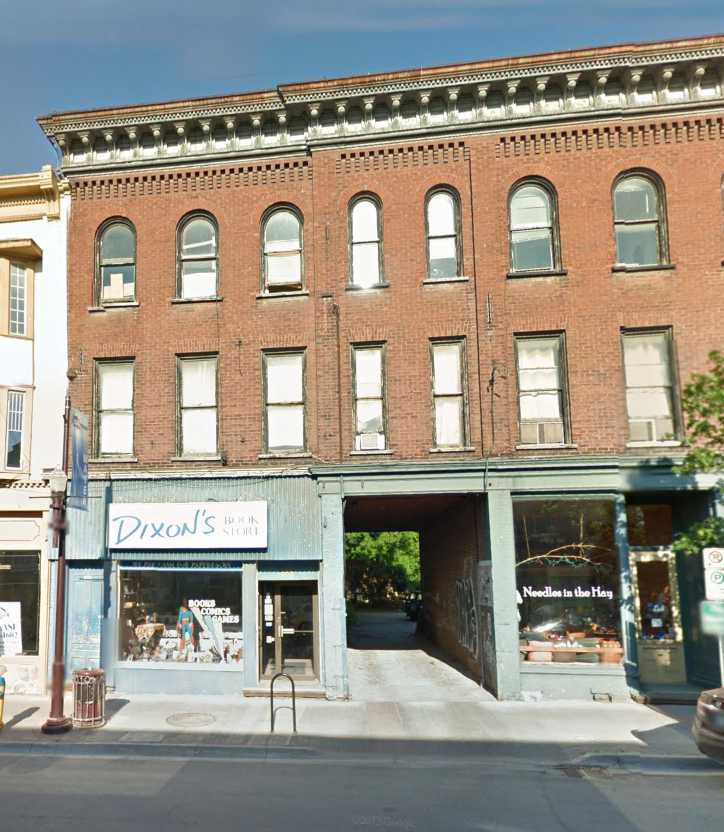 383 Water Street -Google Maps, Street View for May 2015
This location was the Leary Livery Stable 1895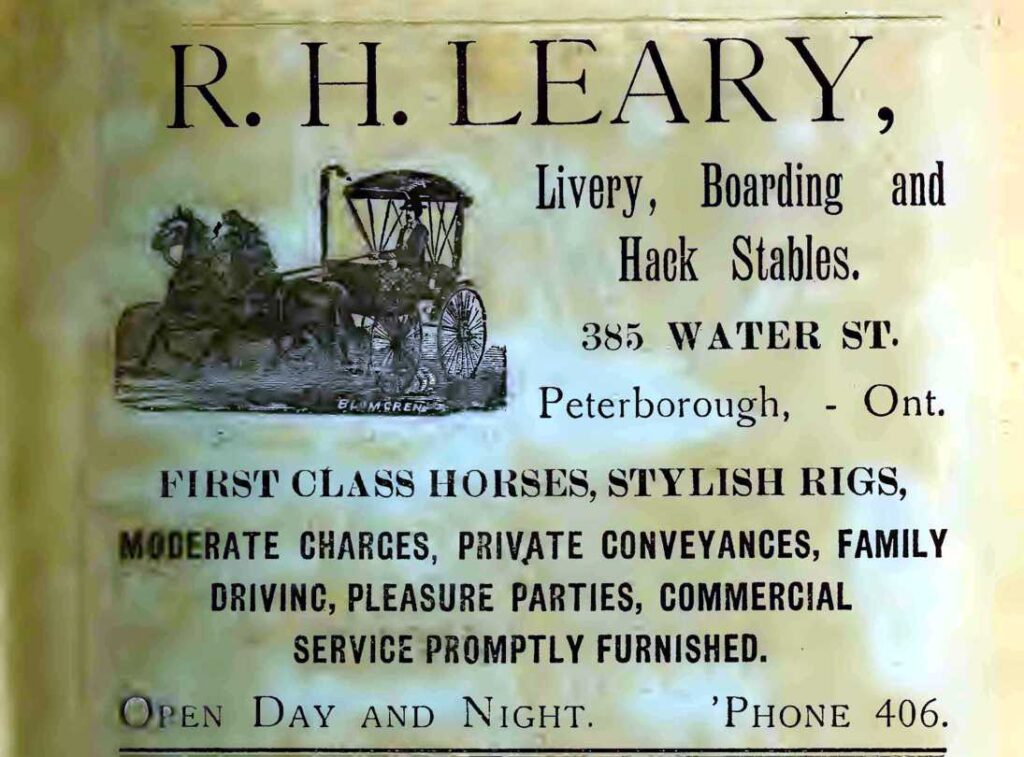 From 1897 until 1899, Robert Leary had his Livery & Hack Stable at 385 Water Street. His family occupied the building at 386 ½ Water Street as their home. During these years, he employed Edward Hilliard as a hostler, William Langford, Alexander D. Garlick and Ernest B. Lawrence as drivers and hack drivers. William Moffatt and Charles Smith were stablemen and William J. Sullivan was employed for general work.
Business in the New Century
In 1903 and 1904, Robert located his Livery & Hack Stable at 421 Water Street. In the first of these years, he employed Harry Baker, Robert McIllwain and John Sweeney as stablemen. His cab drivers were Bruce Fee, James Sutherland Jr., and Henry Young. William Martin worked as the night man and William Langford was a washer. The company bookkeeper was Herbert Cunningham.  The next year, John J. Elliott was foreman and stable hands were Edward Hearn, Robert McIlwain and William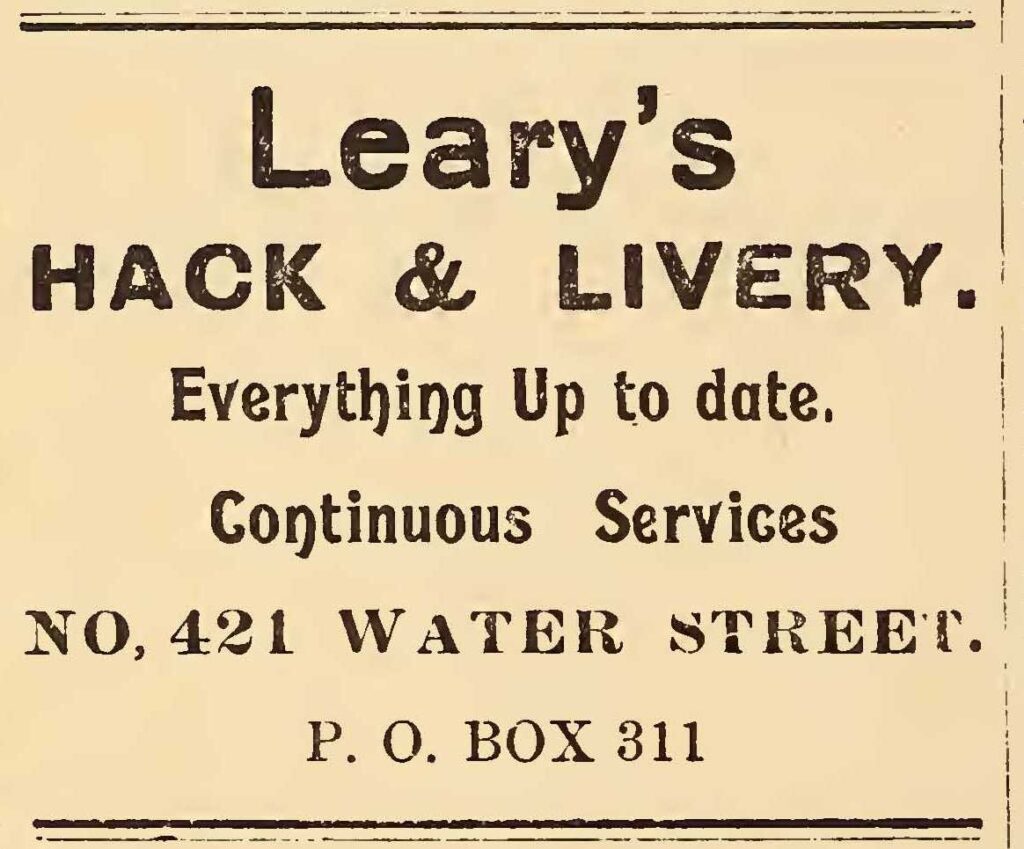 Thompson. General employees were Benjamin Le Bar, Thomas Sarginson Jr., and Wesley Devall. Hack Drivers included Victor E. Le Bar; R. J. Bruce Lee; William J. Sullivan and Frederick Borland. Thomas McClelland worked as the night man.
Change in the Air
The year 1905-1906 was a year of change for Robert Henry Leary. It appears he sold the Livery business to Herbert A. and Robert J. McCollum. They changed the name of the company during the couple of years they operated the business.

Robert Henry Leary went into business with James A. Storey running a Flour & Feed Commission. Their store was located at 383 Water Street. As well, Storey and Leary ran a Harness Dealership from the same address.
Contribution to His Community
In 1907, Robert had involvement in the community as an Alderman on the Peterborough City Council. He was also a member of the local military, his affiliation being to the 24th Field Battery that was headquartered in town. Robert was President of the Peterborough Industrial Fair for the years 1907 and 1908. Robert Henry Leary continued with his busy lifestyle right up until his death on 18 November 1911 at Peterborough. He died of heart disease.
Robert and Rose (Wright) Leary had only one child, a daughter they named Katie Irene. She was born 30 August 1892. In 1914, Katie married Charles Cochrane Parsons, son of James Henry and Margaret Rachel (Cochrane) Parsons. They moved to live in Whitby, Ontario. Katie's mother, Rose, came to live with them after 1911. Rose Wass (Wright) Leary died in Whitby, Ontario on 10 January 1923. Her remains were returned to Peterborough for interment  next to those of her late husband at Little Lake Cemetery.