A. Fraser's Norwood Tin and Copper Store

Archibald Fraser had a business on Peterborough Street in the Village of Norwood in the mid 1860s. There he manufactured tin, copper and sheet iron ware. Archibald was as well, a dealer in cooking, box and parlour stoves, the essential heating supply for all homes of the day.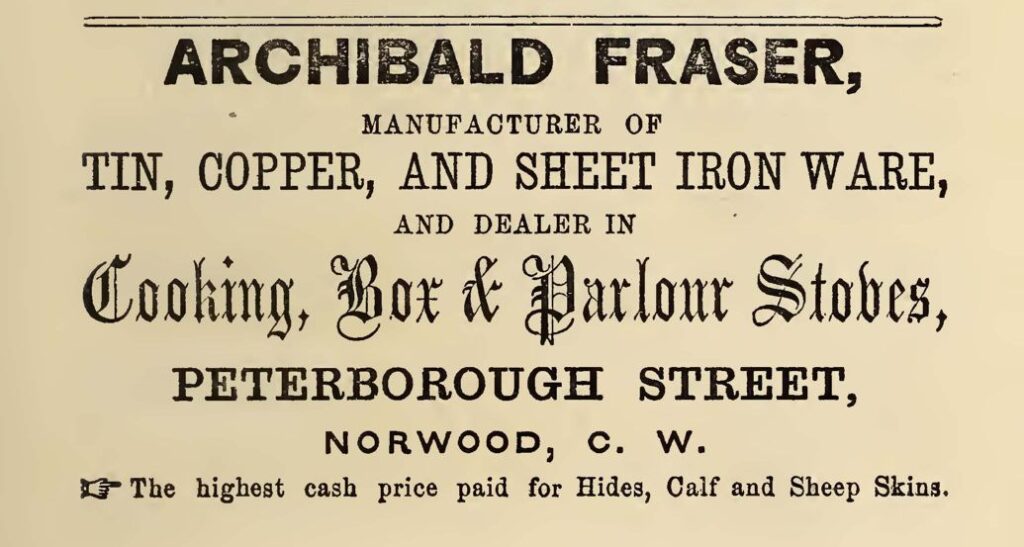 Family
Archibald did not live in Peterborough County until the mid 1860s when he located in Asphodel Township.  He married Susannah Greenbank about 1864. She had been born in Norwood about 1844. Susannah and Archibald made their home together in the township.
In 1865 a son, Thomas Alexander was born. In 1867 another son, James A., was born. A baby daughter was welcomed to their family in 1870. She was named Mary Greenbank Fraser. This little girl did not live long for she was not in the household by the next census date in 1881.
Other children were born to Archibald and Susannah. Agnes was born in 1874; John in 1876; Alice in 1878 and Margaret in 1880.
Departure from the Village
Before 1891, Archibald and Susannah moved away from Peterborough County. Their next home was in Medonte Township in Simcoe County. There he continued to work as a tinsmith. Two more children were born to the family. Edith in 1883 and Archibald W. in 1888.
Susannah (Greenbank) Fraser died in the village of Hastings, not far from her place of birth. Her death occurred on 6 January 1902. Her remains were interred in the Norwood-Asphodel Cemetery.