Local Businessmen Sell Sewing Machines
 In 1865, Joseph Stalker was a boot and shoe maker in Peterborough. He also was the agent for the Benton & Palmer's Union Sewing Machine. Stalker's ad in the local business directory for that year, advertised the machine as the Belleville Union Sewing Machine. It was available at his business located on Bethune Street, north of London. Joseph's sewing machine equipment had it's beginnings years before in the United States.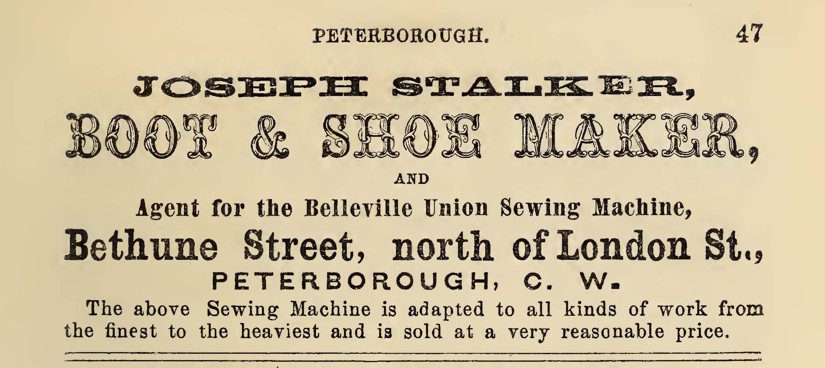 Joseph Stalker Boot & Shoe Maker
Wheeler & Wilson Begin a Business Venture
Allen B. Wilson obtained a U.S. patent for his new invention, the sewing machine, on 12 November 1850. It would soon come to the attention of other interested investors.
Nathaniel Wheeler became interested in the machine after seeing it at an exhibition in New York in that same year. As the manager of the firm of Warren, Wheeler & Woodruff in Watertown, Connecticut, Nathaniel saw the potential in this new equipment. His vision was to prove correct as the simple sewing machine opened the doors to one of the world's greatest industries.
Successful in forming a partnership with Wilson, soon the company was producing large numbers of several different types of sewing machines.
In 1853 the company took on the name of The Wheeler & Wilson Manufacturing Company. Three years later they moved from Watertown to Bridgeport, Connecticut.
The company won a number of Prize Medals. An award was received during the Industrial Exposition held at Paris, in 1861 and another medal was earned at the International Exhibition at London, in 1862. The company also earned other awards, one being from the Parish 1878 Exposition Universelle.
The clothing and apparel industry grew enormously as a result of Wilson's invention of the sewing machine. For families everywhere throughout Canada, the machine equally made a huge impact on the making of family wardrobes.
In 1904, Singer took over retailing of the sewing machine and in 1907 acquired the remainder of the company.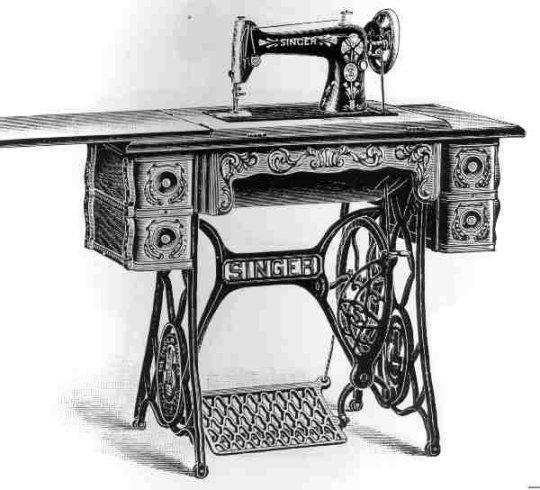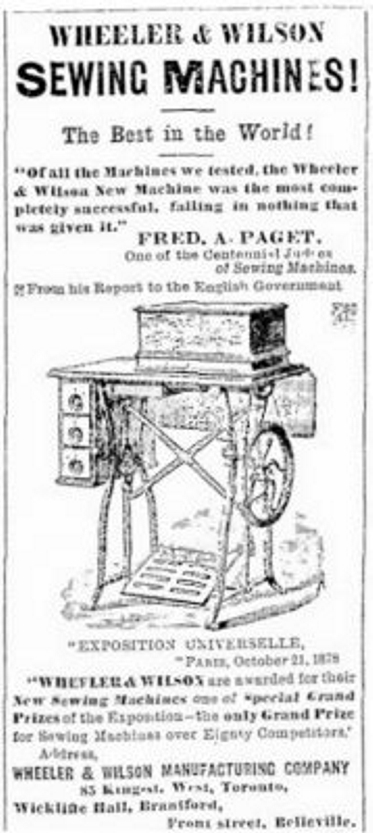 Wheeler & Wilson Sewing Machine Advertisement in The Irish Canadian for 1879
By 1870, another business, the Peterborough Sewing Machine Company also offered machines for sale.