Stove Merchant of Peterborough
Robert Walton was born in Upper Canada on 1 December 1823.  On 24 January 1846, in the Newcastle District, Robert was married the Bethany Lapp. Over the next six years, Robert and his wife, Bethany, lived in Peterborough with their four young children. Egerton, their oldest boy was born in 1847, Elizabeth was born in 1849. Ellen was born in 1851 and in 1852, Louisa was born. The latter year was a difficult one for Robert and the children. On 25 August 1852, Bethany (Lapp) Walton died. Her remains were interred in Little Lake Cemetery.
 A Second Marriage
Before long, Robert, left with three little daughters and a seven-eight year old son, chose to remarry. His second wife was Lavina Ferris, born 22 June 1837, in the United States.
By 1861, Robert and Lavina had a family of seven children. Egerton was 14 years old, Ellen was now 10 years and Louisa was nearly three. Elizabeth, born in 1849, appears to have died before 1861. Of their own marriage, Robert and Lavina's children born in the past few years included Frank born in 1855; Ella in 1858; Clara in 1859 and Ida born in 1860. Over the following years other children born to the family were Henry in 1863; Frederick in 1865; Albert in 1867; Lilly in 1869; Robert in 1876 and Florence in 1889.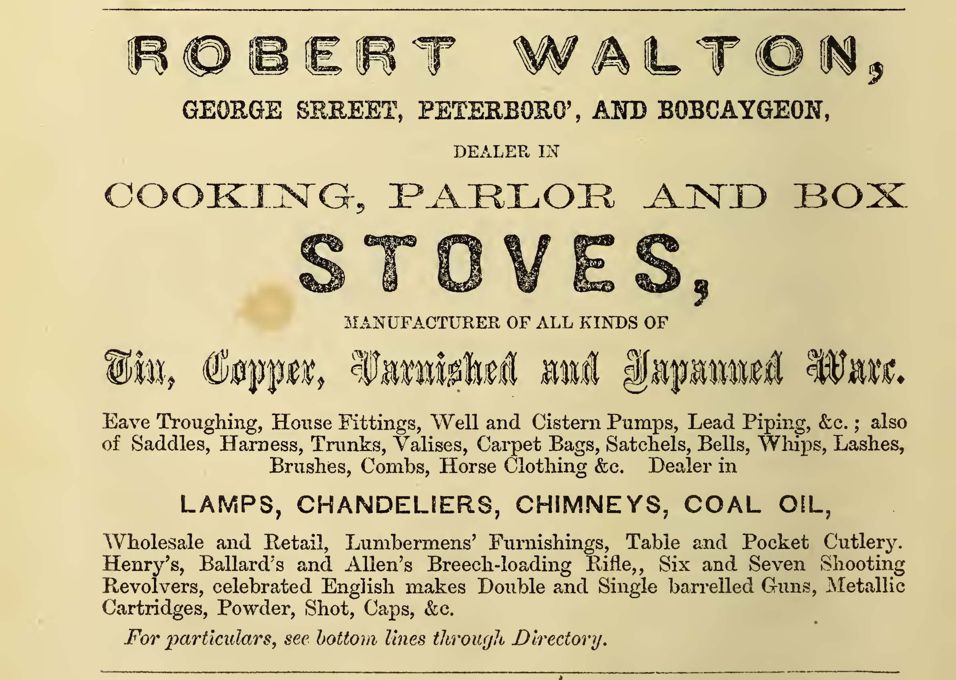 The family resided in Peterborough for many years. Helena, who always went by Ellen, married on 6 February 1878. Her husband was Charles Fisher, son of Nathaniel and Mary Fisher. Louisa Walton married William Langford in October 1873. Ella Walton married Charles Edmund Pearson in August 1888.  Ida Walton married Archibald David Browne in December 1882.
Robert Walton died at his Peterborough home in October 1904. His wife, Lavina (Ferris) Walton, died in Peterborough in February 1909. Their remains are interred in Little Lake Cemetery.