Early Life
Edward Mahon would one day become a barrister. Born in Canada West in 1854, he was a son of Martin Mahon and Jane Horan, a family who resided in Ramsay Township, Lanark County in the 1860s. His father, Martin, born in Ireland and trained as a blacksmith, was 39 years old in the year 1861. Edward's mother, Jane, also born in Ireland, was aged 30. Edward, who was at that time aged of 7 years, was their oldest child. Before the start of the next decade, other children of this family included Ellen J., born 1856 and Mary Ann born in 1858. As the next decade commenced, a son, Martin J. Mahon, was born in 1860.
By 1871, the family had moved to the city of Ottawa where Martin senior continued his work as a blacksmith and Edward now studied law. Three more children had arrived to the family: Alice Marguerite born 1862; Martina born 1864 and James Martin, born 1866.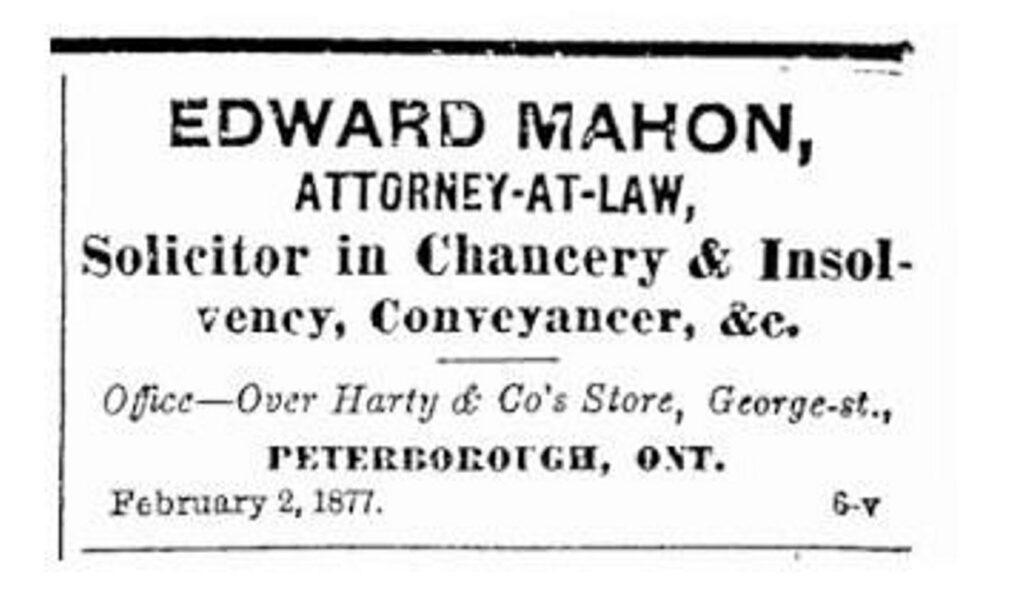 Edward Mahon Barrister at Law
Studies Completed
Edward graduated from his studies and became a fully credited Attorney-at-Law. In 1877, he opened an office on George Street in Peterborough. However, it does not appear that Edward took up residence in town for more than a few years, for in 1881 he was again listed as living in his parents' household in the city of Ottawa. In 1890 he married Mary Theresa Edmonson, a nineteen year old girl born and raised in that city. She was a daughter of Hugh James Edmonson and Catherine Quinn. In 1891, Edward and Mary Theresa made their home with her parents in St. Georges Ward, Ottawa. Edward continued his practice of law.
Raising a Family
Four children were born to this couple. A daughter they named Kathleen Mary Theresa was born in 1893. Another daughter, Carmon, was born in 1901 and a son, Edward, was born in 1904. Mary Edith Isabel, their youngest child, was born in 1906. Edward Horan Mahon died on 4 April 1908 at the Eastern Hospital in Leeds County. He had contracted tuberculosis. His widow, Mary Theresa (Edmonson) Mahon, later resided with her  children, in her own widowed mother's home in the city of Ottawa.