Fairweather Store, Peterborough
Early Life
William Fairweather, born in Scotland in 1833, later traveled to Canada West. He eventually settled in the town of Peterborough, Canada West. There in 1865, William formed a partnership with George Leslie. Through their business arrangement they operated a Dry Goods Store on Hunter Street.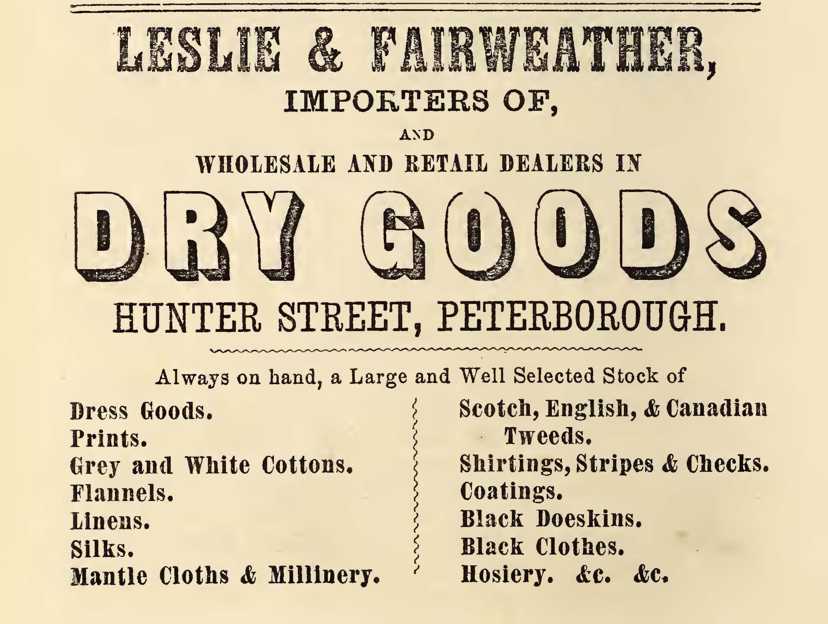 Leslie & Fairweather Dry Goods Store Peterborough 1865
Marriage and Family Life
In the mid 1860s, William married Agnes Home. Early in 1871, they were found living in North Monaghan Township, Peterborough County with a family of four children: James W., born 1867; Isabella born 1868; Agnes born 1869 and Robert born in September 1870. The year 1870 was momentous for William. In that year he began an independent business venture. Called Fairweather & Company, the store was located on George Street.
In 1881, William was 48 years old and his wife, Agnes, a few years younger. She was then aged 42 years. They had had one more child, a daughter named Jessie, born in 1872. During the period of the 1870s, the family residence became a home located within the town of Peterborough. William continued with his business as a  local merchant. His shop, situated in the downtown shopping area, was flourishing quite well.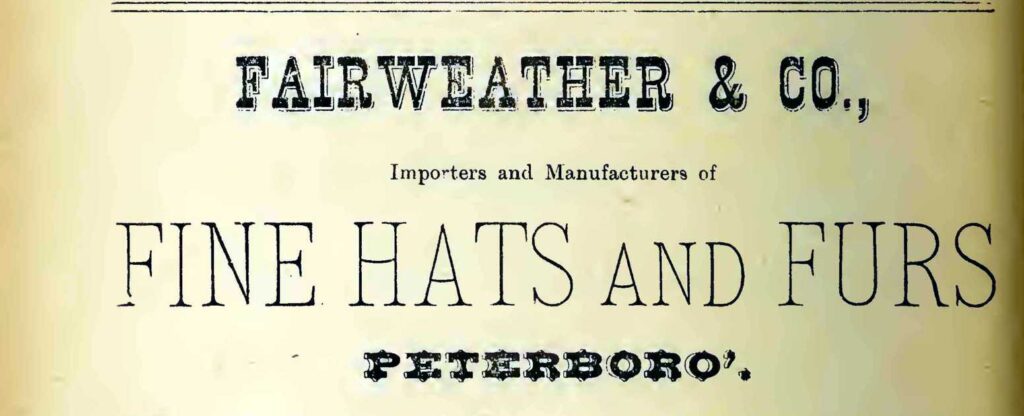 Later Years
By 1883, the family home was located on part of Park Lot 7, in the south-west end of town. Development of the town's Park Lot properties afforded families with houses located right on the edge of town with desirable large lots.
William Fairweather did not have time to enjoy his estate sized home for very long. He died on 31 May 1885 in Peterborough. The business was thereafter carried on by William's son, James. In 1891, James' occupation was given as furrier.
Downtown Business Location
As of 1893, the store was located at 361 George Street. It occupied the middle of three shops on the ground floor of the Turnbull Medical Building, at the corner of Simcoe and George streets. The family home was now at 48 Gilmour Street.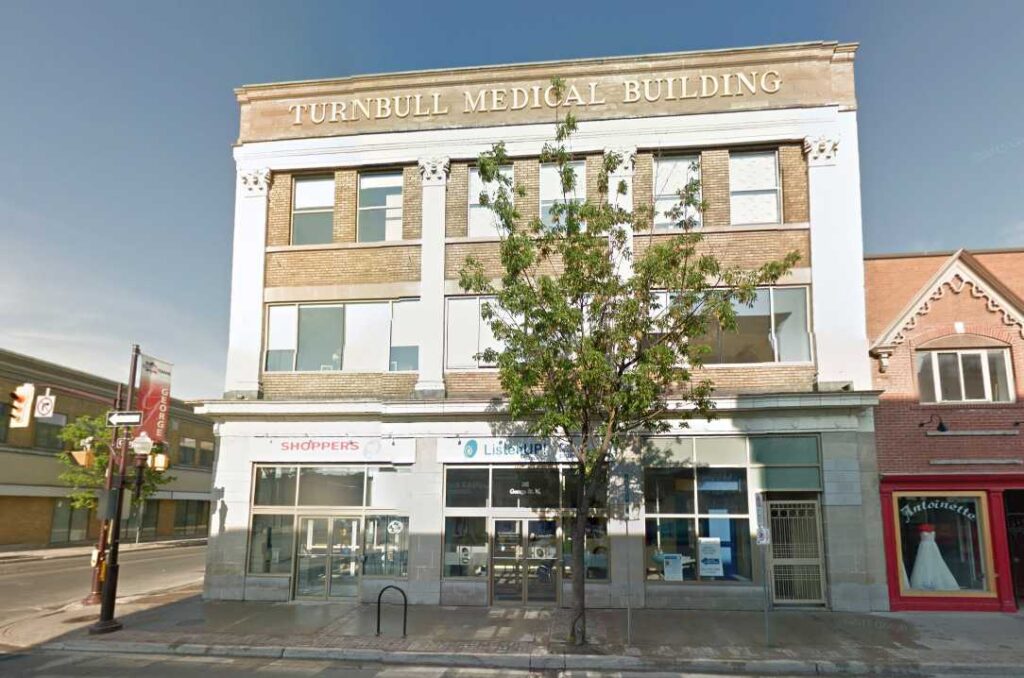 Store Employs Many Workers
In 1894, Fairweather's had a number of employees on its payroll. Fur finishers were the Misses Armour, Wainright  and Galvin. Milton Green and Frank Cunningham were clerks.
Bernard Matschke was a fur-cutter with the company and Robert H. Fairweather was the bookkeeper. Others working for the company included Percy Gordon, Sarah Fowler, the Misses Long, May, Goodfellow and Morgan, Eliza and Ida Morrow and Katie Sheehan.
The company continued to have a presence in the town of Peterborough until 1901 before it closed as a local business. Agnes (Home) Fairweather died in Toronto on 15 December 1917.