Butterfield Groceries & Dry Goods
Dealer in Dry Goods, Groceries, Hardware and more
John Almus Butterfield was born in Ontario about 1832. In 1861 he operated a dry goods store in the village of Norwood, Peterborough County, Canada West. He was already twenty nine years old and married to twenty-seven year old Catherine.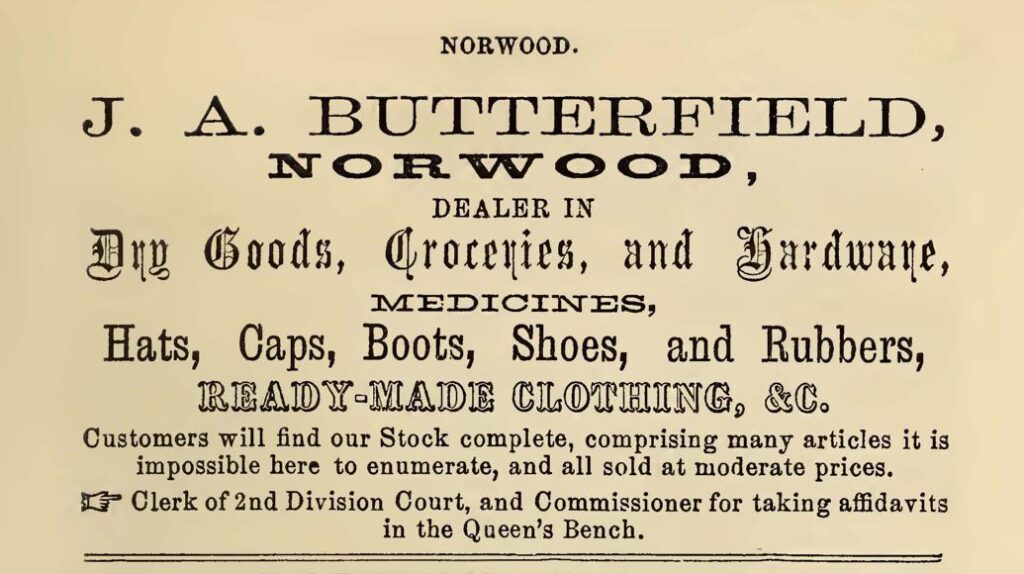 Advertising was an effective way to communicate with his buying public. In 1865-66, John ran an ad in the Peterborough Directory. John was also a clerk of the 2nd Division Court and a Commissioner for taking affidavits.
Family Years
By 1871, John and Catherine had three children. Their first child was Mary Catherine, born in 1861. Two more daughters followed. Lily M. G. was born in 1863 and Veda L. was born in 1868.  By the year 1871, John was Postmaster for the village of Norwood. The census indicates he also continued as a merchant. The post office no doubt operated from his local Dry Goods store.
In February 1885, John and Catherine's daughter, Mary Caroline was married. Her husband to be was Richard E. Birdsall, also a resident of Asphodel Township, Peterborough County. A farmer by trade, Richard was 24 years old. He was a son of Francis and Amanda Jane Birdsall.
1885 was also the year in which John Almus Butterfield died. A relatively younger man of 53 years, his death took place in Norwood on 20 July 1885.  John's remains were buried in the Norwood-Asphodel Cemetery.