Boots, Shoes & Manufacturing and Dealer
William Deering was born in Ireland circa 1821. His wife, Margaret Hawthorne, was also born there, about the year 1818. After immigrating to Lower Canada, the family resided in Montreal. Two boys were born after the family arrived. Thomas William was born in 1843 and Benjamin Draper in 1845. In June 1845, Benjamin Draper Deering was baptized at Montreal.

Cobourg 1865-1866 Directory
By 1861, William and Margaret had relocated to the town of Cobourg, Ontario. There in a little shop he made and sold boots, shoes and other small items. The family had grown considerably. In addition to the two oldest boys, there were now also, Jane Elizabeth born in 1849, Horner Frank born in 1853, William A., born in 1855 and Mary Horseman born in 1857. Living in the Deering household in the 1860s, was a 75 year old widow. She appears to be William's mother, the Widow E. Deering.
The family continued to reside in Cobourg well into the decade of the 1880s. William still operated his store until the latter 1870s and then retired. By 1881 while William and Margaret still resided in Cobourg, but he no longer had an occupation on the census enumeration. However, in that year, William A. Deering, son of William Sr. and Margaret, was listed as a Boot & Shoe Dealer in town.
William Deering Sr., died before 1891 as by that date, Margaret, now a widow, continued to live in Cobourg with her unmarried daughter, Jane Elizabeth Deering. Margaret (Hawthorne) Deering died in Cobourg on 22 May 1902.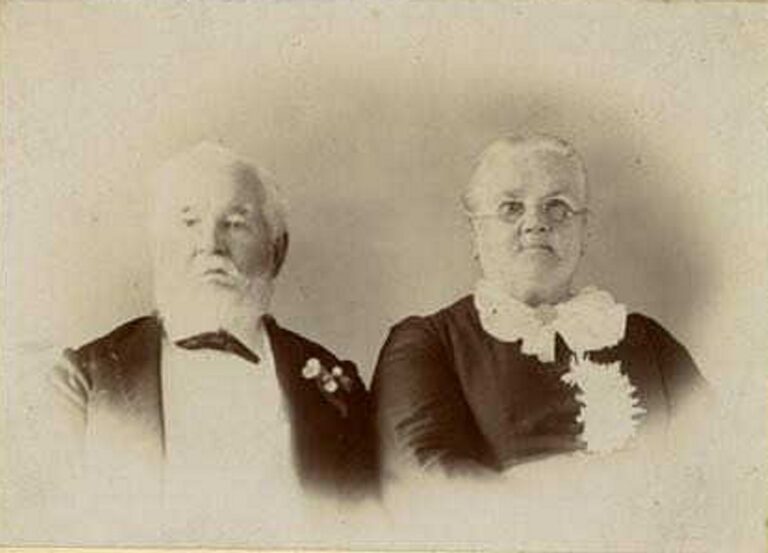 William Deering and his wife, Margaret Hawthorne