Alfred Humphreys - Confectioner
English Emigrants
Alfred Humphreys and his wife, Haddassa Clara Flower, were born in England about the year 1853. They married in England before immigrating to Canada in the latter 1870s. The couple settled first in Quebec, where in 1878, their daughter Eleanor was born.
Relocation to Peterborough
Around 1880, Alfred and Haddassa moved to Peterborough. Here Alfred set up a new Confectionery Shop, selling cakes, pastry, ice cream and soda water among other items. He sold both to wholesale and retail.

Humphreys Confectionery Shop Peterborough
A son they named Arthur Alfred, was born 30 January 1881, in Ontario. He was two months old when the census was taken that year in the town of Peterborough. Until the mid 1880s, the family resided in this province with Alfred operating his confectioners store. In 1883-84 his store is described in the local directory in a most complementary manner:
Humphreys, George street, keeps constantly on hand a superior stock of cakes and confectionery, of his own manufacture. Lunches at all hours, fruit, ice cream, soda water, etc., in season.
Return to Quebec
Alfred and Haddassa determined they could do better living in the Province of Quebec. Therefore, not long past the mid 1880s, the family moved once more. Their home was now established in the town of Longueuil, Quebec, a busy commercial and industrial community. When the census of 1891 was taken, this is where Alfred and Hadassa were living. They had enough property for Alfred to farm.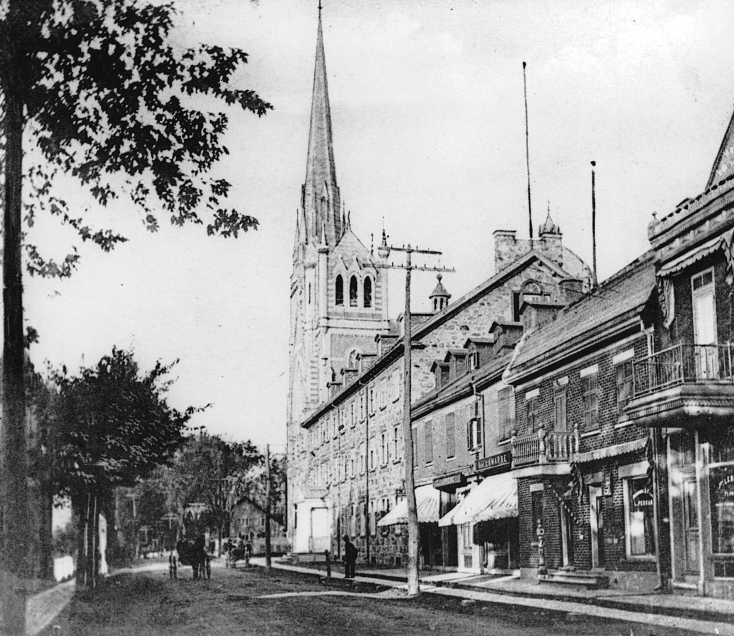 Rue St. Charles, Longueuil, Quebec circa 1910. Wikimedia Commons photo
However, ten years later, in 1901, Alfred was once again recorded as a confectioner. They continued to reside in the village of Longueuil, Chambly, Quebec where he had once again established a confectionery store.
Alfred Humphreys died in 1902. His wife, Haddassa Clara Humphreys, nee Flower,  died in 1907. They are interred in Mount Royal Cemetery, Montreal, Quebec. Arthur, their son, married Ethel Hannah Berry. She was born in England in 1882. Arthur died in 1951 and Ethel in 1964. They also are interred in Mount Royal Cemetery, next to his parents.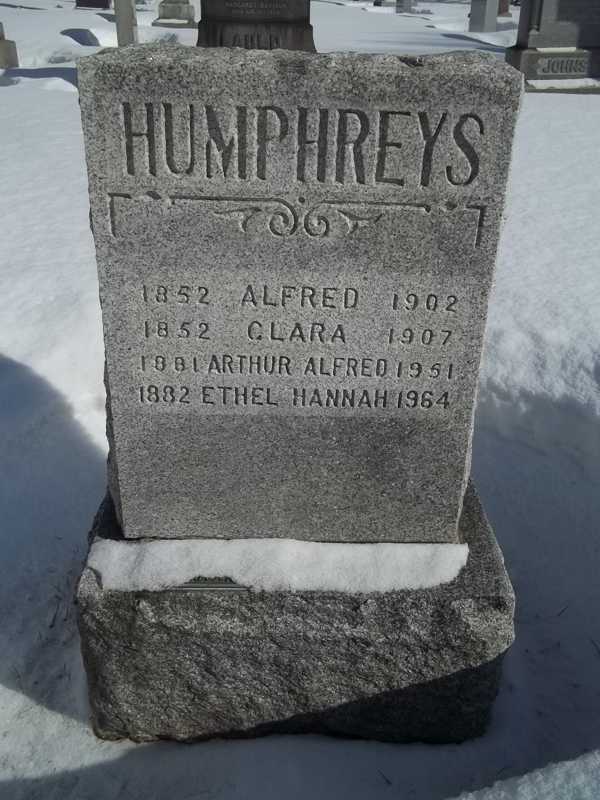 Alfred and Clara Humphreys Headstone Mount Royal Cemetery, Montreal