the age of 14 years. It is told that James prospered during his years in Ireland and accumulated a sizable wealth. However, the family safety was threatened by an agrarian secret society known as the Whiteboys. The society took action against those protestant landholders who rented to tenant farmers at unreasonably high prices and who fenced off for their own use, those lands known as Commons. The Commons was simply a section of land that was available for all the local tenant farmers to share for the grazing of sheep and cattle.
While the Whiteboys were active during the 1700s, chiefly in the counties of Limerick, Tipperary, Cork and Waterford, the activities of this secret society expanded throughout southern Ireland and became the model for other similar groups.
Government Enacts A Law
In 1831, the Irish government passed the Tumultuous Risings Act. The ruling parliament intended the Act as a means by which to put an end to the escalating violence perpetrated by groups like the Whiteboys. The law was severe in its application. Those who acted in a manner of wilful or malicious aggression, those who engaged in shooting at, attempting to maim or disfigure any person, or who sent or gave voice to threats if monies were not paid to them, or who demanded fire-arms, ammunition or other things, were by the new law, labelled as committing a felony punishable by death.
Notwithstanding the government's efforts to put an end to the violent behaviour of such groups throughout the countryside, James Calcutt found his business threatened by these very types of local activists. In the town of Mountmelick, the Whiteboys were lead by one James Demsey, alias Phil Cassidy. Before long, James Calcutt found himself on the wrong side of this local group and in 1832 he was forced to flee from his native land.
Arrival in Canada West
Bringing his wife and young family to Canada West on board the William IV, the family's arrival to the port of Cobourg was noted in the Cobourg Star of 1 August 1832. Acquiring a three acre property fronting onto the lake and bordered by Hibernia, Orr and Durham streets, James built a family home, a brewery, distillery, malt houses and kilns. As well, in time he would erect an office, workshops and a steam flour mill. Within months James had established a new and was advertising the availability of his beer and ale of excellent quality. On Dec. 10, 1832, the following advertisement appeared in the Cobourg Star:
COBOURG BREWERY
The undersigned begs to inform the Inhabitants of Cobourg that he has the above establishment now at full work, and has ready for delivery, Beer and Ale of excellent quality and also good fresh Yeast. James Calcutt
Trailed to Canada West
While James had departed Ireland to leave behind his troubles with the Whiteboys Society, that group was not so willing to accept an end of hostility toward him. James Demsey chose to follow Calcutt to Canada West, strangely enough, traveling on the very same steamer. Demsey intended to also purchase land in Cobourg and then to begin anew his activities of aggression. James Calcutt was still a man to be targeted in the mind of James Demsey.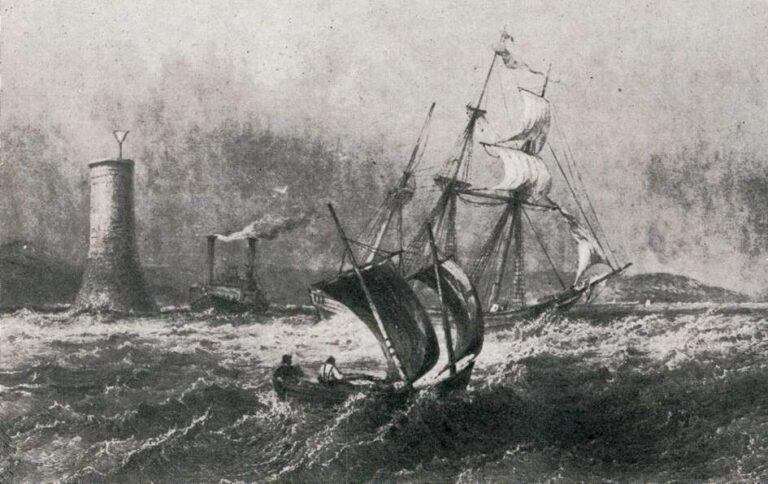 Approaching Cobourg Harbour in a Storm
Source: Cobourg 1798-1948 by E. C. Guillett
Fate can have strange outcomes. November is a stormy time of year to be travelling upon the great lakes of North America. As the steamer, William IV, made for shore in heavy swells, it had to avoid a dangerous wharf. Being pushed in upon the wharf, the Captain worked to back up the steamer for a second attempt, the boat crashed against the incoming breakers rolling turbulently to shore. Two passengers were sent flying overboard to their deaths. It was here that fate dealt one of its oddest cards. The morning after the drowning, Mrs. Calcutt was the very one to discover a body washed upon the shoreline of her new Cobourg property. The body was of course that of Phil Cassidy, otherwise known as James Demsey.
Family and Home
During his lifetime, James Calcutt married twice and had a family of eleven children.
During the many years of his residency in Cobourg, he gained much respect. He became a member of the Board of Police and later was a member of the first Town Council. In the 1850s, along with many other town businessmen, James Calcutt found himself in financial difficulties. He was forced to sell the buildings and Lakehurst, the family home. In 1859, James and his wife moved to the nearby smaller town of Port Hope. James died 18 May 1869. His remains were interred in St. Peter's Anglican Church Cemetery in Cobourg.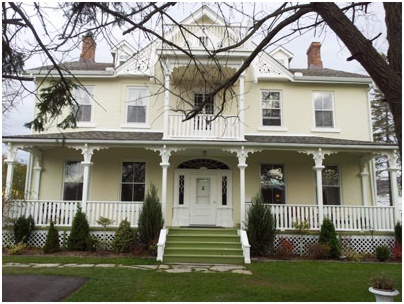 The Calcutt home, known as Lakehurst, built by James after arriving in 1832. Today, this two story mansion is Cobourg's oldest surviving brick residence.
Source: website – Cobourghistory.ca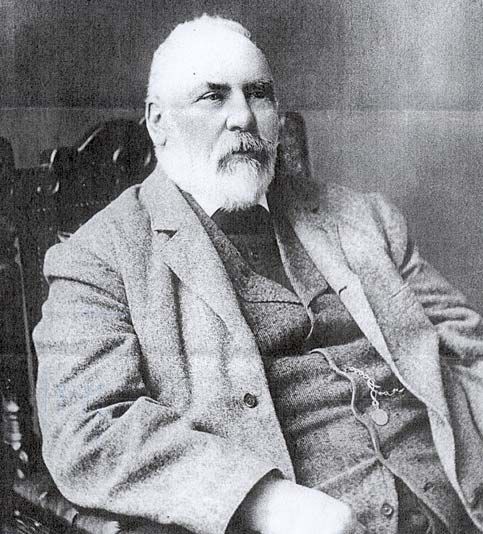 Henry Calcutt c.1895
Source: Historical Review 28; The Cobourg and District Historical Society 2010-2011
A Young Man In Business
Henry Covert Calcutt, born 16 Mary 1836, was the fifth son of James and his first wife, Jane Shannon. Growing up in Cobourg, Henry learned from his father, all facets of running a brewery company. As a young many of 18 years, he moved to the town of Peterborough in 1855. Here Henry began putting his skills to work, opening an ale and malt brewing business. The first location, a leased premise, saw him through the initial eight years of operation.
The following year, on 29 October 1856, Henry married Isabella Balfour, daughter of Margaret Clara Forester (1804-1868). The wedding was noted in the Peterborough Review of 31 October 1856:
On Wednesday October 29th at the residence of the bride's mother by Rev. M. Burnham, Henry Calcutt Esq., to Miss Isabella Balfour Greene, both of Peterborough.
While she is noted in the newspaper clipping, as Isabella Balfour Greene, her maiden surname is recorded on the gravestone at Little Lake, simply as Balfour.
Beginning a Family
Henry and Isabella began a family the next year with the birth of a daughter, Clara Mina. Another daughter, Adeline, was born in 1860. She was followed by two sons both of whom died as infants. Francis was born in 1860 and died the following year in October as a one year old. In 1862, Henry Jr., was born but lived only nine months.
The year 1863 was a challenging one for the family. When fire destroyed the premises Henry leased for his company, he built his own stone brewery and was back in business the same year. The impressive new facility was located in Ashburnham on the site that for time had been a turn-around for the failed Cobourg-Peterborough railway.
On 3 May 1864, another daughter, May Kirkpatrick Calcutt was born to Henry and Isabella. The Calcutt family continued to grow with the birth of Margaret Julia on 13 March 1866. Then a son, Clare Francis, was born 11 June 1868. With a family of five young children, the Calcutts needed a spacious home.
A Home in Ashburnham
John Cragie and Jonathan Stephenson had built such a commodious house at 73 Robinson Street in the village of Ashburnham. It was done in red brick, in Gothic Revival Style. Isabella purchased this home for her family in 1869. Members of the family would continue to reside here for the next seventy and more years.
A fifth daughter, Isabella Kate was born on 23 February 1871. Two more children were born to complete Henry and Isabella's family. Annie was born in 1873 and another son, Edward, was born and died in 1876.
Calcutt Steamboat Line
It was during the 1870s that Henry Calcutt became involved in the building and operating of steamboats on the Otonabee River and down into Rice Lake. In 1871, he purchased the Enterprise from the Cobourg & Peterborough & Marmora Railway & Mining Company. It was shortly replaced by Calcutt's purchase of the Whistlewing, a new vessel built in 1871-72.  His second steamer became a well known site on Rice Lake with its daily trips to Hastings, Keene and Gores Landing.  In 1878, the Whistlewing sank in a gale. The following spring it was raised from the bottom of the lake and rebuilt.
In 1876, Henry added another steamship. Constructed by Daniel Herald, a boat builder who lived in Hamilton Township, in 1871, Daniel was at the time a widower with three small children. He was fated to die in a GTR railway accident in February of 1890, at Cobourg.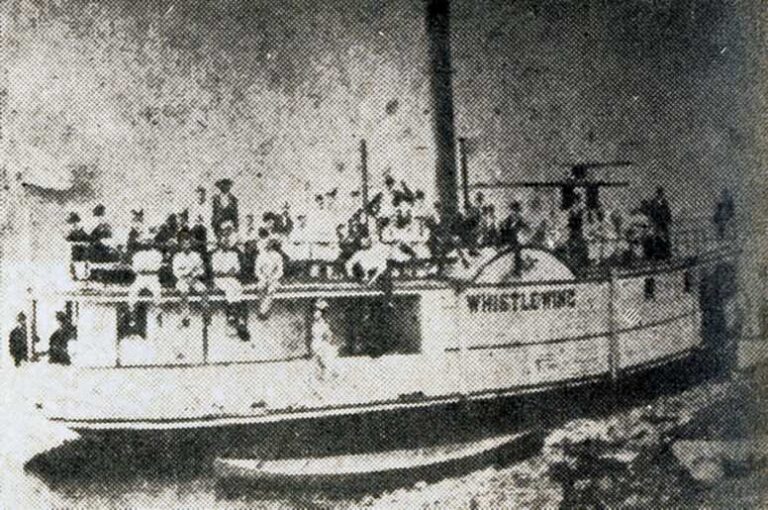 The Whistlewing built in 1871-72
Source: Cobourg 1798-1948 by E. C. Guillett
The Golden-Eye, after it was completed, also sailed between Peterborough, Harwood, Kenne and Hastings on Rice Lake. Running in connection with the Cobourg Railway, Calcutt's vessels were also available to be chartered for excursions on the Lake.
Henry Covert Calcutt continued in business until, in 1881, a stroke caused him some paralysis. It was also, in March 1881, that his wife, Isabella (Balfour) Calcutt passed away.
Thereafter he continued looking after his business matters for some years, but gradually was forced to be less active. His death on 16 June 1913 occurred at the family home on Robinson Street, in Peterborough. He and his wife, rest in Little Lake Cemetery in Peterborough.
Children of Henry and Isabella
Clara Mina, the first born daughter of Henry and Isabella (Balfour) Calcutt, married Richard Birdsall Rogers, on 24 February 1881. Their marriage took place at St. Lukes Church in Ashburnham. Barely two weeks later, Clara suffered the shocking loss of her mother, Isabella, due to a heart attack.  Richard Birdsall Rogers, an engineer and public land surveyor, was the son of Robert David Rogers and his wife, Elizabeth Birdsall. Richard would become the Superintending Engineer of the Trent Canal in 1884 and remain in this position until his retirement in 1906.
A family of eight children were born to Richard and Clara. Their first two babies, both sons, died in infancy, one in December 1881 the second in 1883. Of their other children, three boys and three girls, all lived to adulthood.  Sons, Heber and Harry, both served in WWI.
Younger Siblings of Clara
Adeline, was the second daughter of Henry and Isabella (Balfour) Calcutt. Born in 1860, Adeline grew up in the home on Robinson street in Ashburnham and continued residing there until her death on 27 May 1905. She did not marry.
The next two children of Henry and Isabella (Balfour) Calcutt, were sons, Francis, born about 1860 and Henry born in 1862. Both these boys died as infants.
May Kirkpatrick, daughter of Henry and Isabella (Balfour) Calcutt, was born 3 May 1864 in Ashburnham. She married Charles John Logan on 28 December 1883 at St. Luke's Church in the village. Charles was a teacher at the Galt Collegiate Institute, and so he and May resided in that town in Waterloo County, Ontario. They had a son, Henry Gordon born in 1884. In November 1886, May (Calcutt) Logan died at Ashburnham Village. She was just 22 years old.
Margaret Julia, daughter of Henry and Isabella (Balfour) Calcutt, was born 13 March 1866. Margaret did not marry. She lived her entire lifetime in the family home at 73 Robinson Street in Ashburnham. Margaret died on 10 December 1947. She rests in Little Lake Cemetery, Peterborough.
Captain of a Steamship
Clare F. Calcutt, son of Henry and Isabella (Balfour) Calcutt, was born about 1868. Clare worked on his father's steamboats plying the Otonabee River and Rice Lake. He later captained one of the vessels. A single man all his life, Clare died on 24 May 1907 at the family home in Ashburnham. His death was caused by chronic alcoholism.
Isabella Kate, daughter of Henry and Isabella (Balfour) Calcutt, was born 23 February 1871. Known in the family as Kate, she lived with her sister Margaret in the family home. Kate did not marry. She died 24 April 1948. Her remains were interred in the family plot at Little Lake Cemetery, although her name does not appear on the family headstone.
Annie Gilchrist, daughter of Henry and Isabella (Balfour) Calcutt, was born about 1873. She died at the young age of 19 years on 12 March 1892 and was interred in the family plot at Little Lake Cemetery.
Edward, the youngest child of Henry and Isabella (Balfour) Calcutt, was born 18 March 1876 at the family home in Ashburnham. He lived but one day.
Closing of an Era
With the passing of Margaret in 1947 and Kate in 1948, the last of the members of Henry and Isabella (Balfour) Calcutt's family, the presence of this family name also disappeared from the local community. Henry Calcutt had an illustrious career in the region, taking part in the village Council and being Reeve of the village for three years. In 1895 he was granted the patent for a method of cooling beer quickly, a process that continues in use to the present day. In 1867, he became owner of a mine south of Union Creek in Galway Township, Peterborough County, mining for silver. Throughout his 77 years, Henry Calcutt pursued a fascinating and busy life.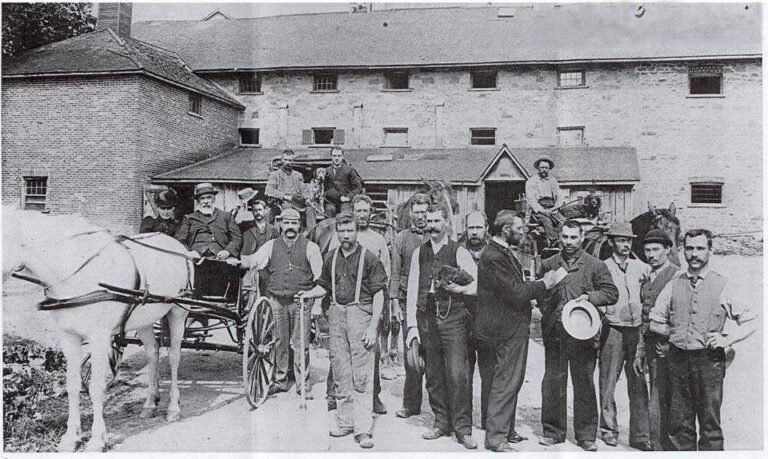 Henry Calcutt with workers at his Ashburnham brewery
Source: Historical Review 28; The Cobourg and District Historical Society 2010-2011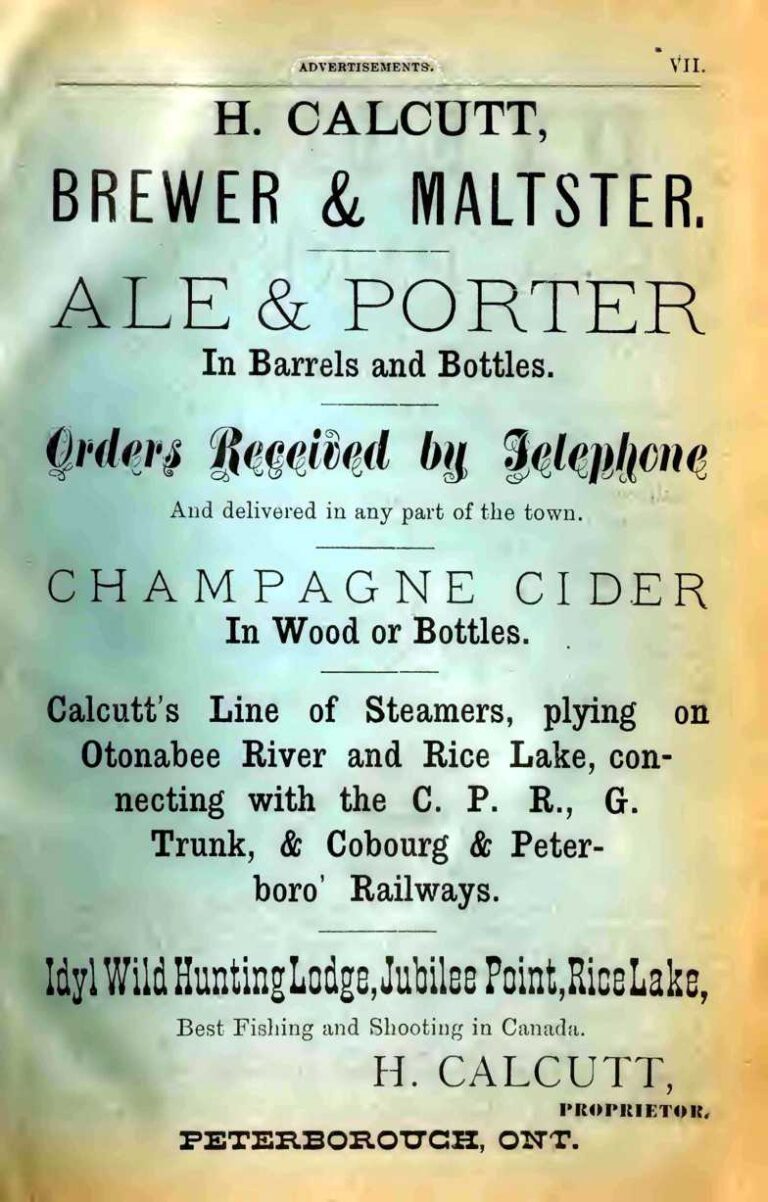 1887 Business Directory Peterborough County