It was about the year 1869 when Joseph and his wife, Charlotte (Bond) Braund immigrated from England with their three young daughters. Arriving in Ontario, the family settled onto a farm near Newcastle, Durham County. Here another five children, all sons, were born to them. Two of the boys, Ralph Colwell born in 1870 and his younger brother, Joseph, born in 1873, went to live in Peterborough, Ontario as young men.
Departure from the Family Farm
Ralph Colwell Braund, came to Peterborough around 1893. He worked for a short time for Michael Carton, a grocer with a store at 137 Simcoe Street. In the same year that Ralph came to Peterborough, he married Amelia May Greene, daughter of Henry and Jane. The wedding took place in Peterborough on 13 April 1893. Thereafter, Ralph and Amelia made their home at 111 Park Street for a few years. Ralph went into business for himself as soon as possible. In 1894, he started a grocery store in one part of the house where they lived.
About 1902, Ralph and Amelia moved to a house at 53 Park Street. Next door at 55 Park Street, Ralph operated his Dry Goods Store where he sold everything from bicycles to patent medicines. Today, in 2017, this property is part of the Tim Horton's Coffee shop at the corner of Park and Albert streets.
Brothers in the Grocery Business
Ralph now had serious competition from his younger brother, John Thomas Braund, who had moved to Peterborough about 1897. John set up his first grocery store on the east side of River Road at Lot 2. The area was known at the time as Auburn, taking its' name from the nearby Auburn Mills. In 2017, this area is part of Armour Road, north of Parkhill Road.
On 28 July 1898, John Thomas Braund married Essie Lucretia Jane Law. Their wedding took place in the village of Ashburnham. The following year, 1899, Essie and John established their home at 148 Smith Street. John now operated his grocery store from 718 George Street, which in fact, was part of the same building as their home. The front of the building faced onto Smith Street, which was later renamed Parkhill Road. This was their home address. The rear of the building faced onto George Street and therefore had the 718 George Street address.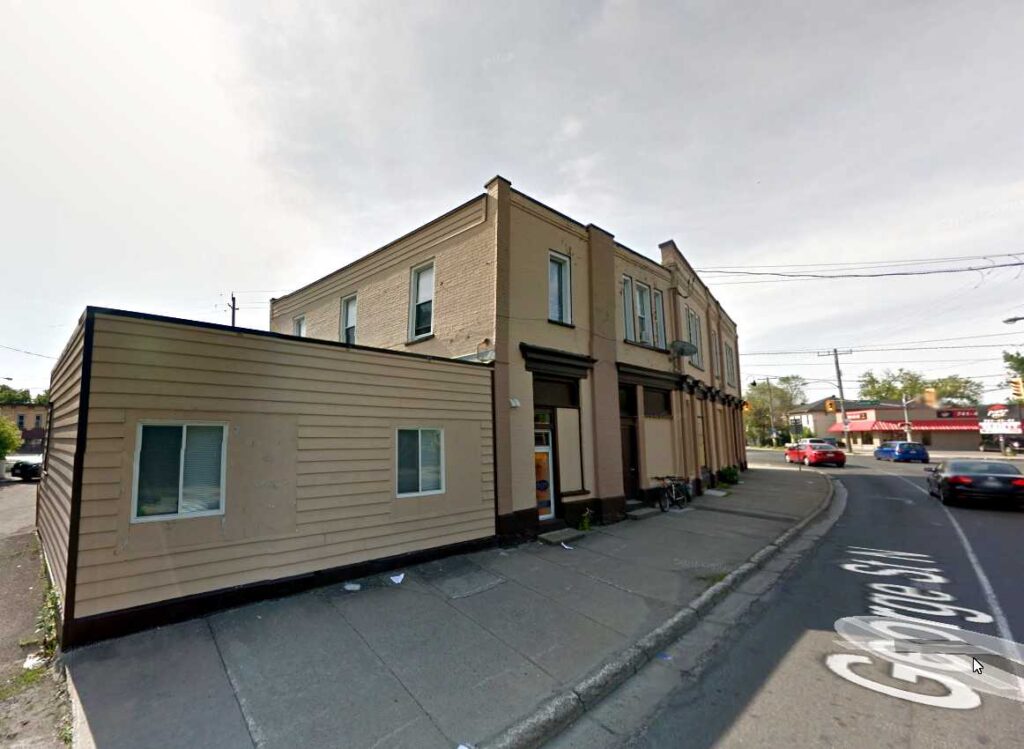 Raising A Family
Essie and John had a family of four children. Stanley was born in 1901 and Ernest Caldwell Braund was born in 1908. After him came two more children, Eldon, born in 1911 and Charlotte Phyllis, known as Phyllis, born in 1916.
Between family and business, the Braund brothers, John and Ralph, were steadily busy. Between 1901 and 1930, both men expanded their grocery store locations. For several years the city directories show that if one brother listed his goods and wares under local Butchers, so too did the other. Over the years, their stores carried a multitude of items, including grocery foods, butcher meats, china, crockery and glassware, notions, pianos, organs, stoves and tinware.
As much as they had a friendly rivalry for business at their stores, so too did the men work together. In 1905, Ralph and John, along with Henry C. Bacon and Henry Greene, formed the Greene Music Company. It was located at 286 George Street in what was known as the new opera house building. The store sold music and musical instruments. By 1913, Ralph was the company president and John the vice-president. John Mendell Greene was the secretary-treasurer as well as the store manager.
Business Expansion
In 1912 Ralph opened up a second store location. He established a Department Store at the address of 455 Albert Street. His home was still at 53 Park Street and his Grocery store at 55 Park Street. All three addresses are next to one another on the property that, at current day 2017, is the location of the Tim Horton's Coffee Shop at the corner of Park and Albert Streets.
Amelia and Ralph had a family of seven children. Laura May was born in 1895. Mendell Ralph Carlos was born in 1898. Two daughters were born next, Aileen in 1899 and Lois in 1901. Joseph Grant Braund was born in 1903, Nelda in 1906 and their youngest child, Henry, was born in 1908.
From Grocery to Dry Goods
During the 1920s, Ralph changed the focus of his store, bringing in wares that included boots, shoes, china, crockery, ready-made clothes, furniture, linoleums, trunks, valises and wall paper.
By 1929, the store operated from 443 Albert Street while the family home continued to be at 51 Park Street. The store at 55 Park Street was no longer a location used for business by Ralph Braund. It was now McLeod's Drug Store, run by Bert O. McLeod.
A Community Role
Ralph and Amelia became involved as members of the Salvation Army. For thirty years, during the months of July and August, he taught Sunday School and held Gospel Services on the banks of the Otonabee River so that all campers, cottagers, boaters and local residents had an opportunity to take part in services. As well, he supplied swings and playgrounds. For his dedication, Ralph Braund was appointed a member of the Order of The Founder and his name inscribed on the Roll of The Order. Ralph Colwell Braund died on 14 January 1958. His wife, Amelia May (Greene) Braund, died on 8 May 1962.
In the 1920s and up until 1931, John Thomas Braund, brother of Ralph, maintained the Braund General Store at 718 George Street. Like his brother Ralph, John chose to expand his inventory becoming a department store as well as a grocery outlet. In 1921 the company Routly-Braund Limited was formed with John as manager. The store, located at 174 Charlotte Street, sold boots, shoes, trunks, bags and hosiery.
Growing Up in Town
Ernest Caldwell, son of John and Essie (Law) Braund, had spent his childhood growing up in the family home at 148 Smith Street (later Parkhill Road). He would have attended Queen Alexandra School on Barnardo Avenue. In 1928, at the age of  twenty years, Ernest was a still a student completing post elementary school studies. In another couple of years, he had finished his education and started to work in his father's store.
John Thomas Braund & Son in Business
Young and full of energy, Ernest took on more of the business responsibilities. In 1936, a second store was opened at 280 Park Street north. The Park Street store would remain as part of the family business for the next seventeen years, until the close of 1953.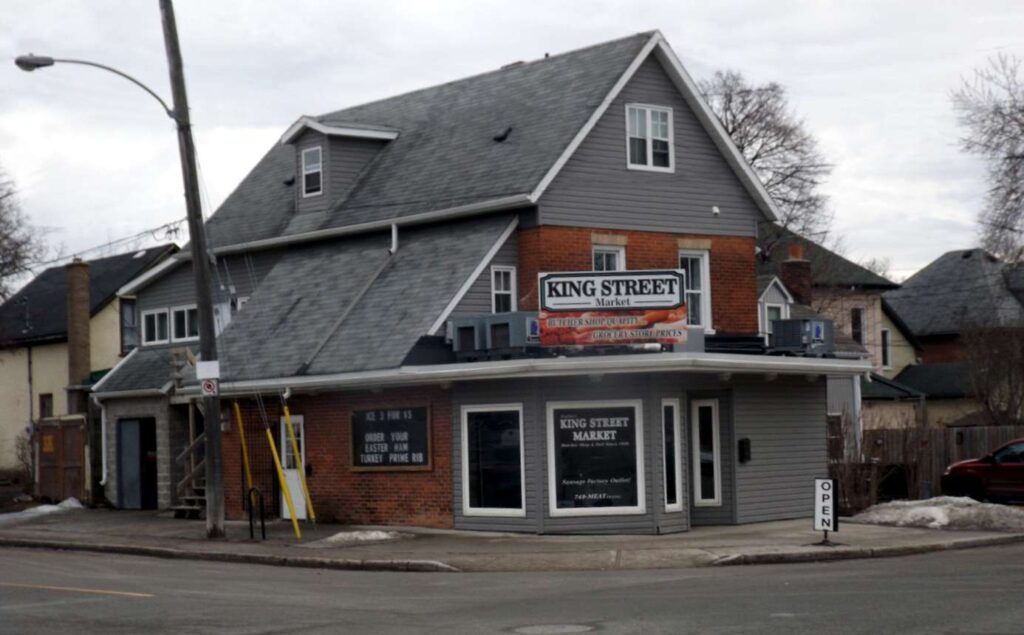 Having reached the age of 26 years, Ernest was still unmarried. He worked steadily, building the family business. His older brother, Stanley was now an established dentist with a practice in town.
In the year, 1937, Ernest and his father opened another store at 174 Charlotte Street. This location was the middle shop in the Stanley Building on the north side of Charlotte. It remained as a family operated store until the end of 1950. In 1951 this address, 174-176 Charlotte Street, was a vacant store. The address in recent years has been the location of the Peterborough Art School.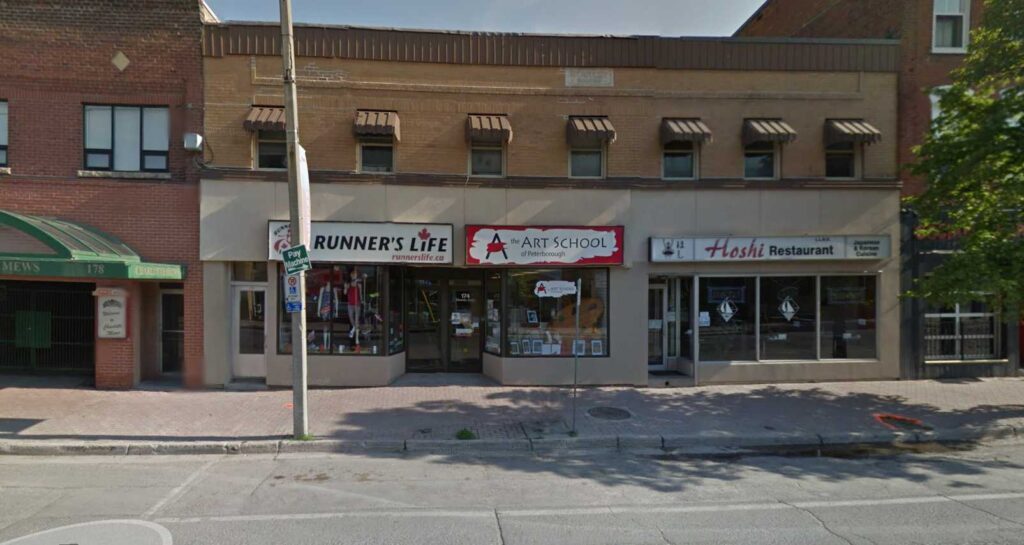 In the latter 1930s, John and Ralph Braund both became involved in Real Estate. Ralph conducted his newest business venture from a location at 443 Albert Street, which was nearby to his earlier store location. After only a few years in Real Estate, John Thomas Braund died on 15 April 1942. He was 65 years old. His wife, Essie (Law) Braund, died on 16 September 1956. Ralph continued in the Real Estate business up until 1953 when he retired.
Meanwhile, Ernest Braund married Margaret Allison Campbell on 4 November 1940. They were wed in Peterborough. Margaret was born 9 December 1910 in Otonabee Township, a daughter of Henry Campbell and Jane Ann Humphries.
Employees of Braund Grocery Stores
In 1942 Ernest Braund had a large number of employees between the three store locations. Their names are referenced in the table below.
| | | |
| --- | --- | --- |
| Name | Position | Lived |
| Joseph Amyotte | Worker | 359 Euclid Ave. |
| Donald Anderson | Clerk | 269 Burnham |
| Frank P. Asta | Clerk | 331 ½ George Apt D |
| Eileen Ayotte | Stenographer | Rooms 516 Water |
| Frederick W. Bell | Hatchery Manager | 184 River Rd. |
| Isabel C. Brown | Clerk | 711 Water |
| Richard H. Brown | Clerk | 787 Water |
| Reuben Castle | Butcher | 92 McDonnel |
| Evans S. Chamberlain | Store Manager | 332 Reid St. |
| Allen Clarke | Clerk | Lakefield |
| Thomas J. Daly | Clerk | 176 Charlotte Apt 2 |
| Mary Delahaye | Clerk | 138 London |
| Lorne Drinkwater | Worker | 705 George St. |
| Ernest R. Found | Store Manager | 166 Prince St. |
| Harold Hamblin | Worker | 148 Parkhill Rd. |
| Verna Hurl | Clerk | Lakefield |
| Alfred Jennings | Worker | 554 Reid St. |
| Maxwell Lloyd | Worker | 28 Barnardo Ave. |
| Betty MacKenzie | Worker | 548 Sherbrooke |
| Harriet McIntosh | Worker | 168 Antrim |
| Lloyd F. Mitchell | Worker | 591 Bolivar |
| Richard Neill | Worker | 460 Bolivar |
| Percy Nicholls | Driver | 2 Benson Ave. |
| W. Roy Penrose | Worker | 334 Reid St. |
| John Rollins | Worker | RR 4 Peterborough |
| Nelson Routly | Clerk | 452 Park St. N. |
| Phyllis Simpson | Worker | 540 Bolivar |
| John J. Sullivan | Worker | 461 McDonnel |
| Rena Thomas | Worker | 660 Armour Rd. |
| Rena Toms | Clerk | 550 Armour Rd. |
| Leonard Welch | Worker | 277 ½ Park St. |
| Gordon Wray | Worker | 708 Elcome Cres. |
The Closing Years
In the 1950s Ernest renamed the stores to Braund's Home Food Markets. Another store location had been opened in 1949 at 757 Lock Street. He operated the Food Markets until 1956. Then from 1957 until 1960 he only ran Braund's Feed & Hatchery Market at 726 George Street. At this point in his life, Ernest left the grocery store business. From 1962 until 1980, he owned Ernest C. Braund Realty Ltd, located at 728 George Street. His business involvement came to an end with his death on 5 May 1981 or 1982. Ernest's wife, Margaret, lived another ten years, her death occurring on 31 July 1992.