Butler's Dry Goods & General Groceries
Charles Butler was born in Percy Township, Canada West 10 April 1846. A son of Michael Butler and Sarah Goin, as a young man in his mid thirties, he married Hannah Collins. She was born in Emily Township, about 1852, the youngest of four children born to James Collins and Catherine Geary.

The Collins and Drennan Families
Hannah's father, James Collins, died in the mid 1850s and her mother, Catherine, remarried. Catherine (Geary) Collins' second husband was John Drennan. John was born in Ireland circa 1831. After their marriage, John and Catherine resided in Emily Township, Victoria County during the 1860s. By 1871 they had moved to Percy Township in Northumberland County. Here the family resided into the 1890s, a blended family of the Collins and Drennan children. The Collins children were John born 1839; Margaret born 1847; Michael born 1849 and Hannah born 1852. The Drennan children included Joseph born 1858; John born 1861; Bridget born 1864 and Charles born 1867.
Hannah Marries
 Hannah Collins wed Charles Butler at Our Lady of Mount Carmel Church, Hastings, Ontario on 20 January 1873. The young couple soon moved to Peterborough where in 1874 their son James was born. A daughter, Margaret, followed two years later. That same year, Charles opened his own dry goods business on Hunter Street in town.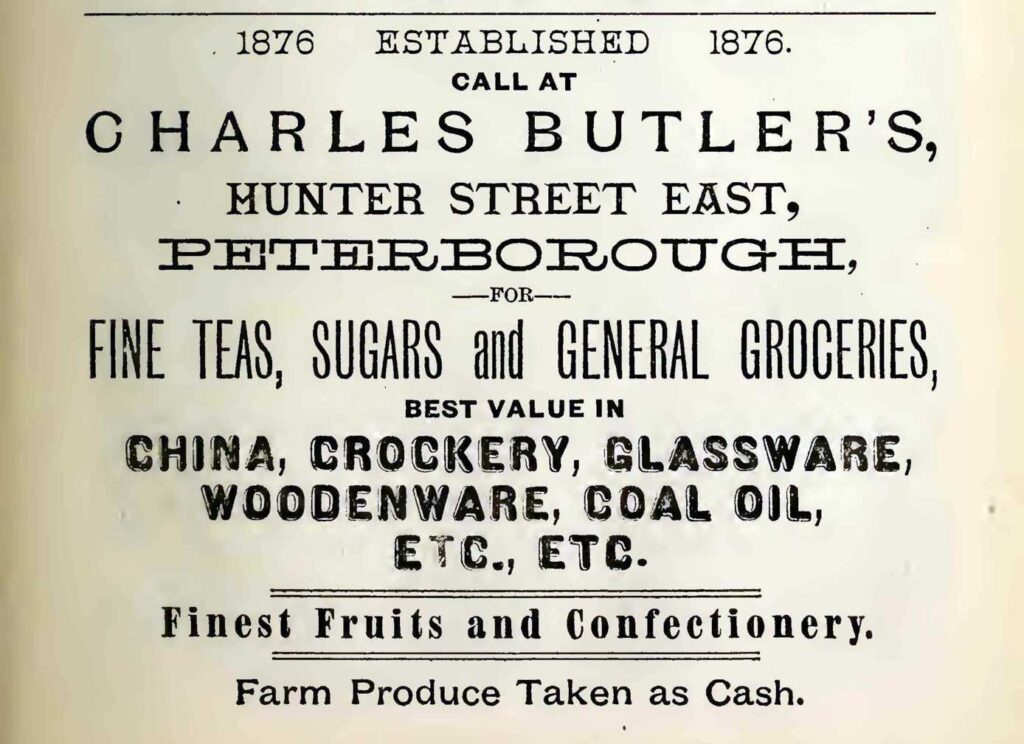 Charles continued operating his store into the mid 1890s. During the intervening years, another eight children were born: Charles Jr., in 1877; John Joseph in 1879; Francis in 1880; George in 1881; Mary Catherine in 1883; Frances Regina in 1887; Ellen in 1891 and Frederick in 1893.

In 1896, Hannah (Collins) Butler died of heart failure.  Just over a year later, Charles also passed away. His death was reported in the local newspaper:
Mr. Charles Butler, who has been a resident of the town for a number of years, died this morning at his residence, Queen st. The deceased at one time kept a grocery store on Hunter st., but in later years had been engaged as a painter. His wife died a little over a year ago. A family of sons and daughters survive him. Mr. Butler was 51 years of age and had been ill for nearly four months. The funeral takes place on Monday to the Roman Catholic cemetery.