Chalmers Lumber Manufacturing
George James Chalmers was born in the Township of Cavan, Durham County, Canada West, on 1 August 1846. His father, James Chalmers, had been born 1819 in Scotland. Mary Ann, born circa 1827 in Upper Canada, was the mother of George. She died when he was still young.
Chalmers Married at Bowmanville
George married Catherine Julia Belwood, daughter of Charles Belwood and Jane Wade. Catherine and George were married in Bowmanville, Ontario on 17 November 1874.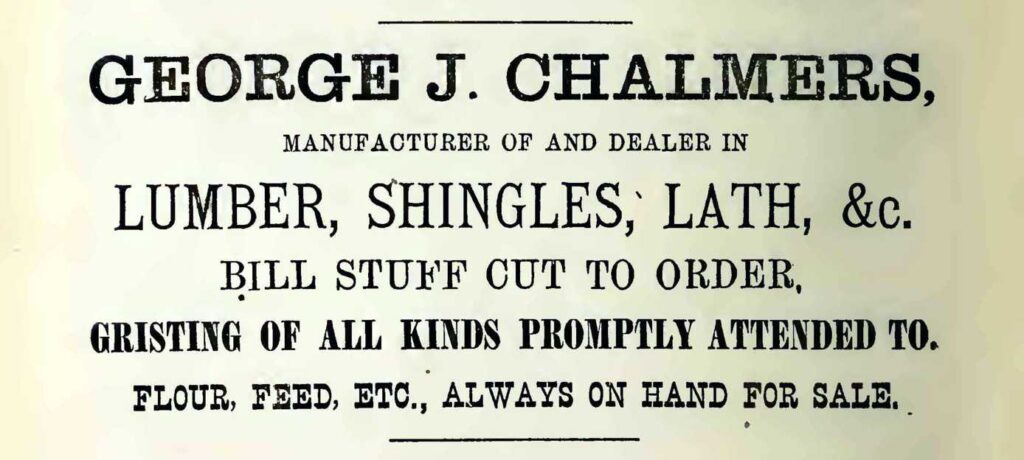 Lumber Company at Young's Point
In the early 1880s, George and Catherine moved to the Young's Point area in Peterborough County. There they lived on Concession 13 Lot 37 in 1887 and on Lot 35 of the same concession, a few years later. In 1891, the young couple made their home with the senior family members, James aged 72 years and his second wife, Elizabeth, aged 53.
George and Catherine continued to reside in the Young's Point area until the early 1890s. In their later years, the couple resided in the town of Peterborough. George James died there in 1918 and his wife, Catherine Julia (Belwood) Chalmers, in 1932.