Adam Melrose - Scottish Baker​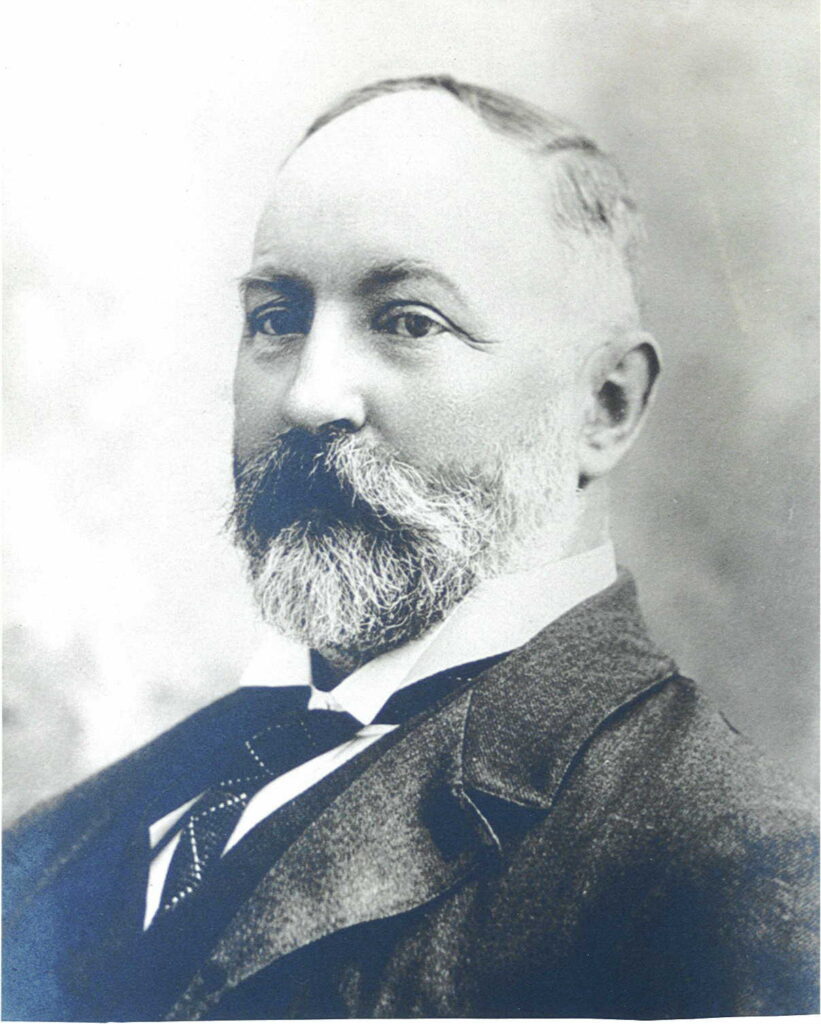 Arrival From Scotland

Adam Melrose was born in Scotland around 1850. Newly arrived to Canada, in 1871 Adam lived with his parents in the village of Preston in Waterloo County. A son of John Melrose and Janet Peebles, that year of 1871, Adam was 21 years old and working as a factory hand. His younger siblings included Isabella, 19 years old; James aged 15; Alexander aged 11 and Jean, aged 4 years.

A Short Time In Peterborough
It was not long until Adam moved to live in Peterborough, Ontario. At his new hometown he became a manufacturer. Soon he met Appelena Grieve, daughter of David Grieve and Isabella Darling. Appelena had been born in Clarke Township, Durham County, Canada West on 4 September 1850. She and Adam were married at her parents' home in the village of Newcastle, Ontario on 24 December 1873.
The young newlyweds  moved to the United States for a couple of years. Their first child, John Edwin, was born there in 1875.
Relocation to Ontario
Next, the family returned to Ontario, setting up their home in Waterloo. Here a daughter, Ida Bella, was born in 1876. Two years later, in 1878, a son, William James was born. The following year, another daughter, Jennette was born to their family.
By 1881, Adam and Appelena had moved once more, now making their home in the village of Lanark, Ontario. There Adam worked as a wool dyer, a trade he had taken up before the birth of Ida in 1876. The family remained in Lanark for a few years. Their stay was long enough for another five children to be born. A daughter, Appelena, was born in 1883 and another son, James, was born in 1885. Then, Adam Jr., was born in 1887, another daughter, Sarah, was born in 1889 and their last child, Irena Robertson Melrose, was born in 1890.
The next year the family moved to Peterborough, Ontario. That year, 1891, John began work as a wool spinner and William became a printer's apprentice. Adam worked as a traveller, possibly at sales or buying to do with wool industry. He continued as a traveller until 1896.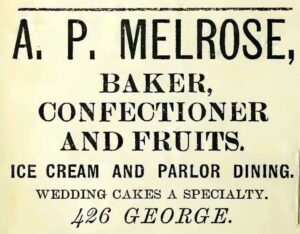 In 1897, Adam went into business as the owner of a Bakery, Confectionery and Fruit shop. To run the business efficiently, Adam employed William Jackson as a baker along with his son, William as a clerk. Margaret Kerr also worked at the shop.
By 1901, Adam had given up the Bakery and was once again working as a wool dyer. His son John, also worked as a dyer. Jennette was employed as a dress maker and James worked at the Canadian General Electric Company.
A Home in Guelph
Appelena and Adam moved to Guelph in Wellington County, Ontario shortly after 1901. There Adam continued his trade as a wool dyer. In 1911, the couple lived at 115 Neeve Street in the town of Guelph. Their children were all grown and had moved away from home. Adam Peebles Melrose died in Guelph on 27 January 1919. Their home was located on Surrey Street at that time. After Adam died, Appelena moved a couple of blocks over to a house at 21 Howitt Street. There she died on 22 September 1927. Their remains are interred at Woodlawn Cemetery in Guleph.