Chamberlain Street Grocery
As of 1901, Chamberlain street had a number of vacant lots on its north side. These empty properties would not be developed until a quarter century, or longer, had come and gone. For a time in the late 1920 and early 1930s, it was spelled Chamberlen before the conventional spelling returned to the earlier form. As of 1920, the properties on the street were numbered up to 620. In the early 1940s, Vaughan Glover ran a store and Post Office from the address of 612 Chamberlain. In error, this remained the Post Office address for the first few years in which the store changed ownership. However, it soon was corrected to show the Post Office being in the same place as the little grocery store, now located at 634 Chamberlain Street.
Early Years for Aubrey
Aubrey Elwood Doxsee was born in the village of Hastings, Northumberland County, on 17 June 1886. A son of Franklin B. Doxsee and Sarah E. Thomson, Aubrey grew up in the village and as a young man met Jennie Lee Short. Jennie was the daughter of John Short and Martha Jane Spear and had been born in September 1883. At the time of her marriage, Jennie's parents lived in Port Hope, thus her wedding took place in that location on 23 June 1909.
After their marriage, Jennie and Aubrey lived for some years in Hastings. In 1921, they moved to the town of Peterborough, making their home at 164 ½ Simcoe Street. Aubrey was a manager for Dominion Stores Limited, a position he held for a number of years. Jennie and Aubrey had two sons, Elwood Short Doxsee born 3 March 1910 and Howard Franklin Doxsee born 3 May 1911. The boys spent their growing up years in town. Elwood married and lived in Peterborough. Howard married and eventually lived in Guelph, Ontario.
Doxsee Family Mom & Pop Grocery Stores
As a young man, in the early 1940s, Elwood took employment as a clerk for the Canadian Department Stores Limited. He married Helen and they set up their home at 872 George Street, Peterborough.  Elwood continued working for this company until the close of 1948.  That year his father, Aubrey, opened a small Mom & Pop grocery store at 160 Simcoe Street and made his home next door at 162 ½ Simcoe. In 1949, he employed William E. Conway as a clerk. Donald Guthrie also worked in the store.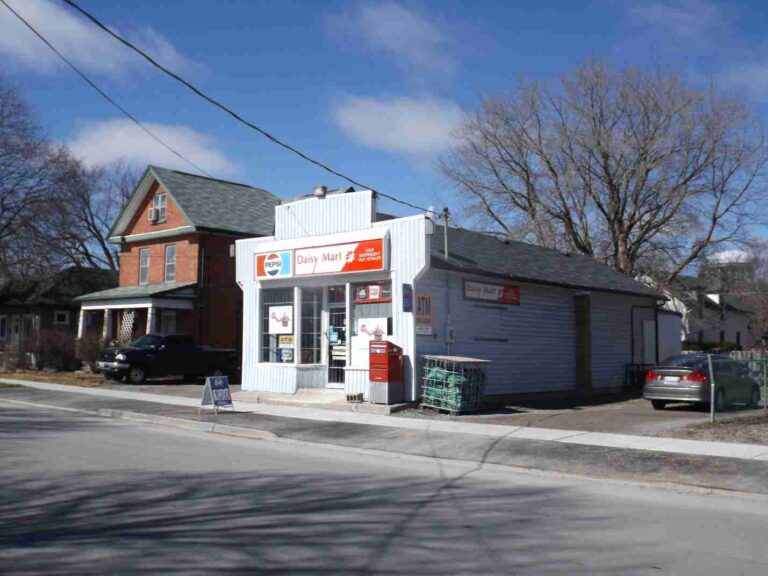 That same year, 1949, Elwood also began running a small grocery store at 634 Chamberlain Street. This store had previously been in operation, for a number of years, under the proprietorship of Vaughan Glover. Elwood became the Postmaster for No. 1 Sub Post Office which operated from his store location. George L. Cunningham ran the meat counter at the store and Harold Wainman was a sales clerk that year.
Elwood Doxsee continued operating his Mom & Pop style grocery store for the next twenty-two years, until 1971 when he retired. In 1972 it was managed by Kenneth King and went by the name of Ken King's Food Market. A couple of years later it was changed to Ken King's Foodmaster operating under that name until 1976. In 1977 the little store became Kent's Variety, a name it held for almost forty years. In recent times it has operated under the name of Daisy Mart.
Later Life
Aubrey Doxsee, who began running a Mom & Pop grocery store at 160 Simcoe Street, in 1948, continued at that location only a couple of years before moving his store to 599 George Street. There the store continued under Aubrey's operation until 1960. In 1961, it became a drug store under the name of North George Sundries. Aubrey Doxsee died in 1961. His wife, Jennie Lee (Short) Doxsee, died in 1970.
Elwood Doxsee died in 1988. His wife, Helen, passed away in 1947. Over the years a number of people worked for Elwood at his Chamberlain Street Grocery Store. Their names and year of employment are noted below:
| | | |
| --- | --- | --- |
| Name | Years Employed | Position |
| George L. Cunningham | 1949-1950 | Meat Department |
| Harold Wainman | 1949 | Sales Clerk |
| Frank W. Hillier | 1953-54 | Butcher |
| Lucy Ruttan | 1953 | Worker |
| Edith Swan | 1953 | Worker |
| F. Bernard O'Brien | 1954-55 | Clerk |
| Donald E. Spargo | 1954 | Worker |
| Bernard W. O'Brien | 1955 | Clerk |
| Mrs. Mary Cavanagh | 1956 | Sales Lady |
| Charles F. Duchemin | 1956 | Butcher |
| Richard J. Massey | 1962-64 | Truck Driver |
| Bonnie Wall | 1968 | Clerk |
| Judy Wallace | 1970 | Clerk |