Early Years
Edwin Reuben Elcome was born 14 October 1858 in England. He was a son of Absolum Elcome and Lydia Townsend. In 1881, as a young man of 23 years, Edwin came to Canada. He settled in the town of Peterborough, Ontario and here established a business as a taxidermist.
Emigrants from Scotland
Mary Chisor, daughter of John Andrews and Elizabeth Smith, was born in Aberdeen, Scotland on 18 May 1856. She came to Canada in 1876 with others of her family traveling to Peterborough to set up their home. Elizabeth Andrews, now widowed, had much to do, managing a family of five young adult children, for Mary and her siblings all still lived at home. Mary's older sister, Elizabeth, was born in 1851. She became a dressmaker while Mary found employment as a ladies maid. Olivia, a younger sister, obtained a job as a weaver and Robert, born 1857, was a school teacher. George the youngest of the Andrews children, was born in Scotland in 1859. He took employment as a clerk.
Edwin and Mary Wed
Within a couple of years of arriving to Peterborough, Edwin married Mary Chisor Andrews. Their wedding took place on 2 September 1884. Edwin was already working at his trade of taxidermy. Fairly soon the couple had a home at 176 Harvey Street in Peterborough. There in 1886, a daughter was born to them. Named Nellie Kate, this little girl lived less than two years. She took ill with cholera and died on 31 July 1887. Her tiny body was laid to rest in the family plot at Little Lake Cemetery.
That same month and only a couple of weeks previous, the Elcome's second daughter had been born. She was named Lydia Elizabeth, and would be known in later years as Bess. She became a piano teacher and gave lessons to students for many years. Since Bess always lived at her parents' home, the lessons were also given at that location.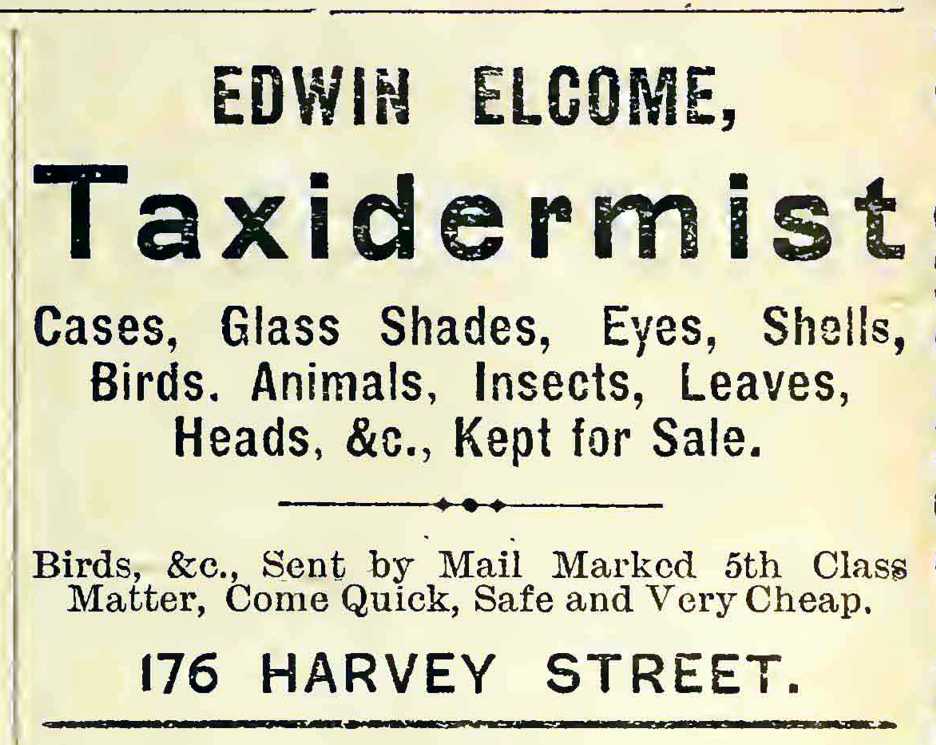 Edwin Elcome Taxidermist 1881-1923
Taxidermist Over Forty Years
Edwin also conducted his work from the family home. He ran ads in the local city directories for many years, announcing the availability of his services. In the 1880s, the family house address had been 176 Harvey Street.  About 1900, while the street name remained the same, the house numbers appear to have been reassigned. The Elcome home was now identified as 276 Harvey Street. This continued for several years, then in 1908 another renumbering of the houses on Harvey Street took place. Now the Elcome house became 692 Harvey Street. At the present day, this particular house number no longer exists.
Edwin continued his work as a taxidermist right up to the year of his death. In September 1923 he contracted influenza and died at their home on the 20th of that same month. Edwin Reuben Elcome's remains were laid to rest in Little Lake Cemetery. Three years later, his wife, Mary Chisor (Andrews) Elcome died on 10 January 1926 at the Nicholls Hospital. She was buried next to her husband and infant daughter at Little Lake Cemetery.
The other two daughters did not marry. Lydia Elizabeth Elcome died in 1945 and her younger sister, Mary Isobel Elcome passed away in 1972. They also rest in the family plot at Little Lake Cemetery.