Chamberlain's Grocery Store
Samuel Evans Chamberlain was born in Assiniboia, Saskatchewan in 1918. His father was David Henderson Chamberlain who had been born 14 February 1883 in Douro Township, Peterborough County, Ontario. David married Clara Maud Stinson, daughter of Samuel Stinson and his wife, Elizabeth Dixon Edmison. She was born in Smith Township, Peterborough County in 1880.
Early Family Years
As well as Samuel, David and Clara had other children. Older than Samuel were Roland, born in 1914 and Greta, born in 1916. A younger brother of Samuel was Arin Douglas, born in 1919. Samuel relocated to Ontario in 1947, settling in Peterborough where he had family connections.  He obtained employment as a manager for Braund's Home Food Markets. Already in his late twenties by this time, Samuel would continue as a manager for the next six years.
Married Life
Samuel had married about 1954. His wife's name was Mary and they lived at 461 King Street in Peterborough from the date of their marriage onward.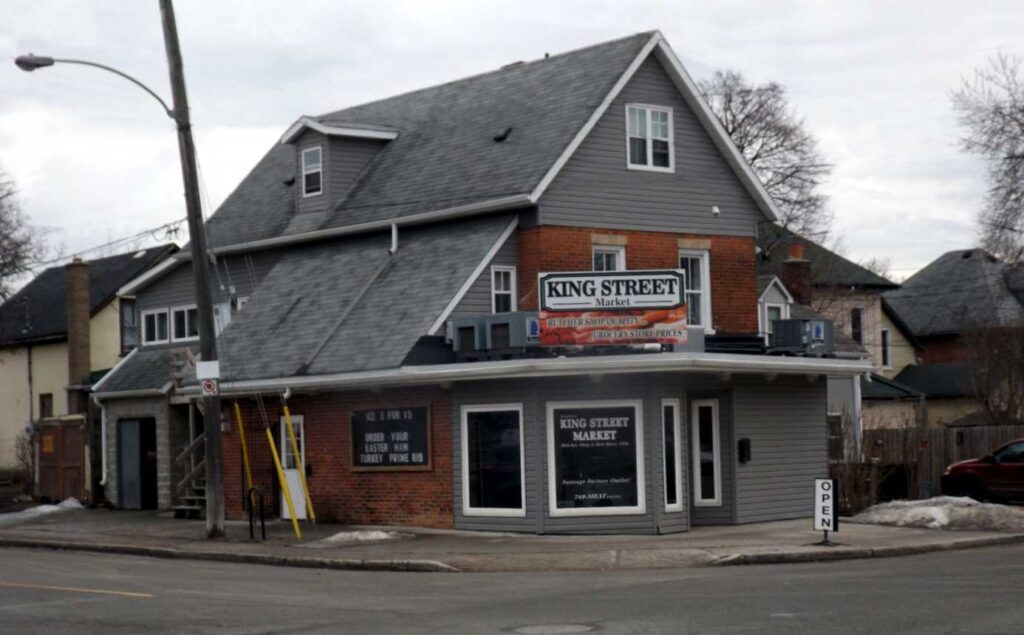 After managing a store, for the Braund Home Markets for a number of years, in 1953 Samuel was able to purchase his own little Grocery Store at 280 Park Street north in Peterborough. Samuel's store, was one of three shops that had been owned by John Thomas Braund.
Mary and Samuel owned this little Mom & Pop style grocery store until 2007, running it for a total of fifty-three years. In 2009, Samuel continued to live at their home on King Street. Mary is not included in the city directory entry for that year, thus she may have died prior to this date.