Comstock Funeral Services
Elijah Comstock was born in Connecticut, in 1809. Coming to Upper Canada from the United States, he settled in Cramahe Township, Northumberland County. Once here, Elijah married Eliza Cox. She had been born in England circa 1808. While the total number of children born to this couple is not known, three sons have been identified. John Comstock was born about 1833, Aaron was born in October 1834 and Daniel was born in September 1836. The two younger boys were born in the village of Colborne, Cramahe Township, Northumberland County.
Lives of the Children
John became a carriage maker. He wed Catherine Masters in 1860. For part of their married life they resided in the town of St. Catharines, Ontario. John died in April 1917. His remains were brought to Lindsay, Ontario where interment took place at Riverside Cemetery. Catherine, died in Lindsay in April 1923. Her remains rest next to those of her husband.
Daniel Comstock, the youngest of the three boys, married Margaret Anne Lockhart. They  resided in Clarke Township, Durham County, where Daniel worked as a miller. Three daughters and two sons were born to them. Daniel died at their home in the hamlet of Kendall on 7 July 1912. Margaret Anne (Lockhart) Comstock died in 1934. Their remains are interred in the Orono Cemetery.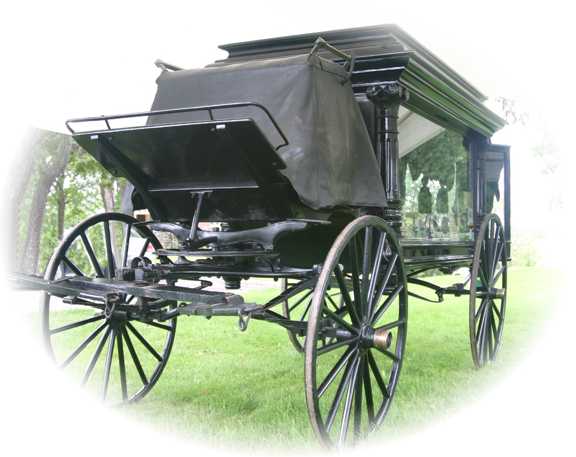 Circa 1900 Funeral Hearse
Lived in Peterborough
Aaron Comstock, the second son of Elijah and Eliza, moved to the town of Peterborough. Here on 29 December 1869, he married Mary Ann Martin. She was born in November 1844, in the village of Ashburnham. Her parents were William Martin and Charlotte Belford.
Aaron, a carpenter by trade, went into business with George A. Cox. In 1870-71, they had a store on Simcoe Street, under the name of Cox & Comstock. By 1876, Aaron was working as a cabinet maker in his own shop located on the south side of Wolfe Street and east of George Street. He continued renting these premises into the early 1880s.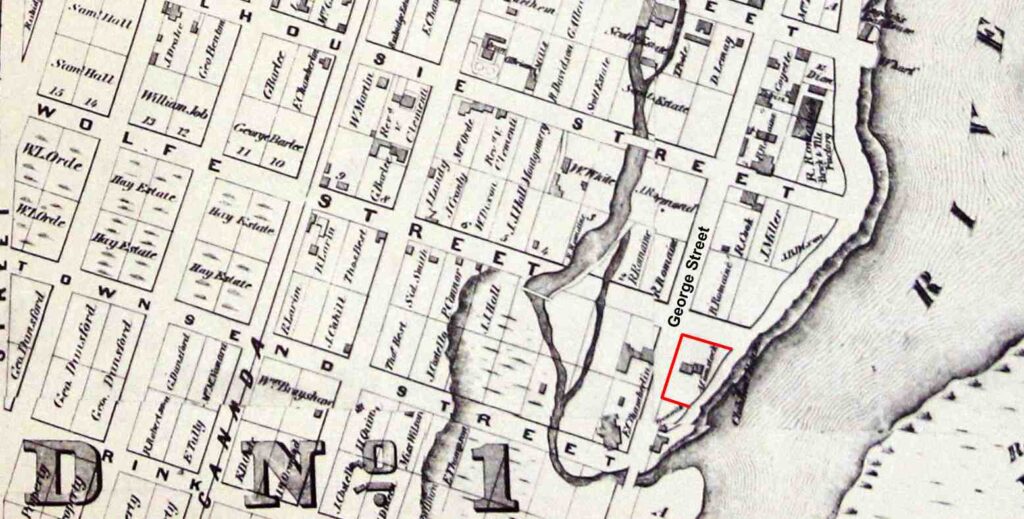 Comstock Business Location 1876 – mid 1880s
By 1887, Aaron not only made furniture, but he was also an undertaker. The following year, he moved his furniture and undertaking business to the property he purchased at 300 George Street. His family home was located at 305 Water Street. That year, 1888, Aaron employed two other cabinet makers, James Fuller and Hugh Fuller. A few years later, in 1893, Frederick Hubeck was employed as an upholsterer, in addition to James Fuller. Arron's business now operated under the name of A. Comstock.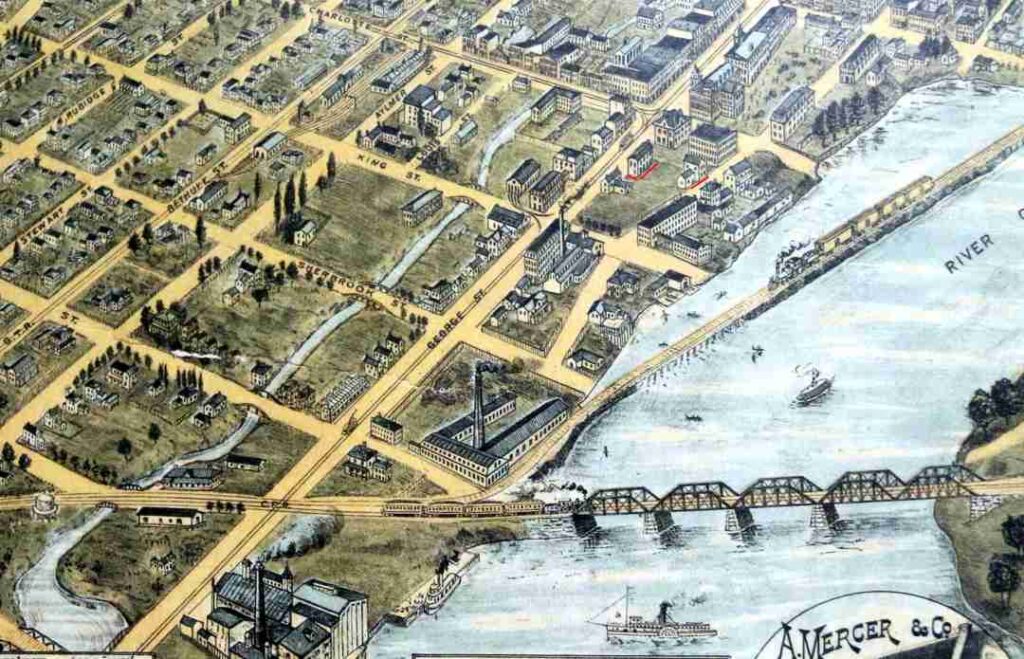 At the Turn of the Century
In 1901, the store at 300 George Street was enlarged. Aaron had purchased additional property that adjoined his own land. The new properties included the addresses for 294 to 298 George Street. With a growing business Aaron hired new employees. James Butler worked a teamster and John Comstock , Aaron's son, was a clerk. Another son, William Comstock, was the undertaker for the funeral home part of what had become a family business.
The company operated under the name of A. Comstock up until the year 1924. Aaron's wife, Mary Ann (Martin) Comstock had predeceased her husband when her death occurred on 16 February 1919. On 11 October 1925, Aaron Comstock died at his home, 305 Water Street, Peterborough. His remains were laid to rest next to his wife at Little Lake Cemetery, Peterborough.
The Family Business Passes to the Next Generation
In 1925 and 1926, the company was known simply as Comstock's but in 1927 it was renamed A. Comstock & Sons. From that time onward until another thirty years had passed, the company operated under the title of A. Comstock & Sons. The funeral parlor was located in the former home of Aaron Comstock, at 305 Water Street. It was a convenient location, as it happened, because it was the property directly behind the George Street furniture store.
In 1950, the funeral home business was moved once again. This time it was located at 356 Rubidge Street which had formerly been the home of John Comstock and his wife, Carrie Knox. John died in March 1941. His wife, Carrie, now lived in a house on Gilmour Street in town.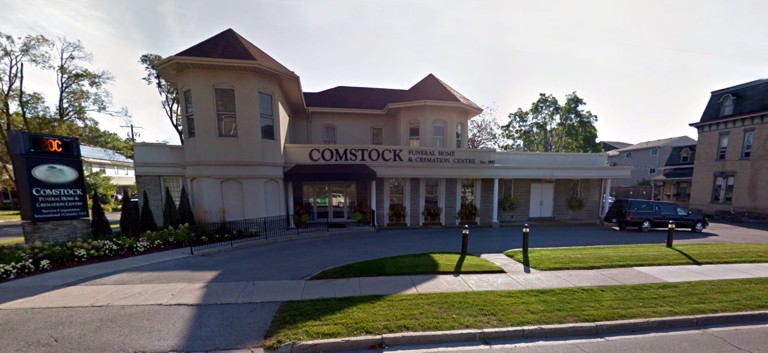 Comstock Funeral Home on Rubidge Street, Peterborough from Google Street Maps 2015
Another generation of the Comstock family became involved in the business when Maxwell, known as Max, and his cousin Jack, became partners in the Comstock owned business. The two men continued in business together until Jack's death in 1969. Thereafter Max continued on his own as director of the funeral home. He sold to Don Marr and James Hotston in 1981.
Enjoy the story of John Wood whose first job was in the office of George Cox.
Follow this link to visit our KARA Web Store to find cemetery transcripts for Peterborough County.