Robert Douglas Ewing - Photographer
Early Life
Robert Douglas Ewing, who often went by his initials, R. D., was born in Galston, Ayrshire, Scotland on 2 March 1828. One day, he would become a photographer. A son of James Ewing and his wife, Jean Wilson, Robert was the eldest of their nine children. About 1854, James Ewing died and some few years later, Jean (Wilson) Ewing left Scotland with at least six of her children.
Immigration to Canada West
After arriving in Canada West, Jean, who was often known as Jane Ewing, settled in the Township of Asphodel in the County of Peterborough. In the early 1860s she lived on Concession 3, Lots 9 and 10 in the township. The children resided there with her.
R. D. Ewing married early in the year 1860. Sometime in the late 1850s, after arriving in Canada West, he became acquainted with Elizabeth Milne, daughter of Andrew and Margaret (Coutts) Milne.  The Milne family had also come from Scotland, so it is possible the families were known to one another back home. On 16 February 1860 at Cobourg, Canada West, Robert Douglas Ewing wed Elizabeth Melville Milne. Born at Cobourg in the late 1830s, Elizabeth was now a young woman in her early twenties. The newly weds, at first, made their home with Robert's mother in Asphodel Township.
Becoming a Photographer
By the mid 1860s, R. D. Ewing had established himself in the town of Peterborough as a photographer. He had a store on Hunter Street a few doors west of Kingan's Hardware shop. R. D. offered not only photographs, but reproductions from the well known work of William Notman.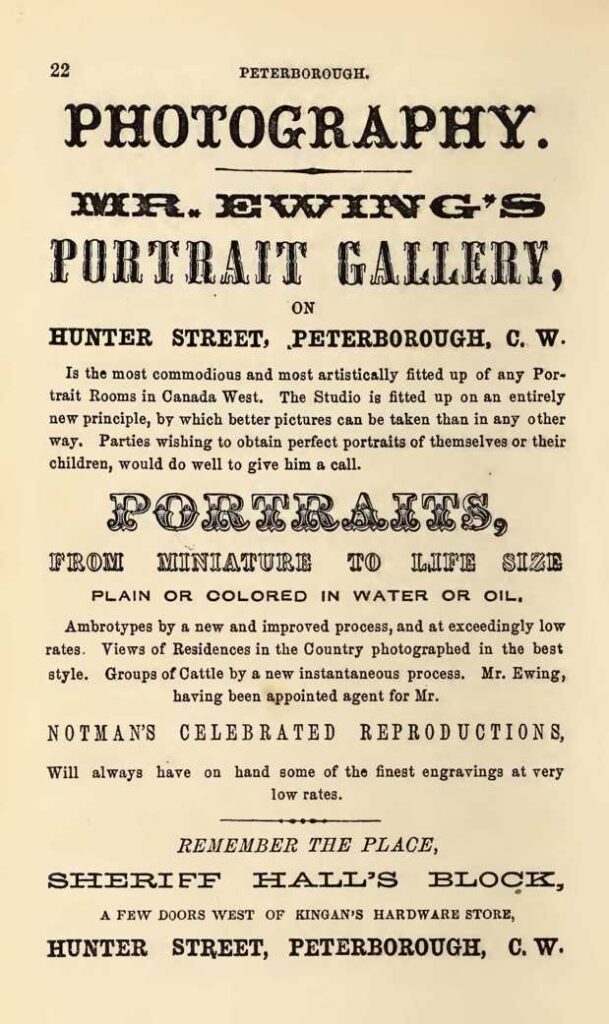 The Ewing family did not remain long in Peterborough County. By 1871 they resided in St. Patrick's Ward in Toronto. There R. D. continued his work as a photographer. Quite soon he became less involved in taking photographs. He focused upon running a gallery that offered pictures for sale along with framed works. His store, at 68-70 King Street West in Toronto, sold photo supplies. Robert's brother, William Baird Ewing, became a professional photographer.
Later Life and Times
Robert D. and Elizabeth (Milne) Ewing had a family of seven children, five sons and two daughters.  Marriages were located for three of the children. Margaret, born in 1863, married Donald Macdonald in 1890 at Toronto. Hugh Maud, younger sister of Margaret, married Henry Pemberton Torrance, at Toronto in 1894. Melville Ewing became a doctor and resided in Buffalo, New York. He married Kate Augusta Livingston in 1891 at Toronto. In November 1893, while visiting his son, R. D. Ewing died at Buffalo. His remains were returned to Toronto for interment in Necropolis Cemetery.