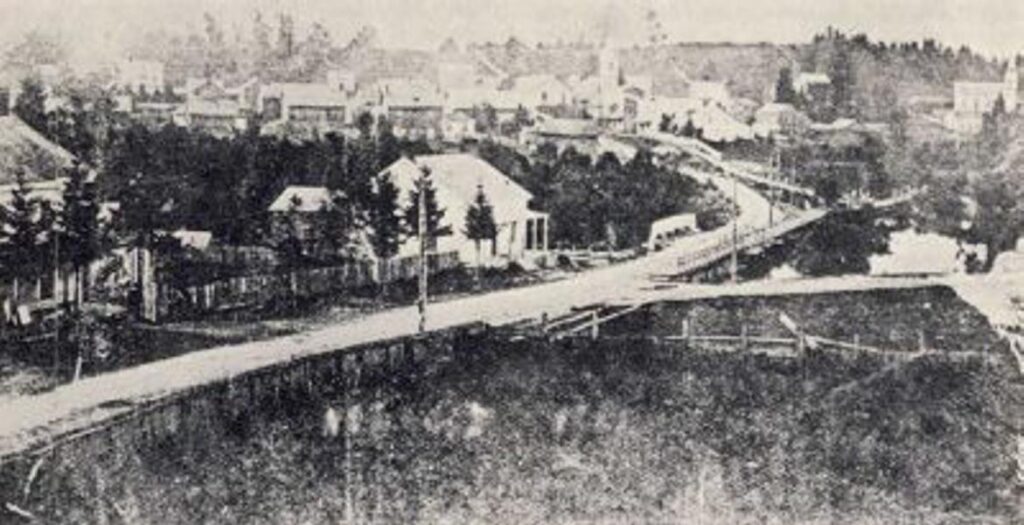 Photograph of Norwood Village, taken in 1866 by Peter Phillips
Norwood Village
In 1858, William Nicoll was a blacksmith and wagon maker in the village of Norwood. It was at the time, a thriving community of about 500 souls. Located on lots 16, 17 and 18 of the 8th and 9th Concessions of Asphodel Township in Peterborough County, it was roughly 18 miles distant from the town of Peterborough. Norwood, situated on the Ouse River, made use of the flowing waters to produce power to operate mills and businesses. There were in Norwood at this date, two saw mills, one good grist mill; six stores; two cabinet shops, one carriage factory, six blacksmiths' shops, two saddlers' shops, and six taverns among other smaller businesses. The village also boasted an excellent grammar school, a substantial building in red brick that had been recently constructed.
By 1887, William Nicoll was one of six blacksmiths serving the village of Norwood and its population of just over 1000 individuals.
From Scotland to Upper Canada
William was born in Rosshire, Scotland, in 1833, a son of William Sr., and Margaret Nicoll. William and his wife, Margaret, came to Upper Canada about 1834-1835, for their fifth son, Charles, was born in Dummer Township, Peterborough County 10 May 1836. In all, William and Margaret had a family of seven sons and one daughter.
The first five children in the family were all boys. Alexander was born in 1825, John in 1827, William in 1833, James in 1834 and Charles in 1836. Mary was born in 1838, then the youngest two sons, Richard in 1842 and Matthew in 1844 were born. After settling in Dummer Township in the 1830s, the family remained in the area from then on. Margaret Nicoll, wife of William, died 8 December 1881. Her remains are interred in the cemetery in Norwood.
William the Blacksmith
The third eldest son, William Jr., became a blacksmith and took up his trade in the village of Norwood. He married in the latter 1850s, to Mary Nesbitt Graham. She had been born in Canada West in 1840. William and Mary made their home permanently, in the village of Norwood. There he worked as a blacksmith and wagon maker. A daughter, Mary Louisa was born in 1858 and a son, William Albert Frederick was born in 1860. He died on 22 April 1885 and was buried in the Norwood Cemetery.
William and Mary (Graham) Nicoll spent their lifetime together in the village of Norwood. He had a shop for blacksmithing, located in the 1860s, on Peterborough Street. On 3 January 1883, daughter, Mary Louisa wed Adam Patterson. They also lived in the area and raised two children, Eva, born in 1883 and Norman born in 1886.
William Nicoll, died at his home on Ridge Street in Norwood, on 8 January 1899. His wife, Mary Nesbitt (Graham) Nicoll, died at their Ridge Street home on 17 July 1904. They rest in the Norwood Cemetery.