Alfred Parker's Steam Dyeing Works
A photo published in a local Peterborough paper around the turn of the twentieth century shows a business flourishing in a prime location on a busy town street. The name at the top of the building appears to say "Parker's Steam…" and on the side of the building is a large sign advertising, "Gent's Clothes Cleaned, Dyed and Repaired".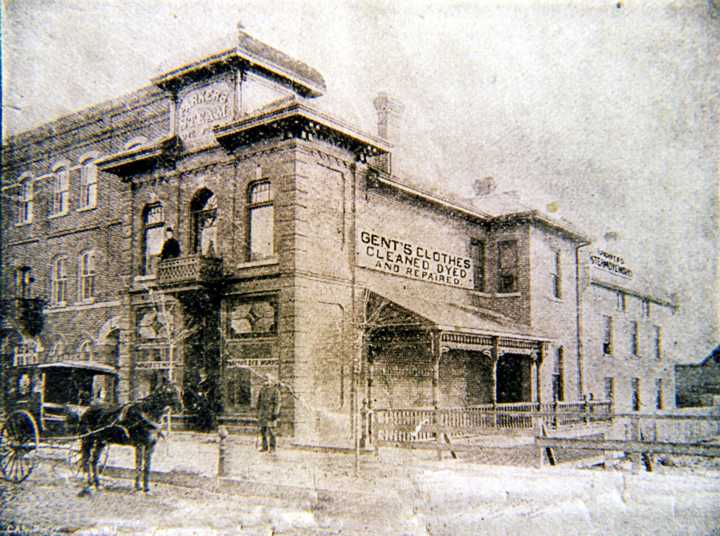 Peterborough Businesses circa 1900
The image sparked a flash of curiosity to see if the city location and company could be identified. Beginning a search of cleaning companies in the late 1890s and early 1900s was the obvious starting point. It did not take long to associate the name of Alfred Parker with a business located in Peterborough during this period. More searching finally turned up a wealth of detail about Alfred and his family.
Between 1859 and 1864, the family of Robert and Sarah Anne Parker, immigrated from England to Montreal, Quebec, Canada East. Robert was a dyer by occupation. He and Anne established a home in Montreal with their children, Emma, born 1855 and Alfred born 1859. After arriving in Montreal, another three children were born, James in 1865; William in 1867 and Mary in 1870. The family all moved to Ottawa, Canada West by 1881.
Alfred Parker's First Wife
About 1883, Alfred who was now grown to a young man, married Mary Ann Powers. She had been born in St. Andrews, Quebec about 1861. They had a son, Robert Percival, born 29 January 1884, in Ottawa before the family moved to Peterborough around 1885 or 1886.
Like his father before him, Alfred had trained to become a dyer. Consequently by 1887 he was able to open his own business on Water Street in town.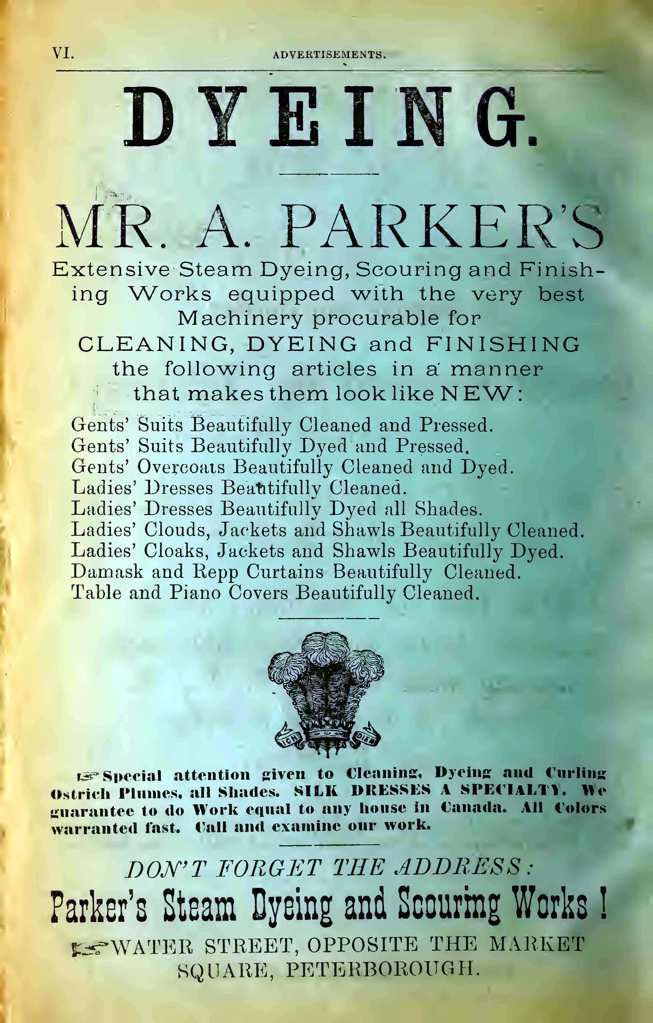 Alfred Parker's Steam Dyeing Works
In 1888, Alfred's shop was located at 336 Water Street with their family residence in the rooms above the store. That year, Robert Beach was employed at Parker's Dye Works.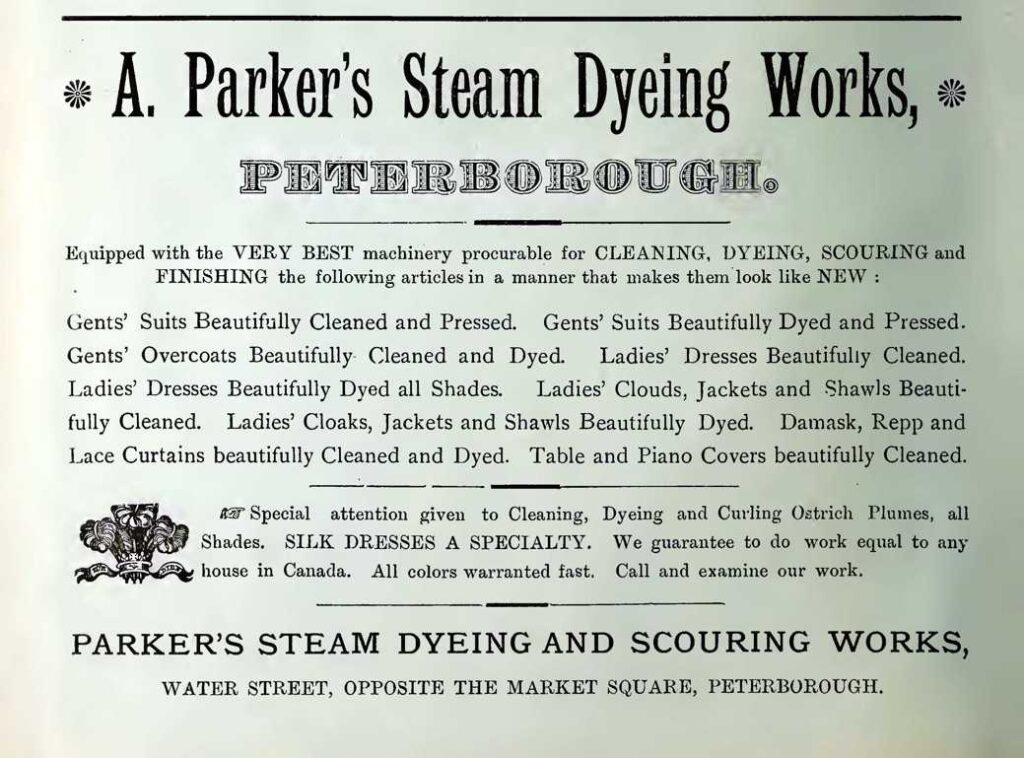 Mary Ann, Alfred's wife, was never well as a result of having contracted consumption. On 19 May 1893 at Peterborough, Mary Ann (Power) Parker died. Alfred and his nine year old son, Robert, were left to mourn her loss.
Alfred Parker Marries Again
On 30 January 1895, Alfred married for the second time. His wife was twenty five year old, Minnie Elizabeth Frise. Minnie, a daughter of John and Johanna (Vosper) Frise, had been born in Peterborough. That same year, Alfred moved his cleaning business to a different location. The shop now operated from 177 – 179 Charlotte Street. In addition, on 30 November 1895, a son was born to Minnie and Alfred. They named him Alfred Harold Parker.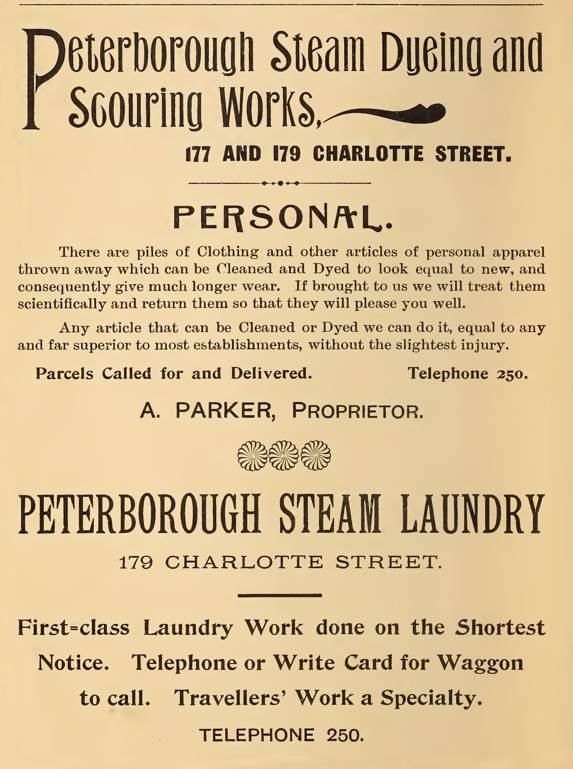 Peterborough Steam Dyeing and Scouring Works 1895
Many Employees in a Growing Company
In 1897 another child was born to the family. This little girl, born 12 August 1897, was named Helen Madelon Parker. The Parker family now included three children living with their parents in the apartment over the shop.
At this time, the business was known as Parkers Steam Dye Works. The company had expanded greatly during the ten years Alfred worked diligently to increase his customer base. After years of building up the company, he employed more staff to accommodate the needs of his growing number of customers. In 1897 about a dozen and a half people worked at the Dye Works. As a result of  increased business Alfred thought about expanding his company.
| | |
| --- | --- |
| Name | Position |
| Robert Beach | Dyer |
| Jennie Chatten | Worker |
| Mary Chatten | Worker |
| Maud Dormer | Worker |
| Mrs. Catherine Foster | Worker |
| Alezena Frise | Bookkeeper |
| Albert Halstead | Worker |
| Miss McGrath | Worker |
| Herman Halstead | Manager |
| Andrew Mein | Worker |
| William Mein Jr. | Dyer |
| Addie Moncrief | Forelady |
| Bridget O"Neil | Worker |
| Birdie Robinson | Worker |
| Maggie Robinson | Bookkeeper |
| Thomas Robinson | Dyer |
| Miss Sullivan | Worker |
| Mary Trotter | Worker |
Continued Business Growth
Only a few years later, in 1901, the business expansion came to pass. Still located at 177-179 Charlotte Street, Alfred now owned both Parker's Steam Dye Works and the Peterborough Steam Laundry. He continued to employ a large number of staff.
Also in that year, a third child was born to Alfred and Minnie. This baby, a daughter born 7 August 1901, was named Ola Thirza Lyle Parker. The family residence continued to be the apartment on the second floor over the store. Soon it would be time to find a new home for their growing family.
By 1901 there were about two dozen employees at the company.
| | |
| --- | --- |
| Name | Position |
| Bert Beach | Dyer |
| Florence Bester | Laundress |
| Annie Burret | Laundress |
| Caroline Byers | Worker |
| Maggie Cannally | Laundress |
| Letita Foster | Clerk |
| Gertrude Freeburn | Worker |
| Elzena A. Frise | Clerk |
| Helen E. Frise | Clerk |
| Mary Gillen | Laundress |
| Clara Glass | Worker |
| Sophia Goodfellow | Worker |
| Susan A. Frose | Laundress |
| Percy Hetherington | Bookkeeper |
| Sarah Johnston | Worker |
| Maggie E. Kennealy | Worker |
| Hattie Leaford | Finisher |
| Minnie McGrath | Finisher |
| Isabella McKnight | Presser |
| George Mein | Dyer |
| Harry A. Mein | Engineer |
| Margaret T. Mein | Finisher |
| Laura E. Morris | Worker |
| Serina A. Morris | Laundress |
A New Family Home
In 1905, Alfred and Minnie moved their family to a different home. The house at 5 Dennistoun Avenue, just north of Parkhill Road and east of Water Street became the new Parker residence. They would live here for only a short time before moving to a house at 384 Park Street North. The new house on Park Street was to become the permanent family home but their first years here would be marred by tragic events.
In 1907, Alfred and Minnie experienced the sad loss of their newest and youngest child, a baby daughter who died when she was just two days old, on 21 January 1907.  She had been born with a heart problem.
5 Dennistoun Ave., house on left, From Google Maps Street View October 2014
Death Visits the Family A Second Time
The family suffered another devastating blow when Alfred Sr., died of a heart attack on 20 December 1908. He was just shy of his fiftieth birthday. Alfred's remains were laid to rest in Little Lake Cemetery in town. Widowed, Minnie carried on raising the family. Her husband's business was carried on by Robert Beach who had worked as a dyer for the company over a number of years.
Alfred's oldest son, Robert, learned the dyer trade the same as his father and grandfather had in their turn. After 1901, Robert moved away from home to live in Hamilton, Ontario. He married Emily Grace Burns on 29 June 1910 at Brantford, Ontario. They lived in Hamilton where Robert worked at a cleaning and dying business. A son, Robert Burns Parker, was born to them in 1916.
Alfred Parker Jr., was just thirteen years old when his father died in 1908. In 1912 and onward until 1921, Alfred was not living in Peterborough. During these years, the Parker Dye Works were listed under the proprietorship of Robert M. Beach. He may have been acting in the role of a semi-owner from the date of death of Alfred Sr., until the sons were grown and able to take on the business themselves. This seems a possible role for Mr. Beach, since Alfred Parker Jr., took over management of the company upon his return to Peterborough in 1921. For the next few years, Robert Beach continued as a dyer for the company.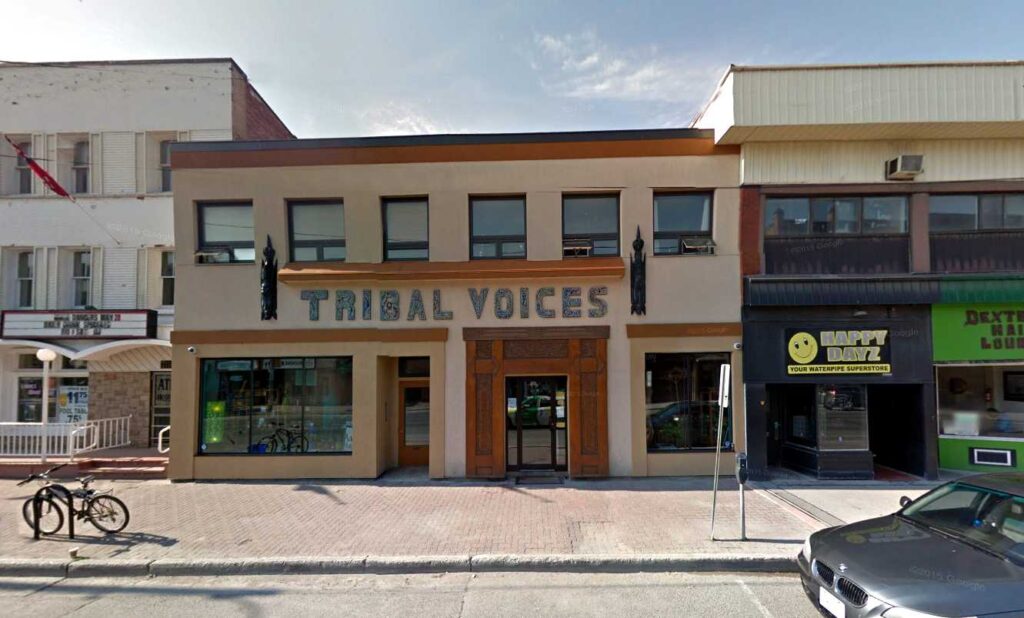 177-179 Charlotte Street, once the Parker Dye Works. Today it is the location of Tribal Voices.
From Google Maps, Street View May 2015
A New Generation of Shop Keepers
Around the same time that Alfred Parker Jr., took on the management of the Parker Dye Works, his younger sister, Ola, became a book keeper at the company. She continued in this position and as a general worker for the next few years.
Helen Madelon Parker, known most of her lifetime by her second name, married in 1921. Her husband was a salesman, John James Common, from Toronto. Born in Woolwich, County Kent, England, John had chosen to immigrate to Canada.
The business in Peterborough, continued under the name of Parker's Dye Works until 1926. Thereafter the family changed the name to Parker's Peterborough Limited. As before, it continued under the management of Alfred Parker.
Alfred married in August 1933, to Mildred Erma Underwood. She was born in the United States in  a town called California. It was in the state of Pennsylvania. Following his marriage, Alfred continued as manager of the family business for another couple of years. In November 1936, Minnie Elizabeth (Frise) Parker died. She was buried at Little Lake Cemetery, next to her husband. It was about this same time that Alfred and his wife, Mildred, departed from Peterborough.
In his absence, Ola became manager of Parker's Peterborough Limited, a position she maintained until the business was sold late in 1939 to Thomas J. Lansfield. The company name was changed to Lansfield Cleaners. Thomas Lansfield operated the business until selling to Burtol Cleaners about 1954.
About 1941, Ola married Sidney Edwin George Trowbridge. He died in 1948, she in 1990. They are interred in Little Lake Cemetery next to Ola's parents.