Thomas Dolan, born 23 December 1851 in County Roscomman, Ireland, came to Canada West to take up residence in Peterborough. Here he became a General Dry Goods merchant, locating his store on George Street in town.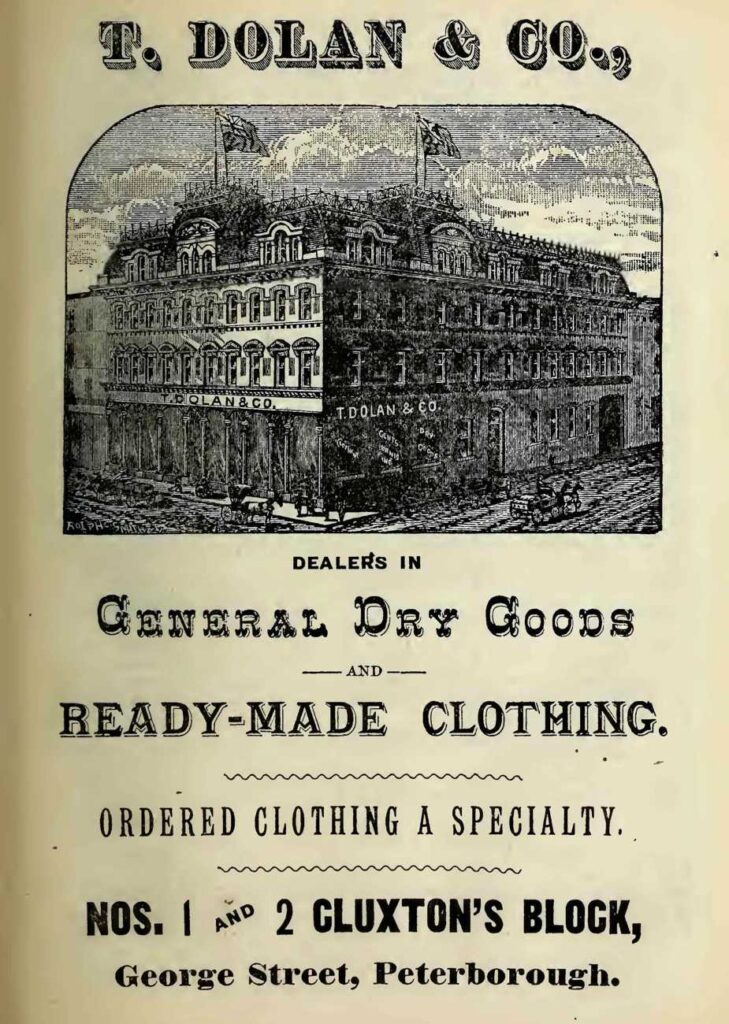 Store Merchant Marries
Within a few years Thomas wed to Mary Sophia Lemay. She was born in St. Hyacinthe County, Quebec on 21 February 1854 and was a daughter of Francis Lemay and Marie Seraphine Boivin. Her family had moved to Peterborough, Canada West, in the early 1860s. The young couple, Thomas and Mary Sophia, were married at St. Peter's Catholic Church (later to become the Cathedral of St. Peter in Chains), on 13 May 1877.
By 1881, Thomas was working to build his business as well as providing for his wife and two small sons, Robert and Edward. His company grew and prospered through the early 1880s. By 1888, he had hired Hugh Riley, a tailor and three men to work as cutters. The cutters were two men, both named Peter Simons and another man named Daniel Simons.
A Growing Family
In the year 1891, the census of Peterborough showed that Thomas and Mary Sophia now had a family of five children. Robert was 12 years old and Edward 11. Daisy was 10 years of age and Sarah 8 years old. The youngest child was James who turned 6 years old that year.  One more child was born to the family, Thomas Joseph, whose birth took place later in 1891.
The Business Expands
The T. Dolan Company grew rapidly in the first years of the 1890s. By 1893, Thomas had four tailors working for the company. These included John Ball, Donald McGinnis, James Mayhew and George Record. As well, Thomas also employed three tailoresses who were the Misses M. J. Martin, Minnie Poulette and Effe Webster. There were two clerks employed to attend the needs of customers. Clerks for the company were Moses Giroux and Frederick Lynch. James Dolan, a brother to Thomas, was the company bookkeeper.
Thomas Dolan & Company continued to flourish during the next year or so but then went out of business with the death of its owner, Thomas Dolan, on 28 July 1895. As young adults, the children of Thomas and Mary Sophia eventually moved to the United States. Mary Sophia went to live in Chicago with her son Edward Keher Dolan. It was there she died on 13 March 1907. Her remains were returned to Peterborough, Ontario, to be interred next to those of her husband, Thomas, at St. Peter's Catholic Cemetery.