Edward Rogers Wood Toronto Businessman
Family Origins in Ireland
John Wood, born 1 June 1824 in County Fermanagh, Ireland, was a son of Archibald and Sarah Wood. He came to Canada West in 1847. John became a teacher and in 1851 is found living in the household of James and Ruth Dobbin in Monaghan Township, Peterborough County. Before 1859, John married Jane Porter, daughter of David Porter and Mary Gillespie. Jane was born 10 October 1839 in Canada West. A family of nine children were born to John and Jane.
George Archibald, son of John and Jane (Porter) Wood, was born in 1859. He is found living at home with his parents until 1881, but nothing further has been located about George after this date.
Loss of a Young Daughter
Mary, daughter of John and Jane (Porter) Wood, was born 20 December 1863. She died in Asphodel Township at the young age of 23 years. Her death was reported in the Peterborough Examiner of 31 December 1886:
            At Asphodel on Thursday Dec. 30, 1886, Mary F., eldest daughter of Mr. John Wood aged 23 years. Funeral from family residence Mark Street, Ashburnham Saturday afternoon at 2:30.
A Move to Toronto
Edward Rogers, son of John and Jane (Porter) Wood, was born in 1866 in Douro Township, Canada West. In 1886, as a young man in his early twenties, Edward went to work in Toronto. There he obtained employment as a telegraph messenger in the office of George Cox, a Toronto businessman with ties to Peterborough. Edward was a hard worker and studious man. He became President of the Central Canada Loan and Savings Company. As well, he became president of the Y.M.C.A. and devoted considerable time to both the physical and moral development of young men of Canada. Edward was also chairman of the Board of Governors of Grace Hospital, a director of the Canadian Bank of Commerce, a director of the National Trust Company, the Canada Life Assurance Company and the Grand Trunk Pacific Railway Company. He became a member of several Toronto clubs, namely, the Toronto, the York, the National, the Royal Canadian Yacht Club and the Lambton Golf Club. 
Marriage in Peterborough
On 15 July 1891, at Peterborough, Edward married Agnes Euphemia Smart. Agnes, born in 1868 in Clarke Township, Durham County, Ontario, was a daughter of David and Agnes Smart. Their wedding was recorded in the local Peterborough Examiner newspaper:
This afternoon at 4 o'clock, Mr. E. R. Wood of Toronto, secretary of the Central Canada Loan & Saving Co., formerly of Peterborough, was united in marriage to Miss Phemie Smart at the family residence of the bride, Stewart street. The ceremony was performed by Rev. Joseph H. Locke, and the duties of groomsman were performed by Dr. Richardson of Toronto, the bridesmaid being Miss Florence Rutherford, town. The bridal presents were splendidly numerous, representing gifts by Mr. and Mrs. George A Cox, and family, the employees of the company of which the bridegroom was secretary, and the large circle of friends of the bride. The wedding was quiet, only the near relatives of the principle parties being present. The happy couple, who enjoy the kindest good wishes of a wide circle of friends in Peterborough, will take up their residence on Gerrard street, Toronto, where the husband has recently acquired an elegant home.
A New Young Family
Two children were born to Edward and Agnes. A son, William Edward, was born 15 September 1892 at Toronto. He lived only six months, his death occurring on 20 March 1893.
Ten years later, a daughter was born to them. Mildred Pheme Smart Wood, was born on 28 February 1902 at Toronto. It is reported that Mildred married three times. Her last husband was Paul Duncan Newby, born 1904 who died in 1975.
Roland William, son of John and Jane (Porter) Wood, was born 21 October 1869, in Douro Township. He died 10 January 1935 and was buried in the family plot at Little Lake Cemetery.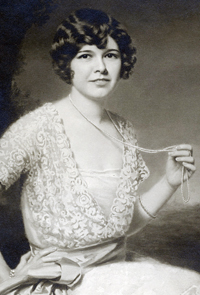 Mildred Pheme Smart
Source: Online Public Tree
Alice Eleanor, daughter of John and Jane (Porter) Wood, was born 15 February 1872 when the family was then living in the village of Ashburnham, Peterborough County, Ontario. She did not marry. Alice died 17 March 1928 and was interred in the family plot at Little Lake Cemetery, Peterborough.
Annie Lillian, daughter of John and Jane (Porter) Wood, was born 25 December 1875 in the village of Ashburnham. She did not marry. Annie died 6 February 1962 and was buried in the family plot at Little Lake Cemetery, Peterborough.
Frank Porter Wood, Brother of Edward
Frank Porter, son of John and Jane (Porter) Wood, was born 29 June 1882 in Peterborough. On 10 December 1906, at Toronto, he married Emma Matilda Junkin. Emma was born 1 December 1885, a daughter of Robert and Mary Alida (Turner) Junkin.
Frank Wood was a stock broker, working in Toronto in 1911. By 1921, he was a manufacturer. Emma and Frank made their home at 166 Crescent Street, Toronto. Three daughters were born to them. Mary was born in 1908; Frances in 1909 and Joyce in October 1911. In 1932 Mary Porter Wood was married to Robert Malleson Nesbett. Robert was born in 1901 in England, a son of Robert Chancellor and Lillian Mary Nesbett.
Frank Porter Wood died at Toronto on 20 March 1955. Emma Matilda (Junkin) Wood died on 8 January 1942. They rest in Mount Pleasant Cemetery, Toronto, Ontario.
Another Peterborough Man became a Toronto Businessman. Discover more about John Downer.