Anne Jane was born in August 1849 at Fairs Mills, in Ops Township, Victoria County, Ontario. Her father, Alexander Feir was born  13 December 1820 in Caledon, County Tyrone, Ireland. Her mother, Jane Best, was born 8 May 1827 in Emily Township, Victoria County, Ontario. Alexander came to Upper Canada and settled in Cavan Township, Canada West. There he met Jane Best, daughter of William Best and Ann Hannah. Jane and Alexander married in Emily Township on 31 December 1846.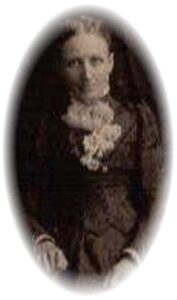 A year later, a son was born the the young recently married couple. William Best Feir was born in 1847. Then, Anne Jane, was born in 1849. Another eight children were born to Alexander and Jane (Best) Feir.
Rose Ellen was born in 1851. John Ferguson Feir was born in 1854 and his brother Isaiah was born in 1857. Mary Ellen Feir was born in 1859. The youngest four children in the family were boys, Walter born 1861; James born 1865; Jacob born 1865 and Harry born in 1867.
Through the decades of the 1860s, 1870s, 1880s, 1890s and on into the early 1900s, Alexander and Jane resided in Ops Township. Alexander died in Emily Township on 12 June 1907. Jane (Best) Feir died at Omemee on 28 April 1915.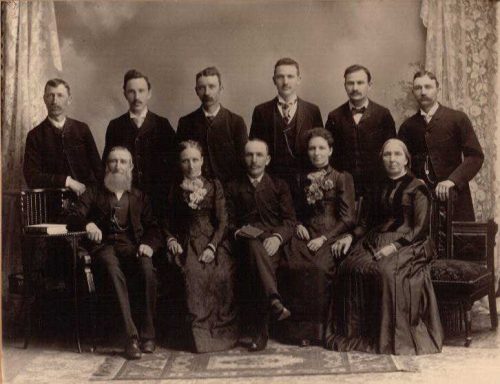 Family of Alexander and Jane (Best) Feir circa 1893-1894
Source: Online Public Tree
As a young woman, Anne Jane adopted use of her second name and was henceforth known as Jane. She watched as several of her siblings reached adulthood and married.
William married Mary Ann Elizabeth Berkely. John married twice. His first wife was Mary Burke who died in 1889. John then married Elizabeth Ann Shea in 1891.
Isaiah married Mary Jane Thornton in 1885. Walter married Mary Jane Bennett in 1888. After their third child was born, at Omemee, Walter and Mary Jane moved to Basswood, Manitoba.
James Albert married Rachel Clendennan. Jacob Norman married Josephine Norman. Harry, the youngest in the family, married Margaret Laidlaw.
Like their older sister Anne, Rose Ellen and James Albert did not marry. Rose Ellen died as a young child. James remained a bachelor throughout his lifetime.
Anne Jane's Lifetime
Anne Jane took an active interest in her home community of Omemee. She was a member of St. Andrew's Presbyterian Church. Jane also was a member of a local quilter's group and the church missionary society.
While attending a local Mission Social in May 1925, Jane took an accidental fall. While walking from the kitchen to the meeting hall in the church, she failed to navigate the step up as she went from the ktichen to the meeting room. As a consequence of her mis-step, Jane fell and broke her hip.
An account of the accident was recorded in the Peterborough Examiner newspaper.
Jane was carried to her home and the doctor was called immediately to attend her. The shock of the fall proved overwhelming to Jane's health. She died about ten days later, having contracted pneumonia during her bedridden days.