Ella Cora Hind, Woman Reporter
Early Life
In 1861, thirty-three year old Edwin Hind lived with his wife and two small sons in Toronto. There he worked as a stone cutter. His wife, Jane, was born about 1832 in Upper Canada. Their older son, Joseph was born in Canada West in 1857. The younger boy, George was born in 1858. Edwin's parents, Joseph age 60 and Tamazinah age 66, also resided in Toronto.
Ella Cora was born in September of 1861. Through most of her life she went by her second name of Cora. She was but two years old when her mother, Jane, died. Three years later, at the age of six, Cora also lost her father, Edwin Hind.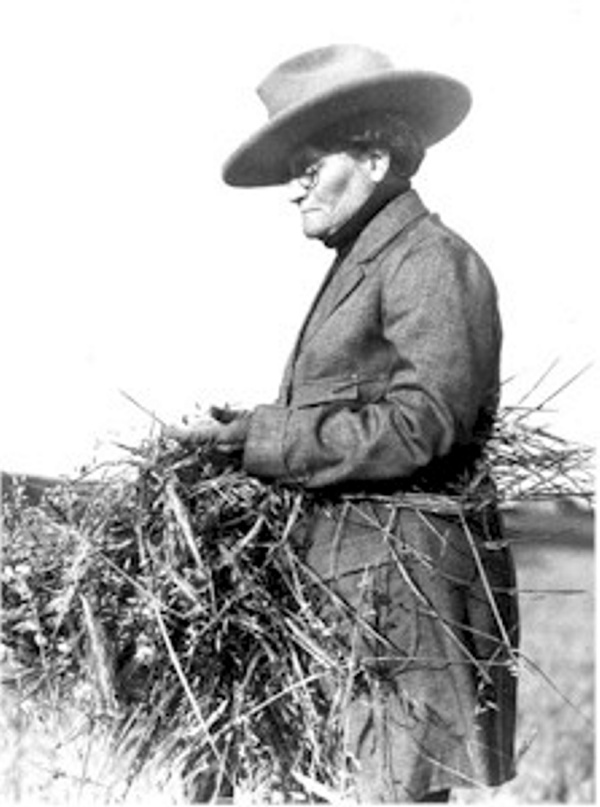 Her grandparents, Joseph and Tamazinah, took the children to live with them in Artemesia Township in Grey County.
Growing up on the Farm
In Grey County, Cora grew up learning all about farming from her grandfather. For the next ten years, she learned how to raise livestock and grow grain. As there was no school close enough for Cora to attend, Aunt Alice taught young Cora at home. In 1872 Cora began attending public school. Her family later moved to the town of Flesherton where she finished her elementary education. Cora then attended high school in Orillia. She then wrote her third class teacher examination.
In 1882 Cora moved to Manitoba with her Aunt Alice and cousins. Here she hoped to realize her dream of becoming a journalist. Her early efforts to obtain employment with the Manitoba Free Press were less than successful. Cora eventually opened her own business as a stenographer, just to make ends meet.
She and her Aunt Alice joined the Women's Christian Temperance Union. As well, Cora became acquainted with Dr. Amelia Yeomans. Together the women founded the Manitoba Equal Suffrage Club. Their efforts were focused upon helping improve the lives of women.
Cora was now able to become a member of The Winnipeg Chapter of Canadian Women's Press Club. Her long time interest in farming along with an extensive knowledge of the grain trade centre in the west, helped Cora achieve her goal to become a reporter. In the years that followed, her accurate analysis of crop yields and general knowledge of livestock brought Cora increasing respect for her reporting skill.
A Vote for Women
In 1912, Cora joined with Lillian Beynon Thomas and Nellie McClung in forming the Political Equality League. Their steady campaign for women's voting rights met with success when women were granted the right to vote in 1916.
Cora became the recipient of many honors ranging from The Western Canada Livestock Union to her honorary LLD degree from the University of Manitoba. She died on 6 October 1942. In recognition of her lifetime of contributions, the Winnipeg Grain Exchange was halted for two minutes in her memory.
Source: Wikipedia