Hannah Kennedy - A Curious Lifetime
Hannah led a most interesting life. Born 5 June 1842 in Sullivan Township, Grey County, her father was James Kennedy and mother, Abigail Davis.  As a young woman in her early twenties, Hannah married a man who was many years her senior. On 17 July 1865, in Grey County, Hannah Kennedy married Thomas Knox. Hannah was 22 years. Thomas was 65 to 73 years old. Born in Ireland between 1792 and 1800, he was the son of Andrew Knox and Jane McAuley.
In 1866, a daughter Mary Elizabeth was born to Thomas and Hannah. Some sources describe Mary as a daughter of Thomas by an earlier marriage. However, while Thomas had been previously married, the fact that he wed Hannah in July 1865 and that Mary was born in 1866, clearly makes her a daughter of this marriage between Thomas and Hannah.
Marital Discord
Hannah's relationship with Thomas Knox did not progress well. She appears to have quickly become disenchanted with her marriage. Oddly, there is no accounting of how she ended the legally sanctioned marriage to Thomas Knox. Still, on 5 December 1867, at Owen Sound, Grey County, Ontario, Hannah married for a second time. Her next husband was one Samuel Caswell, born about 1833 in Ireland. Samuel, a son of Henry and Ann Caswell, resided in St. Vincent Township at the date of his marriage. On 1 August 1870, a son, Walter Alexander Caswell, was born of this second marriage.
Curiously, Hannah (Kennedy) Knox Caswell, returned to her first husband, Thomas Knox, following the birth of Walter Alexander. At the date of the census in 1871, Hannah was living with Thomas Knox and their four year old daughter, Mary. The census shows Thomas as being 76 years old and Hannah being 24 years old. The infant child, Walter Alexander, was not living with them.
The Caswell Connection
The photograph shown to the right here, is of a 1940s vintage wedding. The groom, James Edward Caswell, was Hannah (Kennedy) Knox Caswell's grandson and the bride was Marie Elizabeth Bourdages. After getting married, James and Lizzie resided in Sault Ste. Marie, Ontario.
Nothing further has been located about Hannah's second husband, Samuel Caswell. On the marriage record, his place of birth was recorded as Ireland. If that was accurate, then it is possible that Samuel had not long been in Canada West before his marriage to Hannah. Samuel does not appear in any later census records.
Their child, Walter Alexander Caswell, later appears as one of the Douglas children. However When Alexander was a young man, he retook the Caswell family name.
Hannah and Thomas Separate
By the mid 1870s, Hannah had again parted ways with her first husband, Thomas Knox. She next began a common law relationship with a man by the name of Daniel Douglas. Of Black heritage, Daniel was born about 1840 in Canada West. With his first wife, Mary Jane Mortley, a son, John was born in 1868 and a daughter Martha born in 1869. Mary Jane (Mortley) Douglas died 15 March 1875.
After the death of his wife, Daniel began a common law relationship with Hannah (Kennedy) Knox Caswell. In 1876, a daughter, Ellen was born to Daniel and Hannah. A son, James was born in 1879.
Then, in 1880, an event of great significance took place. Thomas Knox, the first husband of Hannah Kennedy, died in Holland Township, Grey County, on 20 April 1880. A notice appeared in one of the local newspapers on 7 May 1880:
Died – Suspected Murder. On Thursday last week, an old man named Thomas Knox, of Chatsworth, died at the age of eighty seven. He had been buried but was disinterred and had been strangled. His ex wife, Hannah, and her man friend, Daniel Douglass, of Holland, were arrested. Mr. Knox had a daughter by another marriage.
In the Dominion Annual Register and Review Journal of Remarkable Occurrences – 1880, for the 24th of September the following account appeared: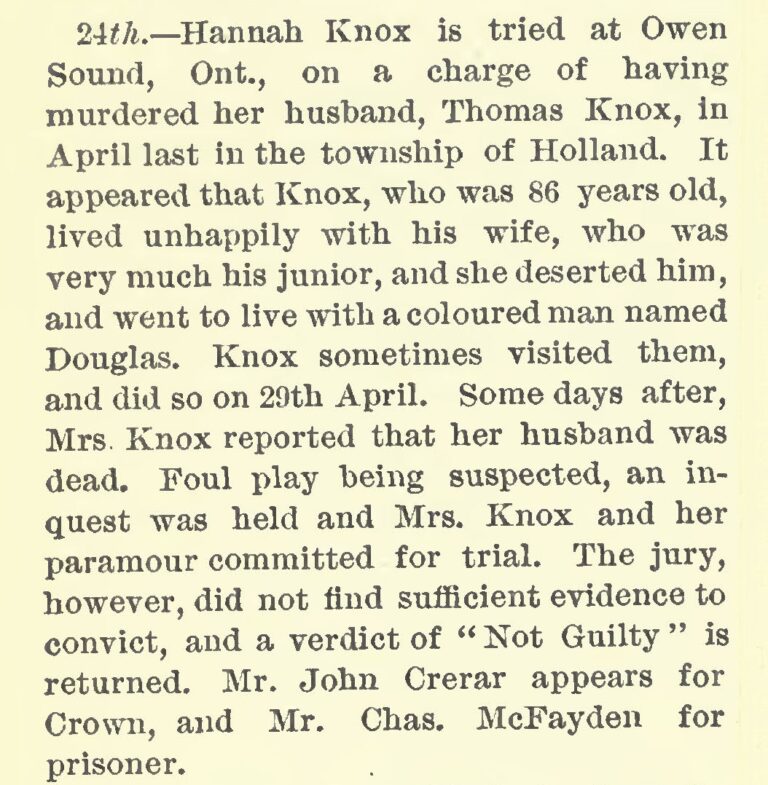 Hannah Knox Tried at Owen Sound
The Family of Daniel and Hannah
In 1881, Daniel and Hannah were living together with the children from their various marriages. Living at home under the Douglas surname, were: John, age 13; Martha, age 12; Walter, age 10; Ellen age 5 and James age 3 years. Also in the household was Mary Knox, age 14 years.
On 15 March 1888, at Owen Sound, the widower, Daniel Douglas married Hannah Knox, widow.  Three years later, in 1891, the family included, Daniel, aged 50 years; Hannah age 40; Ellen age 15; James age 12; Walter Alex, age 21 years and Catherine Isabella, age 5 years, born in 1886. Also living with the Douglas family was Abigail Kennedy, aged 76 years, mother of Hannah. Two other people lived in the Douglas household at that date. These were Hannah's brother, Andrew Kennedy, a widower aged 33 years and his son, Francis, aged 6 years.
A Family Photograph
The photograph shown at right, is labelled as "Martha, her mother Martha,  and baby brother". It was taken by Barke and Gray of 561 Queen St. West in Toronto.
The studio of Barke and Gray was that of James Frederick Barke and Adam Gray, who ran their photography business in Toronto from 1891 until the close of 1898. The following year, 1899, James F. Barke had left the company and established himself in Gravenhurst, Ontario. Thereafter, the Toronto studio was known as A. Gray & Company.
Thus, this particular family photograph, posed for at the Toronto Barke and Gray Studio, must have been taken during the four or five years when the Toronto company as named, had its business located at 561 Queen Street.
Clues to Dating the Photograph
The style of the cardstock on which the photograph was produced, also is a clue to the date of the image. It was not until the 1890s and onward, that the photographer's name and address was popularly embossed across the bottom of cabinet card images.
These factors help identify which family members might be the ones shown in this old family photograph.
Martha Jane Douglas, daughter of Daniel and his first wife, Mary Jane Mortley, married William Henry Harrison at Owen Sound, on 9 August 1886. Their second child was a daughter, Mary, born 12 February 1890. On 11 January 1897, their fourth child, a son named William George Harrison, was born.
These are the two children who are of an age to be the ones in the photograph with their mother, Martha Jane (Douglas) Harrison. The photograph would have been taken in the latter part of the year 1898, when William was about eight to ten months old. Martha is dressed in an in-vogue style for the 1898 era. Her dress is fitted from the shoulders to the waist, with a skirt that flares out over the hips to floor length. The sleeves of the bodice are tight fitting on the lower part of the arm with a puffed cap around the shoulders and upper arm.
Thus it would appear that the photograph includes: Martha, the mother of two children, her daughter Mary, aged about 9 years and son William aged near one year.
Grown Children Marry
In August 1884, Mary Elizabeth, daughter of Thomas Knox and Hannah Kennedy, married John Wakeford, at Owen Sound. Some ten years later, in April 1894, Daniel's daughter, Ellen Douglas, married James Humphrey Hall. Finally, in December 1901, Catherine Isabelle Douglas, daughter of Daniel and Hannah, married Nathan Ezra Woods.
Lastly, Walter Alexander Caswell, who had been identified by the Douglas surname during his younger years, now took on the Caswell surname as a young man. He married Annie McHugh on 17 September 1901 at Sault Ste. Marie in the Algoma District of Ontario. Annie was born 2 April 1876 in Megantic, Province of Quebec. She was a daughter of Patrick McHugh and Rebecca Monahan. Walter and Annie lived their lifetime together in Sault Ste Marie. To them were born one daughter, Ethel and four sons, Donald, George Francis, Archibald Mark and James Edward Caswell.
Final Note
Those interested in the families of Thomas Knox, Hannah Kennedy and Daniel Douglas, will find information by searching in the online family trees of Ancestry.ca