Christian and Fanny Reesor Family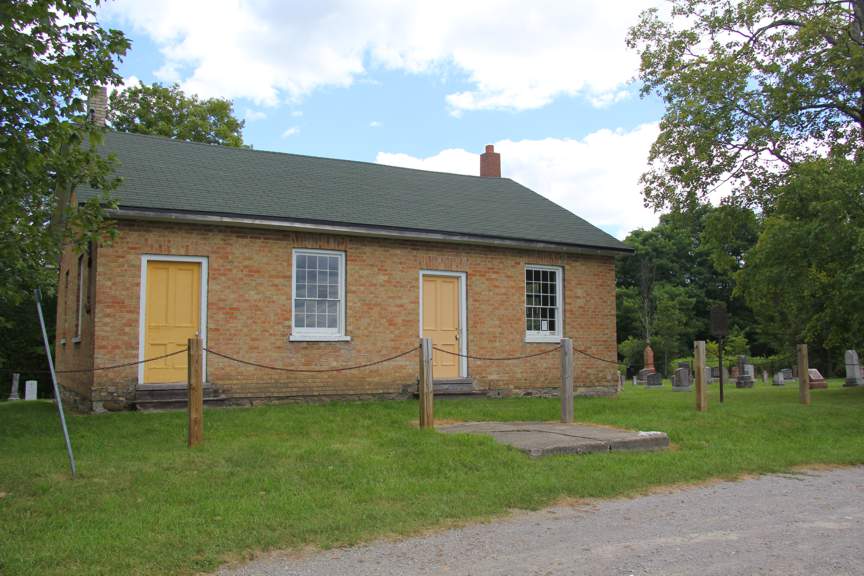 Altona Mennonite Church, Markham Township, Ontario
The surname of Reesor is an old Mennonite name found in Markham Township, Ontario. It first appears in the area in the early 1800s. Family history relates that Christian Reesor was a son of Peter Risser and Elizabeth Hershey. A Mennonite minister, Peter fled with his family to Bavaria, in the hope of finding a safer place to live. Religious persecution continued and so they moved on to Switzerland in the hope of finding a happier place to live.
Here they learned of William Penn who was offering land in America to families who would go there to settle. In the New World, they could have the freedom to follow their religion. Christian and Elizabeth came from Berne, Switzerland to Pennsylvania, in 1739. Within a number of years, Peter's four brothers also sailed for America.
The Reesor Family Begins Life in the New World
Arriving to the new world with Peter and Elizabeth, were their children, two-year-old Esther and infant son, John. Elizabeth's parents, Christian and Esther Hershey came with the young couple as well. Peter was able to obtain a grant of land of 271 acres in Lancaster County, Pennsylvania. He soon had a clearing sufficient enough to build a house and a mill. It was not long before he began to prosper as both a farmer and a miller.
On 26 August 1747, eight years after they arrived, a son, Christian, was born at the family homestead in Lancaster County, Pennsylvania. He was the second son in what became a family of ten children. His sisters would be Esther, Catherine, Elizabeth, Barbara and Magdalene. His brothers would include: John, Peter, Abraham and Jacob.
Married Life
As a young man, Christian married Fanny Reiff. In time they had a family of six children: Elizabeth, born 1774; Peter born 1775; Barbara, born 1777; John born 1784; Abraham, born 1790 and Christian born 1794.
In the years after the American Revolution, Christian and Fanny found that living as British subjects in the United States, was difficult. They belonged to a religion that did not permit its' members to "take up arms". Thus, Peter had not fought in the War of Independence. His peaceful ways did not make a difference. In time the stress of not feeling welcome in their home community led to Christian's decision to move to Upper Canada.
It was in October of the year 1804, that Fanny and Christian left their home in Chambersburg, Pennsylvania. They traveled  by Conestoga wagon the 500 miles to reach Upper Canada. Here they settled in Markham Township, in what was called the Home District. Their homestead was on Lot 14 Concession 10. (Today the area is part of York County, Ontario). The following year, Christian affirmed his Oath of Allegiance to the Crown of England and the family settled into pioneer life. Their new home was in Markham Township, nearby the future community of Locust Hill.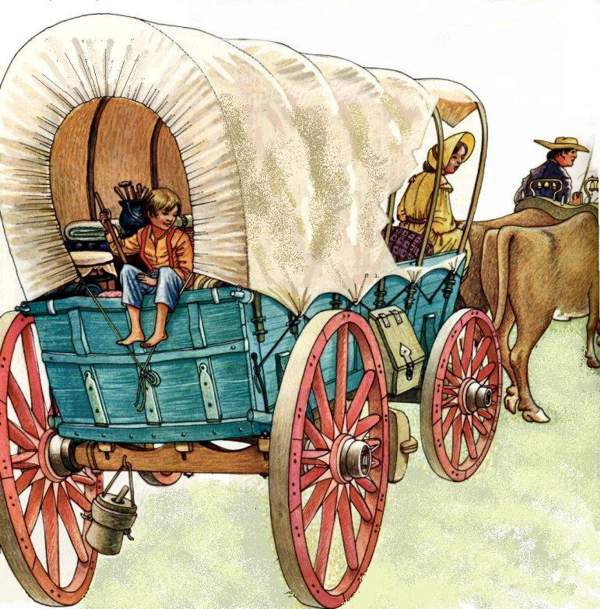 Family Struggles
Christian cleared his land and built a home. However, barely two years after the family settled on their homestead, disaster befell them. On 26 March 1806, while supervising the clearing of a wooded section of land, a tree fell upon Christian. He died almost immediately. His body was buried in the Reesor Cemetery, a small area on his own property that was set aside for a burial ground. His wife, Fanny (Reiff) Reesor died 10 October 1818. She too was buried in the pioneer Reesor Cemetery.
A New Generation
Elizabeth Reesor, daughter of Christian and Fanny, married Abraham Stouffer. He was born in Lancaster County, Pennsylvania, 8 January 1780. Elizabeth and Abraham traveled with Christian and Fanny Reesor to Upper Canada in the year 1804. Abraham and Elizabeth lived in the area were the town of Stouffville, eventually grew into existence. Elizabeth died at their home on 7 April 1835. Abraham died 27 October 1851, at Stouffville.
It was Peter Reesor, eldest son of Christian and Fanny, who had first been sent to Upper Canada for the purpose of locating and choosing land upon which the family could settle. He returned to Pennsylvania to tell everyone about the good farmland available in the British colony to the north. The entire family decided to move to Upper Canada. They came as one large group.
Around 1800, Peter had married Esther Eby. They also came with his parents on the move to Upper Canada. In 1804, when they traveled here, Peter and Esther already had two small daughters and and infant son. Peter chose to make their home at Cedar Grove, on Lot 4 Concession 9 in Markham Township.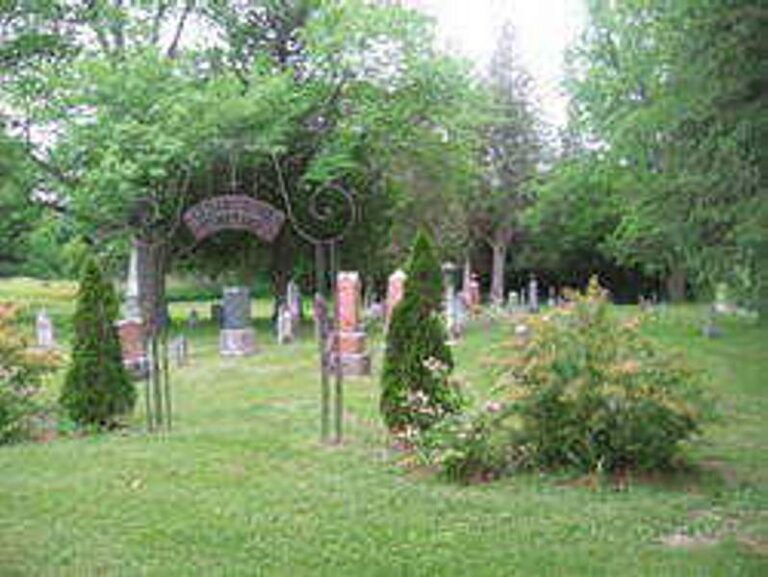 A Visit Back Home
In the summer of 1826, Esther returned to Pennsylvania for a visit with members of her family. Her eldest son, Christian, now a young man of twenty-two years, went along. On 27 September 1826, Esther and Christian died at Lewiston, New York. They had fallen victim to typhoid fever while on their return trip home. The remains of wife and son were brought home to Markham Township, there to be interred in Cedar Grove Cemetery.
Peter Reesor later married again, his second wife being Elizabeth Ramer. She was a daughter of Abraham and Magdalena (Grove) Ramer. Peter Reesor died 16 November 1854. His remains rest in Cedar Grove Cemetery. Elizabeth survived him.
John and Annie
John Reiff Reesor, second oldest son of Christian and Fanny, married Annie Grove. She was born 1784, in Dauphin County, Pennsylvania. John was born in Lancaster County, Pennsylvania in September 1784. They had a family of fifteen children, of which fourteen, reached adulthood.
Abraham, the eldest child, was born in 1811. Fanny, born 1813, became the wife of Daniel Hoover. Christian, born 1814, married Susan Burkholder. Elizabeth, born 1816, married John S. Hoover. Barbara, born 1818, married Martin Nighswander. John, born 1819, married Catherine Brown. Ann, born 1821, married John Raymer. Jacob, born 1823, married Elizabeth Nighswander. Peter, born 1826, married Susanna Nighswander. Esther, born 1828, married Samuel Hoover. Mary, born 1829, married Manasseh Fretz. Samuel, born 1831, married Elizabeth Honsberger. Magdalena, born 1834, married Michael Fretz. Benjamin, born 1837, married Sarah Cook.  Jesse, born 1840, married Elizabeth Lehman.  By 1851, only Magdalena, Samuel, Benjamin and Jesse were still living at home.
Annie (Grove) Reesor died in 1869. Her husband, John Reiff Reesor, outlived her by a few years, his death occurring 30 December 1874 in Markham Township.
Abraham and Anna
Abraham was the third son of Christian and Fanny (Reiff) Reesor. Abraham was born
28 June 1790 in Franklin County, Pennsylvania. He married the widow, Anna Miller, nee Detweiler. Abraham chose Lot 8 Concession 7 in Markham Township. This property was south of the village of Markham, which at the time was called Reesorville. They raised a family of six children as well as Anna's two daughters from her first marriage. Abraham died 31 August 1831 in Markham Township, York County, Ontario.  Anna (Detweiler) Reesor died 10 November 1854.
Christian Married Twice
Christian was the youngest son of Christian Sr. and Fanny Reesor. He married twice, his first wife being Elizabeth Cornell. She was born in 1801 and died 12 May 1832. His second wife was Melissa Cornell, born in 1845 who died 17 February 1899. With Elizabeth, Christian had a family of four sons and two daughters. By his second wife, Melissa, he had three sons and two daughters.
Christian lived in Markham Township until his death in April 1877. Melissa continued to reside at their home until her death in February 1899.
A Long Presence in the County
Throughout the entire 1800s and on into the 1900s, the Reesor family name has long been  represented within York County, Ontario. In 1930, the family erected a memorial cairn to their Reesor ancestors. The stone memorial was put up with permission give by the Ontario government.