The Welch Family in Otonabee Township
The story of the John and Mary Ann Welch family begins back in Wiltshire, England, but for the start of this short family biography, it began with an old post card sent from a sister to her brother in 1912.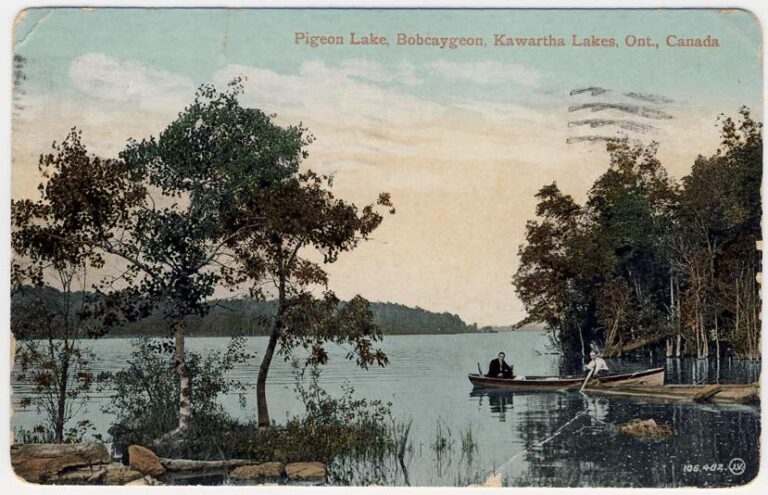 Pigeon Lake, Bobcaygeon, Ontario
Emma Welch sent this missive to her brother, J. K. Welch, who had departed the family home, heading for Ottawa  and employment at the Martin & Orme Piano Works. But more about that a little later.
The Family in England
Mary Ann Lee was born in Wiltshire, England around 1824 to 1826. She married John James Welch, who worked at the trade of a brick maker. John was born in St. Saviour, Surrey, England. Mary Ann was born at Aston Keynes, Wiltshire, England. In 1851, John and Mary Ann had their home in the little village of Siddington in the County of Gloustershire.
By this date, they had three children. Thomas was now seven years old. He had been born in the parish of Stratton St Margaret, in Wiltshire. Thomas' younger sister, Elizabeth, was five years old. She was born in St. Marychurch in Devon County. It is an old settlement in the south of the county, founded in Anglo-Saxon times. Leonara was the youngest of the children. She was born at Auberton in the County of Wiltshire.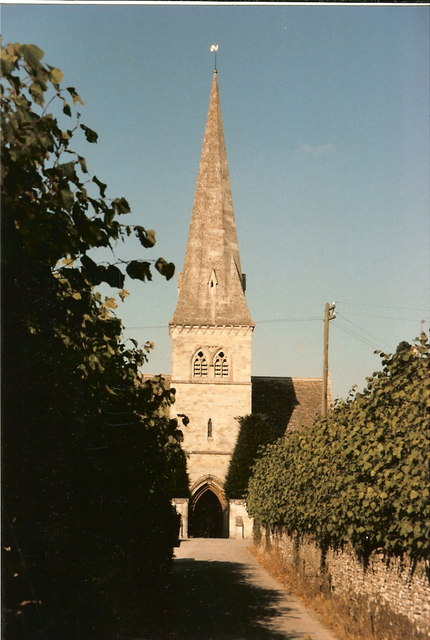 Photo Credit: norman hyett [CC BY-SA 2.0 (http://creativecommons.org/licenses/by-sa/2.0)], via Wikimedia Commons
A Decision to Immigrate
Not long after the Siddington village census was taken, in 1851, John and Mary Ann made an enormous decision to emigrate from England. They sailed for Canada West with their three small children. Arriving on this side of the ocean, further travel was made along the St. Lawrence River. Finally they were near enough to their new home to make their way inland from the lakefront to the rural countryside of Peterborough County.
John found a property in Otonabee Township, at Concession 14 part Lot 24 and this became the permanent family home. Five more children were born to John and Mary Ann, at their Otonabee homestead. A daughter, they named Mary Ann, was born in 1853, Eliza Jane in 1857; John Brown in 1860; Edward in 1863 and Emma Turner in 1869.
Thomas Marries at Peterborough
Thomas James Welch, the eldest child of John and Mary Ann, married at Peterborough on 16 November 1864. His bride was Jane, daughter of Adam and Elizabeth Guthrie. Like his father before him, Thomas was a brick maker. He and Jane lived in Otonabee Township where they raised a family of seven children. Their first was a daughter, Elizabeth Ann born in 1864. Next was Thomas James Jr., born 1866, then Jane Sarah born in 1868. Emma Louise was born in 1872, followed by Joseph Knox born 23 September 1874. The two youngest boys were Willey born in 1878 and Ernest Alexander born 19 July 1879.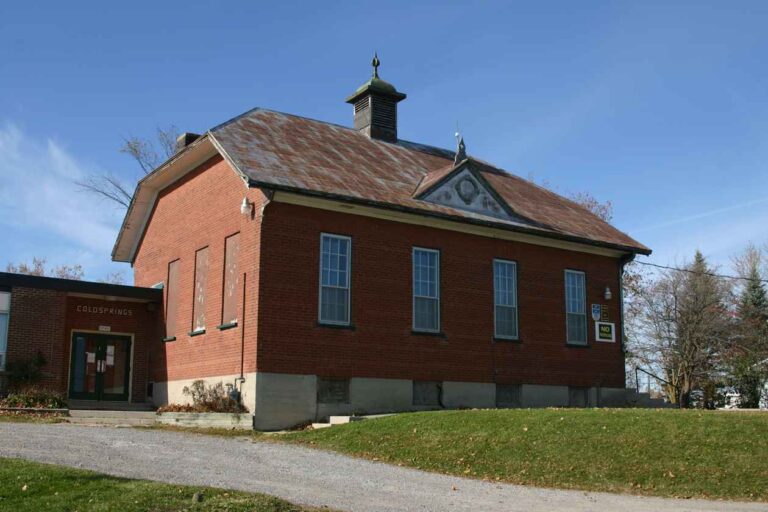 Attending Cold Springs School
The family lived within the school district of the Cold Springs School. A new red brick school house was opened at Cold Springs in 1878. Here the children attended classes to receive their elementary education. In March 1894, an especially strong windstorm blew in the east gable on the roof of the school. Ernest Welch was a student at the school that year. As a result of his quick action to break open a window, all the students safely got out of the building. Repairs were soon completed and school classes resumed.
Welch Brothers Brick Yard
In her book, Forest to Farm: Early Days in Otonabee, Gayle Nelson wrote about the Welch brothers who ran a brick yard in the township. The brothers were probably Thomas, John and Edward. The brick yard was closed in 1907.
Of Thomas and Jane's children, Elizabeth Ann grew up to marry Thomas John Rickey. His family ran a grocery store in Peterborough. Thomas Welch Jr., would marry as well. His wife was Charlotte Jane, daughter of Dr. Sidney Clegg and Mary Jane Cassidy. Jane Sarah Welch, married Richard Gillespie on 13 November 1901 in Otonabee Township. Richard was born in Otonabee, a son of Peter Gillespie and Jane Thompson. The only other son to marry was Ernest who wed Mabel Adelaide Rickey on 2 April 1907. Mabel was a sister of Thomas who became the husband of Mabel's older sister, Elizabeth.
Joseph's Departure From Home
Joseph Welch left Otonabee Township, moving to Ottawa to work at the Martin & Orme Piano Works. The company was founded in 1861 by James L. Orme. He opened a music store on Sparks Street in Ottawa and for many years sold  imported wind instruments and pianos from the United States. As well, the store sold the Jacob Estey pump organ, also manufactured in the States.
In the 1870s, music written by local area musicians was published at the store. When James Lawrence Orme died in 1893, the business was taken over by other family members. In 1902 the Martin-Orme Piano Company opened. Owain Martin had been a superintendent  for the Heintzman Company. Therefore, he provided the technical knowledge for the company. Already having experience operating a successful enterprise, the Orme family brought to the new venture, their business expertise. Over the next twenty-two years, the Martin-Orme Company made between 300 and 500 upright and player pianos each year.
Work at the Piano Company
At the family home in Otonabee, Joseph longed for a job that brought him new challenges. Hence he traveled to Ottawa seeking work. Finally he obtained a job with the piano making company of Martin-Orme. Imagine the challenges he faced, learning all the intricacies of building a player piano.
As a result of his long  absence from home, his sister, Emma, was prompted to send him a post card in August 1912. The post card was simply directed to "Mr. J. K. Welch, Ottawa, c/o Martin & Orme Piano Works, Ontario".
Emma mentions that Thomas was back working again, though he was still experiencing some stiffness with his leg. Evidently he had gone through an injury of some sort, that was taking some time to heal. She also mentions that the family had heard from Earn over the past week and that he was now in Victoria. Ernest had enlisted in the military in April 1915.
In her long ago message on the back side of a pretty postcard of Bobcaygeon, these were all the clues shared by Emma.  Little did she know that her missive to her brother, Joseph Knox Welch, would become a puzzle to be solved, decades into the future.
Through Emma's postcard her family members were rediscovered.  She, her brothers and sisters all grew up in the township. They married and lived out their lives as members of this community. They were, long ago, long time residents, of Otonabee Township, Peterborough County.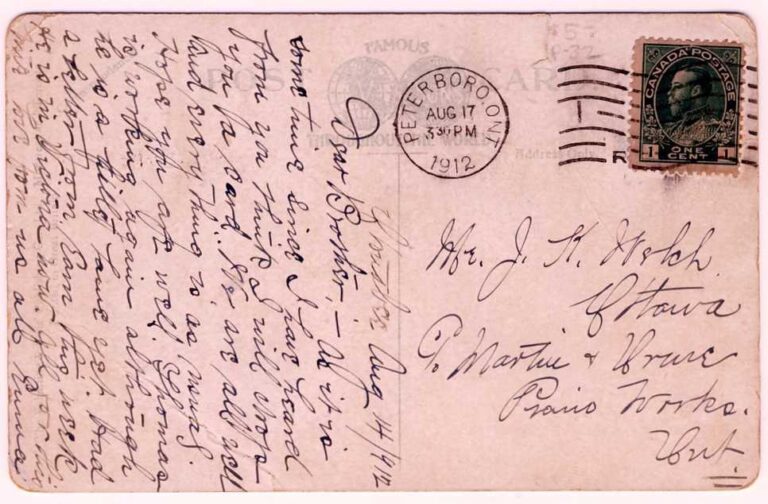 Message side of post card sent by Emma Welch to her brother