The William Ferguson Hay Family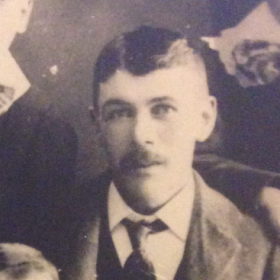 William Ferguson Hay was born in Glasgow, Scotland on 12 July 1874. In the year 1886, at the age of twelve years, William came to Canada. In 1891, he was living in the household of Jacob Connell in Thurlow Township, Hastings County.
A few years later, on 22 February 1894, William married Mary Margaret Tierney. She was born in December 1874 in Ireland. Their wedding took place in Belleville, Ontario.
As a young family, William and Mary have not been located in the 1901 census of Ontario. That they resided in Hastings County is confirmed by the birth of their children. Roy Wilbert was born 16 December 1894 and another son, Gordon Alexander was born 8 May 1896 in Tyendinaga Township, Hastings County. Their youngest son, Kitchner Wellington Hay was born 21 July 1900 in Thurlow Township.
William and Mary resided throughout their married lifetime in the town of Belleville. Mary Margaret (Tierney) Hay died at their home in that city on 10 August 1936.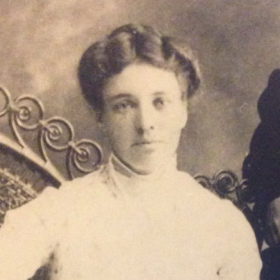 Mary Margaret (Tierney) Hay
William Ferguson Hay died in Belleville on 9 September 1966. They rest in the Belleville Cemetery.
Lifetimes of the Children:
Roy Wilbert, son of William and Mary (Tierney) Hay, married Clara Helena Shoener on 12 February 1913 at Belleville. They had a family of three sons, Earl born in 1916, Douglas born 1919 and Clarence born in 1921. Clara (Shoener) Hay died in 1954. Roy Wilbert Hay died 2 April 1963.
Gordon Alexander, son of William and Mary (Tierney) Hay, married Muriel Gwendoline Fradette. They had two children, Gwendolyn born in 1925 and Gordon Stanley born in 1927. Gordon Hay Sr., died in 1968. His wife, Muriel (Fradette) Hay died in 1974.
Kitchner Willington, son of William and Mary (Tierney) Hay married Edith Mae Morey. They were wed in Belleville on 16 February 1920.