Patrick O'Neill - Emily Settler and Farmer
Arrival From Ireland
Patrick O'Neill, a farmer, and his wife, Ellen English, arrived from Tipperary, Ireland between 1838 and 1840. Their older six children were all born in Ireland: Morgan circa 1819; Michael 1826; Thomas 1827; John 1831; Mary 1834 and Julia born in 1837.
After arriving in Upper Canada, the family made their way to Emily Township, Victoria County, where they settled on Concession 14 Lot 18. Their first home was built on this lot about the year 1840.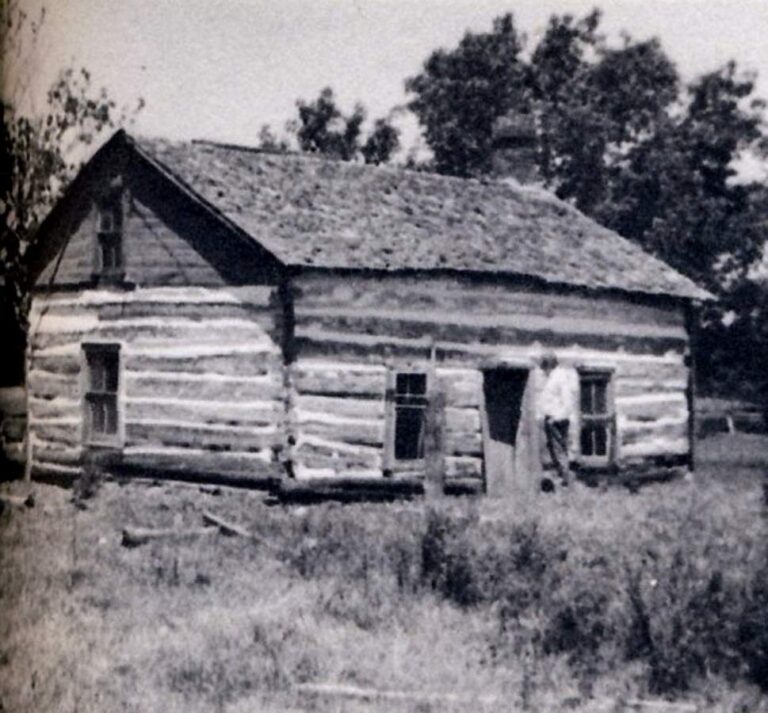 O'Neill Family House built circa 1840
In 1841, a son, William, was born at their home in Emily Township. Another daughter, Ellen was born in 1843 and their youngest child, Margaret, was born in 1849. The family farmed their 100 acres of land, growing what was needed to feed the family throughout the year.
In 1860-61, the family sustained a great loss when young William died at the age of about twenty years. The cause of death was consumption. Ellen (English) O'Neill died on 17 May 1878. Her husband, Patrick O'Neill, died some months later, his death occurring on 18 January 1879. Their remains rest in St. Luke's Cemetery, Downeyville, Emily Township.
The Children Establish Homes
Morgan, the oldest son, was married by about 1853. His wife was Catherine Callaghan, born about November 1832. They had a family of six children, five girls and one boy. Their son, born in 1854, was named Patrick after his grandfather. Catherine (Callaghan) O'Neill died 21 March 1899. Morgan O'Neill died 7 February 1903. Their remains rest in the Downeyville Pioneer Cemetery in Emily Township.
Michael, the next son of Patrick and Ellen (English) O'Neill, married in 1863. His wife, Margaret Miller, was born 1 July 1840. They had a family of eight children, seven sons and one daughter. Their first child was a son. They named William, perhaps in memory of Michael's brother who had died a few years earlier. Margaret (Miller) O'Neill died 28 August 1903. Her husband, Michael O'Neill, died 27 March 1916. Their remains are interred in St. Luke's Cemetery, Downeyville, in Emily Township.
John O'Neill, another son of  Patrick and Ellen (English) O'Neill, also married. His wife was Bridget Brogan and they were wed on 1 February 1864 at St. Mary's Church in Lindsay, Ontario. Bridget was born 17 March 1850 in Ireland, a daughter of Thomas Brogan and Bridget Madden. They had a family of twelve children. Of these children, it was their son John, born 4 July 1870, who eventually took over the family property at Concession 14 Lot 18 south, Emily Township. John married Mary Fox in 1907. In 1916, John was listed as the resident on the family property in Emily Township.