Joseph Bennett of Monaghan Township
Joseph, born in Ireland in 1814, came to Upper Canada, as an immigrant settler with his parents at the age of four and a half years. The family arrived in 1819. Before coming of age, and taking up his own land, Joseph lived with his parents in Cavan and Otonabee Townships.
He married Jane Graham 24 March 1842. Jane was also born, about 1822, in Ireland. After their marriage, Joseph and Jane lived for a time in Manvers Township. Their first child, a son named Samuel was born there in 1843. In 1845, a daughter Mary Jane was born and in 1846 another son, Joseph Jr., was born. Another son, John was born in 1849. Like his two older brothers and sister, John was also born in Manvers Township.
In 1855 a daughter, Margaret Ellena, was born. She lived only a few years. Margaret died in 1859. In 1858, another son, Francis, was born. A daughter, Susan, was born in 1862 and their youngest boy, George, was born in 1864.
A Move to North Monaghan Township
About the year 1858, Joseph Bennett took up residence in North Monaghan Township, the place he thereafter called home for the remainder of his years.  He took up farming, was actively interested in the welfare of the township and garnered much respect from those who knew him.  Joseph eventually purchased Lot 8 Concession 10 in the township and in 1877, also bought 100 acres at Lot 5 Concession 9.  Jane and Joseph's son, George, later took over farming on the property at Lot 8 Concession 10.
When Joseph Bennett Sr., died in 1908, he was survived by three sons and one daughter. The sons were, Samuel, John and George. The daughter was Mary Jane. Jane (Graham) Bennett, wife of Joseph, died on 10 April 1893. Their remains rest in Little Lake Cemetery in Peterborough.
Marriages of the Children
Mary Jane, daughter of Joseph and Jane (Graham) Bennett, became the wife of Robert Pope, of Richelieu, Quebec. Mary Jane and Robert were married on 10 November 1877 in Peterborough.  Robert, born in England about 1835, was the son of James and Ann Pope.
Samuel Graham, son of Joseph and Jane (Graham) Bennett, married on 31 December 1884 in Toronto, Ontario. His bride was Ada Charlotte Souch, daughter of Samuel and Maria Souch.
John James, son of Joseph and Jane (Graham) Bennett, married Sarah M. Scott, daughter of Alexander and Sarah Scott, another North Monaghan family. The young couple were married on 24 June 1885.
Military Service
The youngest child in the family, George W. Bennett, enlisted in WWI on 22 September 1914. He became a Major and went overseas with the 2nd Battalion.
Major George W. Bennett would be killed in action at the Battle of St. Julian on 23 April 1915.  He was the first Peterborough soldier to lose his life in WW I.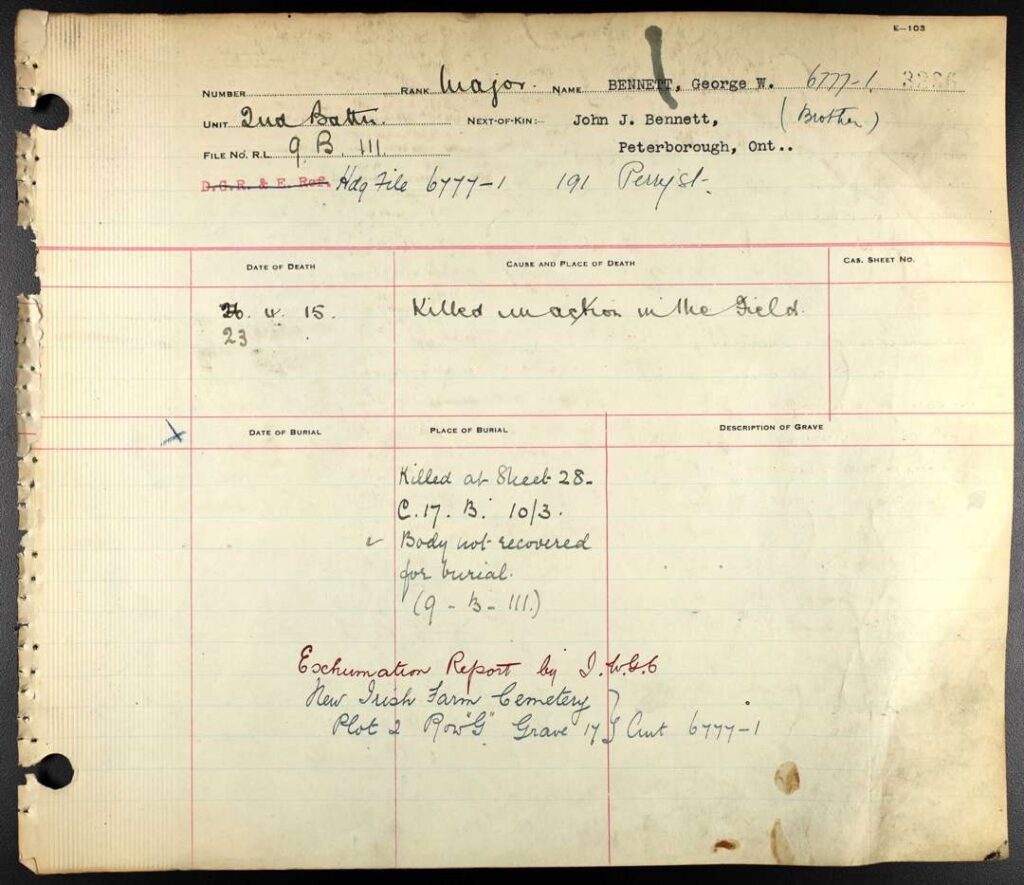 George Bennett – Killed in Action 23 April 1915
Sources: A History of North Monaghan Township 1817-1989; Census data from the Canadian National Archives website; Ontario Vital Statistics from Ancestry.ca