A Barber For Bowmanville​
Mary Cobbledick Heal was born 8 February 1817 in Bude, Cornwall, England. As a young woman, she married William Pethick. He was born in Stratton, Cornwall, England on 6 January 1822. Shortly after their nuptials in 1842, the newlywed couple departed England. They sailed for Canada West, eventually making their way to the hamlet of Bowmanville. Here they settled for the remainder of their lifetimes.
In January 1843, a baby daughter was born. They named her Mary Elizabeth. A few years later, on 17 February 1849, a son was born to William and Mary Pethick. This child they named him John. The following year, in May 1850, another son was born who was given the names William Edward. William and Mary's younger daughter, Laura Jane, was born in March 1854. Another two sons, Thomas and James were born, respectively in 1856 and 1859.
During his working years, William was always employed as a tailor. He retired in the later 1880s and thereafter worked as a market gardener. His death occurred in Bowmanville on 24 September 1898. His wife, Mary Cobbledick (Heal) Pethick, died on 30 March 1913. They rest in the Bowmanville Cemetery.

William Edward, son of William Sr. and Mary (Heal) Pethick, was born and raised in the town of Bowmanville. On 4 November 1869, William married Emily Brooks. Emily was born in England in 1852. They had three children, William Edward Jr., born in 1870, Charles Franklin, born in 1872 and Ada May born in 1874.
Emily (Brooks) Pethick died in 1875.
On 8 January 1877 in the village of Markham, Ontario, William Edward Pethick married for a second time. His new wife was Mary Nichol Sylvester, daughter of John and Margaret (Topham) Nichol and step-daughter of Richard Sylvester.
Mary had been married before and by her first husband, Hugh Thomson, had three children. Arthur was born in 1858, George Edgar was born in 1864 and Herbert Thomson was born in 1868. Hugh Thomson died in the New York, United States, about 1870.
With her second husband, William Edward Pethick, another three children were born. Frederick William was born in 1877, Harold Guy was born in 1880 and Ella M., was born in 1882. Mary (Nichol Sylvester) Pethick died on 8 August 1822 at Toronto, Ontario. Her husband, William Edward Pethick, died in Toronto on 13 December 1934. They rest in the Oshawa Cemetery, Oshawa, Ontario.
Charles Franklin Pethick – Barber of Bowmanville
It was Charles Franklin Pethick who became a barber with a shop in the town of Bowmanville. He went by his second name of Frank, throughout much of his lifetime. Born 28 January 1872 in Oshawa, Durham County, Ontario, 
Frank attended local schools for his elementary education. At the age of 26 years, he married Marie Ina Paul, daughter of Harvey Paul and Eliza Mitchell. Their wedding took place in Bowmanville on 20 October 1898. Frank was already working as a barber.
Their first child was a daughter, born 29 June 1900 at Bowmanville. She was named Ina Marie after her mother.
In 1904, a son was born, whom they named Francis Edward. Charles Herbert Pethick was born in 1906.
 On 18 June 1908, baby daughter Florence Doris was born. She lived only three weeks before whooping cough caused her death on 9 July 1908. In 1913 another son was born. They named him Albert Paul Pethick. Albert lived only a few months, his death taking place on 24 April 1914, at Bowmanville. Baby Albert had a heart condition from birth.
Frank maintained his barber shop at 26 King Street West in Bowmanville. Around 1910, a photograph was taken for the Bell Telephone Company to highlight its first office location in town. The company offices were in the rear of Frank's barber shop.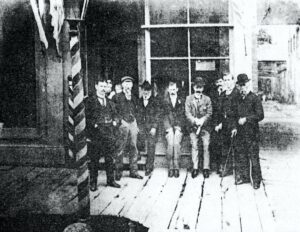 Frank's barber shop was known for more than his skills as a barber and the presence of the Telephone offices at the rear of his store. Frank had a love of music and in the 1890s had his own small musical string orchestra. In the closing decade of the 1890s, Frank's barber shop became headquarters for such musical instruments as banjos, guitars, mandolins, violins and autoharps. Its popularity drew young would be star musicians to his store in great numbers. Frank's own group was in frequent demand at social affairs, church and lodge entertainments and even at then Mayor of the town, Mr. R. R. Loscombe's annual banquet. The banquet was held at Loscombe's palatial residence on King Street East.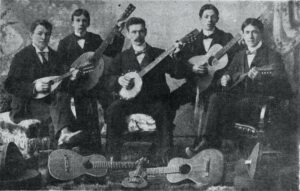 Featured in the above photograph are left to right: Cass Tail, (who went to Vancouver, B.C.); Cecil Osborne, Frank C. Pethick; Albert L. Darch and Guy Pethick.
On 20 October 1953, Marie Ina and Frank celebrated their 50th wedding anniversary. Marie died a few months later, her death occurring on 2 January 1959, at Bowmanville. Frank died 28 August 1960 at Bowmanville, closing out a long lifetime in which music had played a dominant role.
Sources: Ontario Vital Statistics, births/marriages/deaths; Canadian Statesman newspaper files; online family trees; census data