Bagshaw Family in Brock Township
Here is a story about the family of Obediah and Minnie (Swannick) Bagshaw. They married 2 March 1887 in Reach Township, Ontario and settled into family life in Brock Township. Obed, as he was known throughout his lifetime, was the son of Lot Bagshaw and Elizabeth Rundle. Minnie was the daughter of John Swannick and Mary Merrick.
Four years after their wedding, Obed and Minnie's family already included three children. George Elgin was their eldest. He was born 24 August 1887. Next came a daughter, Olive, born 26 February 1889. Wilmott, at three months, was the youngest, born 26 July 1890.
Over the next dozen or so years, another seven children were born. Arthur Merrill was born 8 May 1892; Wesley Stealwood was born 25 April 1894 and Ernest Melville was born 30 November 1895. The youngest four children were Alma Maude born 21 April 1897; Minnie Myrtle, born 4 September 1898; Harvey Obed, born 8 April 1900 and Otto Earl, the youngest, who was born 16 December 1902.
Minnie (Swannick) Bagshaw died at her family home at Lot 13 Concession 6 Brock Township on 13 May 1938. She had contracted pneumonia. Minnie's earthly remains were interred in Bagshaw Cemetery in Sunderland, Ontario.
Obed later resided in Rosedale, in Fenelon Township. His death occurred on 2 July 1932 in that hamlet. The earthly remains of Obed were laid to rest beside his wife in Bagshaw Cemetery.
Lifetimes of the Children
George Elgin, son of Obed and Minnie (Swannick) Bagshaw, married Eva May Rundle on 22 February 1911. Their wedding took place in Brock Township. Eva and George made their home in the town of Sunderland where he had a small business as a hardware merchant. By 1921 they had two children. A daughter, Delza, was born 22 March 1913. A son, Burton was born in 1915. George Elgin Bagshaw died in 1975. He is buried in Bagshaw Cemetery in Sunderland. His wife, Eva May (Rundle) Bagshaw died in 1947.
Olive, daughter of Obed and Minnie (Swannick) Bagshaw, married Chester E. Shier. Chester was born in Brock Township in 1885. He was a son of Wellington Shier and Elizabeth Dixon. Their wedding took place at Olive's parent's home on 29 March 1916. Both Chester and Olive died in 1977.
Wilmott, son of Obed and Minnie (Swannick) Bagshaw, married Mary Helen, daughter of William Vallentyne and Annie Allin. They married in Brock Township on 22 March 1916. Wilmott died in 1953 and Mary Helen passed away in 1977. They rest in Bagshaw Cemetery, Sunderland.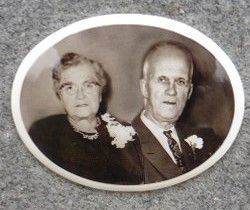 Arthur Merrill, son of Obed and Minnie (Swannick) Bagshaw, married Vera Lauretta Fair. Vera was born 10 September 1894 in Brock Township. Her parents were Christopher Fair and Mary Reynard. In 1920, an infant son, Elwood Merrill, was still-born to this couple. In 1921, a daughter Mary Kathleen was born. She was followed by three boys, Ronald Obediah born in 1926, Kenneth Allan born in 1927 and Mervin Wesley born in 1929.
Vera Lauretta (Fair) Bagshaw died 29 December 1969. Arthur Merrill Bagshaw died 28 January 1984. They rest in Bagshaw Cemetery, Sunderland.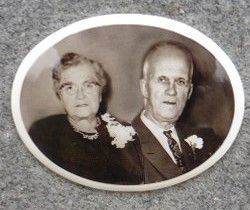 Wesley Stealwood, son of Obed and Minnie (Swannick) Bagshaw, became a telegraph operator. He enlisted in the Canadian Expeditionary Force at Ottawa on 21 January 1915 and would be sent to serve overseas during the years of war.
In 1907, the Dominion Line Company ordered two new ships to replace aging and outdated vessels. The SS Albany and SS Alberta were the two new ships to be built. However, while still being constructed, the under-construction ships were transferred to the White Star Line company. The Albany was renamed Megantic after Lac-Mégantic in Québec.
It was in 1915 that Wesley Stealwood Bagshaw enlisted in the military and after completing his basic training appears to have shipped out aboard the RMS Megantic, the White Star Line vessels that had been commissioned by the British government to serve in the war effort as a troop transport.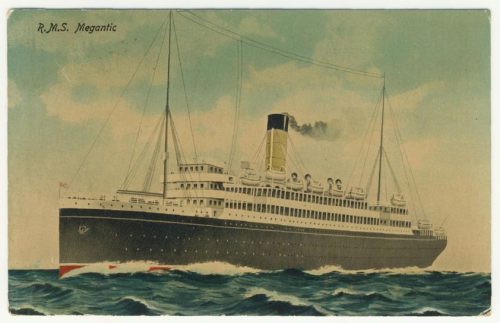 R. M. S. Megantic
©S. Best Collection 2019
The post card, shown here, was sent May 16, 1915, with a post mark indicating Pointe-au-Pere. In English this translates to Father Point and is now an historic district within the city of Rimouski, Quebec.
The old original name came in honour of one Father Henri Nouvel, a priest who celebrated the first Mass there in 1663. Situated in the mouth of the St. Lawrence River, today it is home to the Site Historique maritime de la Pointe-au-Pere museum which has an extensive collection about the RMS Empress of Ireland. The Empress of Ireland sank in the St. Lawrence River near this village on 29 May 1914.
In 1915 Wesley wrote home:
On Board S.S. Megantic Sunday May 16, 1915, 1 p.m.
Dear Mother, just pulling into Father's Point. Now this will be the last chance
for mail now. The weather is beautiful so far…
After returning from serving overseas in WWI, Wesley went home to his childhood community. Later he moved to Perth in Lanark County, Ontario. There he married Margaret Taylor. She was born in 1889 in Lanark County, Ontario, a daughter of James Taylor and Helen Lee. Wesley and Margaret were wed in the town of Perth on 20 March 1926.
Ernest Melville, son of Obed and Minnie (Swannick) Bagshaw, was another son who served in WWI. Known in the family as Melville, he enlisted at Oshawa on 25 October 1917.
After serving overseas with the 8th Reserve Battalion of England, Melville was discharged at Halifax, Nova Scotia on 4 July 1919. He left Dispersal Station B on 13 July 1919. Returning home to Brock Township, Melville once again took up farming. Before long he met Anna Jane Warvill, daughter of John William and Emma Jane Ashby.
Anna Jane was born in Brock Township, on 26 April 1898. She had an older brother named Laurence, born in 1893 and an older sister, Delta, born in 1889. A younger sister, Almeda Sarah was born in 1903 and died in 1904.
Anna Jane Warvill married Melville Ernest Bagshaw on 26 January 1921 in Brock Township. They lived in Brock Township during their married lifetime. Anna (Warvill) Bagshaw died in 1951. Her husband, Melville, died in 1973. They rest in the Sunderland Cemetery.
Alma Maude, daughter of Obed and Minnie (Swannick) Bagshaw, was born in Brock Township on 21 April 1897. Known in the family as Maude, it does not appear that she ever married. Maude lived at home even as an adult. Her death occurred in 1986. Maude was laid to rest beside her parents in the family plot at Bagshaw Cemetery, Sunderland.
Minnie Myrtle, daughter of Obed and Minnie (Swannick) Bagshaw, was born in Brock Township on 4 September 1898. When Minnie was twenty years old, she married Ernest Edward Purvis. Ernest, born 7 May 1892 in Brock Township, was a son of Henry Purvis and Sarah H. Dure.
Ernest and Minnie farmed for many years. In later years they made their home in the village of Cannington, Ontario. Ernest died on 11 October 1947. Minnie Myrtle (Bagshaw) Purvis died on 5 May 1983. They rest in Necropolis Cemetery in Cannington.
Harvey Obediah, son of Obed and Minnie (Swannick) Bagshaw, was born 8 April 1900 in Brock Township. As an adult he went by his second name, Obediah although the family headstone records him as Harvey. He farmed on Concession 9 Lot 4 in Brock Township for a number of years. Not much longer than a year after the death of his father, Harvey died on 22 September 1933. He had taken his own life. Harvey rests in the family plot at Bagshaw Cemetery, Sunderland.
Otto Earl was the youngest child of Obed and Minnie (Swannick) Bagshaw. Otto was born on 16 December 1901 in Brock Township. At the age of twenty-seven years, Otto married Mabel Gertrude Gordon. She was born 8 February 1910 in Brock Township and was a daughter of Richard Gordon and Catherine McKinley. Otto and Mabel were married in Sunderland on 3 April 1929.
They had a daughter Joan, born in 1935 who died in 2011. Otto and Mabel also had a son who was born and died in 1932.

Mabel Gertrude (Gordon) Bagshaw died in 1970. Her husband, Otto Earl Bagshaw, died in 1985. They rest in the Bagshaw Cemetery at Sunderland.
The Bagshaw family came to Brock Township as early as 1849. Lot Bagshaw born
10 October 1821 in Toronto, arrived in the township with his wife, Elizabeth Rundle. Elizabeth was born 23 February 1823 in Cornwall, England. Lot and Elizabeth spent the remainder of their lifetime in Brock Township, raising their children of whom Obediah Edward was their youngest. Like his parents, Obediah married and together with his wife, Minnie, raised a family of ten children in Brock Township. The family's long association with the township has continued into the latter years of the twentieth century.