Andrew Allison, Peterborough Grocer
Andrew Allison was born in Scotland in March 1847. In the year 1855, when he was a young lad of about eight years, Andrew's family emigrated from Scotland to Canada West. It is unclear if the arriving family included his father or not, for by 1861, Agnes (McQueen) Allison, Andrew's mother, was a widow.
In 1861, Agnes lived in Galway Township, Peterborough County, with her sons, David, aged 22 years and Andrew, aged 14 years. David would marry twice, his second wife being Mina Brown, daughter of John and Mary Ann.
By 1871, Agnes and her son Andrew, lived in Verulam Township. At twenty-three years of age, Andrew worked as a general labourer. The following year, on 31 October 1872, Andrew married Alicia Long. She was born 25 March 1850 in Ireland, a daughter of William and Alice Catherine (Middleton) Long.
In 1876, a baby daughter was born to Andrew and Alicia. They named her Agnes Winter Allison. This little girl died in 1881, at the age of 5 years. In 1878, a second daughter was born to these parents. This child was named Ruby Louisa. Sadly, she also died as a small child. Ruby died of meningitis on 31 December 1885. The family was living in the town of Peterborough at that time.
The City Directories first show an entry for Andrew Allison in the year 1888. He and Alicia lived at 875 Water Street while Andrew ran a grocery store in the adjoining building at 877 Water Street. For the next thirty-six years, until his death in November 1926, Andrew operated his grocery store on Water Street. Four children were born to the family in the 1880s. In March 1880, William Arthur was born. Edwin Hilliard was born 23 May 1882 and David Frederick was born on 31 July 1884. Another daughter, Florence Gertrude was born 15 July 1887.
Twin boys, Robert Bruce and Andrew Norman, were born to Andrew and Alicia on 16 March 1890. Robert Bruce died before his first birthday. One more son was born to the family. This was Roy Halliday, born 1 April 1892 in Peterborough.
The family photo at right was taken about 1891, before the birth of the youngest child, Roy. The photo is labelled Andrew Allison & Alicia Long Allison with children: Will, Norman, Ed & Gertie. Considering that Norman was not born until 1892, perhaps the children shown here are actually: William Arthur (born 1880); Edwin Hilliard (born 1882); David Frederick (born 1884) and Florence Gertrude (born 1887).
In 1891, a serious accident took place when a group of children were playing with a cartridge that exploded. Two of the Allison boys were present at the time, but were not hurt:
The Dangerous Cartridge
Charlie Umber, the fifteen year old son of Mr. Lorenzo Umber, Water street north, lost three fingers yesterday by the explosion of a cartridge. He was playing in company with some other children, and had a blank cartridge in which there was some explosive material. He touched a lighted match to it and the cartridge burnt, carrying away the tops of his thumb and two first fingers of his right hand, and cutting his hand. The wounded digits were amputated at the first joint by Dr. Goldsmith. Two of Mr. Andrew Allison's children were struck by splinters of the cartridge but not hurt.
In 1902, as the school year closed, Norman and Roy, were students at the Barnardo Street School.
Norman achieved honours grades and was graduated from Senior III to Junior IV for his next year of academic studies. Roy, the younger of the two boys, passed from Senior Part II to Jr. level II, as he completed his school year.
The year 1902 brought great sadness to the family when David Frederick, still working on his educational studies, died on 29 June 1902. His earthly remains were laid to rest in Little Lake Cemetery in Peterborough.
In September 1908, William Arthur Allison was married. His bride was Gertrude Vanstone, born in May 1876 in Listowel, Perth County, Ontario. She was a daughter of James and Jane (Bahem) Vanstone. The wedding took place in the small town of Listowel. William and Gertrude made their home in Listowel.
Edwin Hilliard Allison served in the Canadian Over-Seas Expeditionary Force of World War I. He enlisted on 27 December 1915 at Winnipeg, Manitoba. Returning home after the war, once again, at Winnipeg, he was discharged from service with the 101st Battalion on 29 March 1919. Edwin returned to his family home in Peterborough, Ontario where he married on 30 June 1921. His young wife was Doris Green, born in 1896 in England. Her parents were George and Kate (Weston) Green. They lived in Peterborough throughout their married lifetime. Edwin died 9 December 1955. His wife, Doris (Green) Allison, died on 31 May 1980. They rest in Little Lake Cemetery, Peterborough.
Florence Gertrude, known as Gertrude, was the only daughter of Andrew and Alicia (Long) Allison, who lived to her adult years. She married Howard Leslie Reeve. He was a son of William and Emma (Thomas) Reeve. They were married in Peterborough on 12 June 1918. Howard and Gertrude made their home in the town of Port Hope, Ontario. Gertrude died there on 2 July 1967. Howard died 18 December 1970. They are buried in the Port Hope Union Cemetery.
Andrew Norman, known as Norman, was the second youngest son of Andrew and Alicia (Long) Allison. Norman became an Insurance Agent and lived for a time in the city of Hamilton, Ontario. There on 4 April 1935, he married Edna Marguerite Green, daughter of George and Sarah (McIntyre) Green. Edna was born in 1889 in the town of Goderich, Ontario. They lived in the city of Hamilton. Norman died 27 August 1966. Edna (Green) Allison, his wife, died in 1867. They rest in the Grove Cemetery, Hamilton, Ontario.
Roy Halliday, born 1 April 1892, was the youngest son of Andrew and Alicia (Long) Allison. Roy also served in World War I. He enlisted on 1 August 1918 at Barriefield, Ontario. Returning from serving overseas, Roy was discharged on 2 January 1919, at Belleville, Ontario. Roy returned home to Peterborough. Later that same year he married Ruth Vina Young on 1 September 1919 at Toronto, Ontario. Vina was the daughter of Frederick J. Young and Elizabeth Vivian Windsor. She came from a Peterborough county family who lived in Chandos Township.
In 1921, Roy and Vina made their home in the city of Peterborough, residing with his parents. Roy worked for his father in the grocery store until 1826. Roy continued to work at the Water Street grocery store until 1932. In 1933, Roy is not found in the city directory. In 1935, he was boarding at 778 George Street. Further entries referencing Roy were sporadic. In 1927 and 1928 he still worked at the grocery store, but after the death of his mother in 1934, Roy worked for some years as a clerk at the Outboard Marine Company.  Roy died 6 September 1956. He rests in the family plot at Little Lake Cemetery.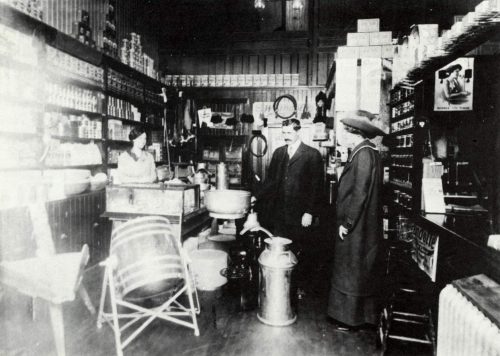 Interior of White & Gillespie Grocery Store in Peterborough
Above is a view of the White and Gillespie Store on George Street, Peterborough. From this timely photograph dating to the early 1900s, we are able to see a typical view of what grocery stores of this era were like.
The Allison home and grocery store that was once located at 875 and 877 Water Street respectively, no longer exist. After her husband, Andrew, died in 1926, Alicia (Long) Allison remained living in the family home at 875 Water Street, until her own death in 1934. In the following years, a grocery store run by Alexis McCormick, was still in operation at the 877 Water Street address. In 1968, the house at 875 Water Street was listed as vacant in the city directory. In 1969, all the properties from 867 through 899 Water Street ceased to exist as individual dwellings. It appears that the city purchased the land on which these houses stood. All the houses were subsequently demolished. Today this land is a triangular shaped section of open grassland extending from the juncture of George and Water Streets south about one block to the north side of Hilliard Street.

Present day view of 867-899 Water Street North, Peterborough
Source: Google Maps