Herb Brown - A Mystery Photo
Recently the Manvers Township Historical Society posted this photo as a mystery photograph of unknown family connection. Included was the notation from the back of the photo "Herb Brown – Our English boy". The photograph was taken by Morton of Lindsay.
Thinking it might be possible to locate more information about Herb Brown, a search for details was started. My first thoughts were that perhaps the unusual reference to "Our English boy" might indicate a British Home Child. Knowing that the Morton Studio in Lindsay had its beginnings in the 1890s, also helped give a framework within which the search could begin.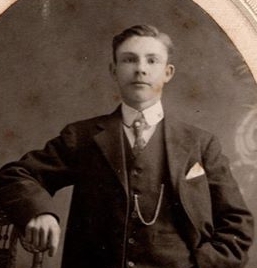 Herb Brown 
Source: Manvers Historical Society
Chasing Down Potential Leads
It proved a difficult and relatively unproductive effort. One Percy H. Brown was located. He lived in the town of Peterborough in 1901 and had been born in England about 1878. The census indicated he had arrived to Canada in 1883. Taking this search a step further and looking at the immigration arrivals for that year was hopeful. A probable match was found for a boy named Percy Brown arriving as an immigrant child in the same year, 1883. He was part of a group of young boys being brought to Canada under the supervision of Reverend Stephenson and destined for the Children's House.
Sadly, no amount of further hunting produced any additional information about this young boy named Percy H. Brown who arrived here at the tender age of six years in 1883. He simply disappears after being found in Peterborough for the one census year of 1901.
Almost ready to give up the search, one final angle was tried. Having already investigated a couple of marriage searches, this last attempt was one more try using different keywords in the online search form. Suddenly way down the list of possible matches was one Herbert John Brown getting married in 1902 in the town of Midland, Simcoe County. One key bit of data in the marriage record proved significant. Herbert was born and still lived in Manvers Township, Durham County, at the time of his marriage.
This young man was a very clean fit for other bits of data known – such as the fact that the photograph was taken in Lindsay, which is certainly close by to Manvers Township. Also, the young man had the right name. Lastly, he was born around 1878, which also was a good fit to the possible age of the Herbert Brown in the photograph.
The record was listed under "Herb John Brown", which accounted for it not turning up near the top of the list of potential matches. From all that was learned about Herbert Brown after discovering this marriage record, it is very likely that he is the same man as appears in the old photograph posted by the Historical Society.
Who Was Herbert John Brown
Born in 1878 in Manvers Township, Durham County, Ontario, Herbert was the fourth child and oldest son of John Brown and Isabella Kells. His older sisters were Mary, born in 1871; Ida born in 1873 and Tottie Eva, born in 1875. Ten years after the birth of Herbert, another son was born to the family. This little boy, born in 1888, was named Norman.
The parents of these children lived in Manvers Township for many years. John Brown, the father, was born about 1828 in New York, USA. He came to Canada when still an infant. His wife, Isabella Kells, was born in Cobourg, in 1848, a daughter of William Kells and Theresa Davidson. John and Isabella married at Peterborough on 15 May 1869. In the first few years of married life together, John's aging father, James Brown, lived with the newlywed couple.
The photo at right, from an online public tree, indicates this is the Brown homestead at Fleetwood. Shown in the picture left to right are Brown family members and relatives: seated on the horse, Norman; John and Isabella (Kells); Ida; Mary, Tottie and Herbert. The ladies on the porch are Grandmother Kells who was Theresa Davidson, wife of William Kells and Mrs. Morrow who is most likely, Mary Jane Fowler, wife of Henry Morrow. Their son, James, married Jane Kells, sister of Isabella.
John and Isabella lived at their home in Fleetwood until the early 1900s. With their children all grown and married, the couple moved to the town of Lindsay where they resided with their daughter, Tottie and her husband, Arthur Mayes. John Brown died on 30 December 1913. His wife, Isabella (Kells) Brown, died on 2 November 1929. They rest in the Riverside Cemetery at Lindsay.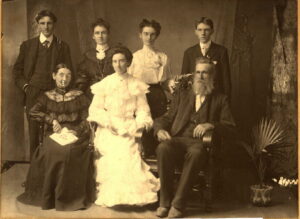 This  family photo from an online tree shows John and Isabella with their young adult children. In the back row, left to right are: Herbert, Ida, Tottie and Norman. In front, left to right are: Isabella (Kells) Brown, Mary (Brown) Stacey and John Brown.
Lifetimes of the Children
Mary, born 5 May 1871 in Manvers Township, was the eldest child of John and Isabella (Kells) Brown. Mary became the wife of Owen Rutherford Stacey on 1 January 1907. They were married in the township. Owen was born 19 November 1867 also in the township and was a son of William and Maria (Adams) Stacey. Owen died on 29 August 1908. Mary (Brown) Stacey died on 26 February 1953. They rest in Riverside Cemetery, Lindsay.
Ida, daughter of John and Isabella (Kells) Brown, was born 5 April 1873. She married John Hutchinson on 24 April 1894 in Manvers Township. John was born in Cavan Township in 1868. He was a son of John Hutchinson Sr. and Mary Corbett.
John and Ida had four sons. Fred Brown Hutchinson was born in 1901 and died in 1924. Norman Arthur was born in 1902, Carl Victor was born in 1904 and Bert was born in 1904. In their latter years, John and Ida lived in the town of Lindsay. There, on 21 December 1943, John passed away. Ida (Brown) Hutchinson died on 6 March 1946. They rest in Riverside Cemetery in Lindsay.
Tottie Eva, daughter of John and Isabella (Kells) Brown, was born at Fleetwood, Manvers Township, in 1875. She married Arthur Mayes on 31 October 1905 at Lindsay, Ontario. Arthur was born 4 November 1880 at Great Yarmouth, England, a son of George Wix and Caroline (Paffie) Mayes. Tottie and Arthur lived in Lindsay, Ontario. They had a son, Arthur Earl, born in 1909. A second baby was born and died in 1911.
Tottie (Brown) Mayes died in Toronto on 20 July 1941. She was 66 years old. Her husband, Arthur Mayes, died 11 July 1958. They rest in Riverside Cemetery in Lindsay.
Herbert John, son of John and Isabella (Kells) Brown, was born in Manvers Township in 1878. He married Selena Mary Nugent on 3 September 1902, at Midland, Ontario. Selena was born 4 September 1884 in Manvers Township, a daughter of Samuel Nugent and Alice Switzer.
They first made their home in Manvers Township. Here a daughter, Mayme Kathleen, was born on 8 August 1903. She would, as a young woman, marry Samuel A. Grylls.
A second daughter, Ruby Madelina, was born at the family home in Fleetwood, on 16 August 1904. Ruby lived only a couple of months, her death occurring on 19 October 1904.
Another daughter, Eva Pearl Audrey, was born 17 June 1906 in Manvers Township. Eva died in 1939 at Pocatello, Idaho, United States.
A son, John Nugent, was born at Lindsay, Ontario on 17 February 1911. John died in February 1988 at Bancroft, Ontario.
Doris Eileen, their next child, was known to the family as Ilene. She was born in 1918 at Lakefield, Ontario. The family had moved their home to the small village not long before the birth of Doris. She grew up to marry Joseph Morgan Matthewman. Her death took place in 1978 at Peterborough, Ontario.
Isabel Alice was born to Herbert and Selena in 1920. Isabel grew up to marry Ronald Kemp. She died 13 March 1968 at Peterborough.
One other child was born to the family however, no details were located about this last child.
Herbert John Brown died at their Lakefield home on 27 September 1963. His wife of fifty-one years, followed him two days later. Selena Mary (Nugent) Brown, died 29 September 1963. They rest in Hillside Cemetery in Lakefield.
At the end of the day, my early thoughts that Herb Brown might have been a British Home Child, proved not to be the case. However the Brown family as presented in this story, does seem to be a good fit to the original mystery photograph posted by the Manvers Historical Society. A further note about the photographer, Morton. This was Maud M. Morton, born 7 February 1872 and died 17 April 1940. She was the daughter of William Jay Morton and Almena C. Gibbs. Maud had her studio for 25 years in Lindsay before relocating her service in 1897 to 45 ½ Kent Street, Lindsay. She was one of a few number of women photographers in the late 1800s and early 1900s.