John M. Downer of Peterborough and Toronto
Family Origins in the United States
Asa Burton Downer was born in Thetford, Vermont, 26 March 1799. He married Caroline Smith, she also being born in the United States. Asa and Caroline came to Upper Canada in the early 1820s. Their third child, a daughter whom they named Eliza, was born in Hope Township. The Downers made their way into the backwoods, to the recently established town of Peterborough. Here they settled permanently. Another three sons were born to the family. William Chisolm was born in 1834, Asa Burton Jr., was born in 1838 and Lewis was born in 1844.
In 1851 the family resided in Otonabee Township where Asa was an Inn Keeper. Asa Downer Sr., died in Ashburnham village on 1 March 1861. Caroline (Smith) Downer died in Ashburnham on 20 June 1889. Her death was reported in the Peterborough Examiner of 22 June 1889:
At Downer's Corners, Peterborough, on Thursday, June 20th, 1889, the relict of the late Asa B. Downer, aged 88 years. Funeral from the residence of her son, Louis S. Downer, Sunday afternoon at three o'clock to the Methodist cemetery.
As noted by the paper, Asa and his wife, Caroline, were interred to the Methodist Cemetery, in Peterborough. At the time, this would have been the cemetery on Hilliard Street, which is today known as Pioneer Park.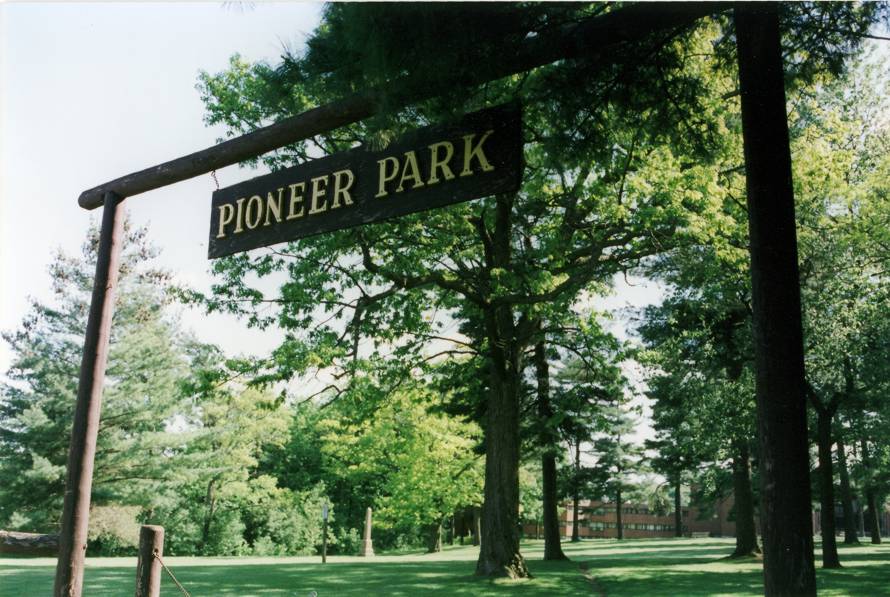 An Early Methodist Cemetery
The Wesleyan Methodist Cemetery was opened in 1850 after the public burial ground across from City Hall was closed. The Methodist Cemetery was in use from 1850 until the 1880s when it too was closed, due to concerns about the safety of public health. Families were asked to relocate the remains of their loved ones to other burial grounds. Most interments were relocated, many to Little Lake Cemetery, which had begun operation in 1851. The old Methodist burial ground was acquired in the 1950s, by the city of Peterborough, for use as a public park. Since 1960, it has been known as Pioneer Park.
William and Mary Ann's Family
William Chisolm Downer, born in Ashburnham about 1834, became the husband of Mary Ann Mitchell on 30 December 1858. Mary Ann, was also born in Ashburnham village. She was a daughter of John and Eliza Mitchell.
Five daughters and two sons were born to William and Mary Ann. Caroline Downer was born in 1861. John M. Downer was born in 1862, Eliza Jane was born in 1865, Anna in 1867, Agnes in 1869 and Addie in 1873. The youngest child was William Asa Downer, born in 1875. Mary Ann (Mitchell) Downer died in Lambton County, Ontario on 23 June 1879. William Chisolm Downer died in Peterborough on 1 March 1888. They rest in Little Lake Cemetery, Peterborough.
Agnes Delia Downer, born in 1869, married John H. Smith. Her brother William Asa Downer married Edith Rosamond Guy in Toronto on 3 June 1903. The other child of William and Mary Ann to marry was John M. Downer.
John, Grandson of Asa and Caroline
John M. Downer, born in 1862, in Peterborough, was educated in the local schools. In 1889 John went to Toronto to work. He returned to Peterborough and on 31 December 1890, married Clara E. Allen, daughter of Edmond and Delilah Allen. The wedding of John and Clara took place at the town of Campbellford in Northumberland County.
A daughter, Edyth Lillian, was born to this couple on 20 February 1892, in Peterborough. At the time, John Downer worked as a pattern maker in town. That same year, John established his own business, The Downer Pattern Works at 116 Adelaide Street West in Toronto.
The company was one of the largest manufacturing businesses of its kind, employing over twenty skilled mechanics, a firm manufacturing patterns and models for engines, pumps, furnaces, electrical agricultural and architectural work. John became a member of the Central Railway and Engineering Club and developed a large circle of friends. He and Clara lived at 224 Dufferin Street in Toronto.
On 2 July 1935, John suffered a heart attack which caused his death. His body was returned to Peterborough for interment in Little Lake Cemetery. Clara (Allen) Downer outlived her husband by more than two decades. Her death took place in Markham, Ontario in 1958.
Another Peterborough man who became a Toronto Business Man was Edward R. Wood.