Elmdale School circa 1910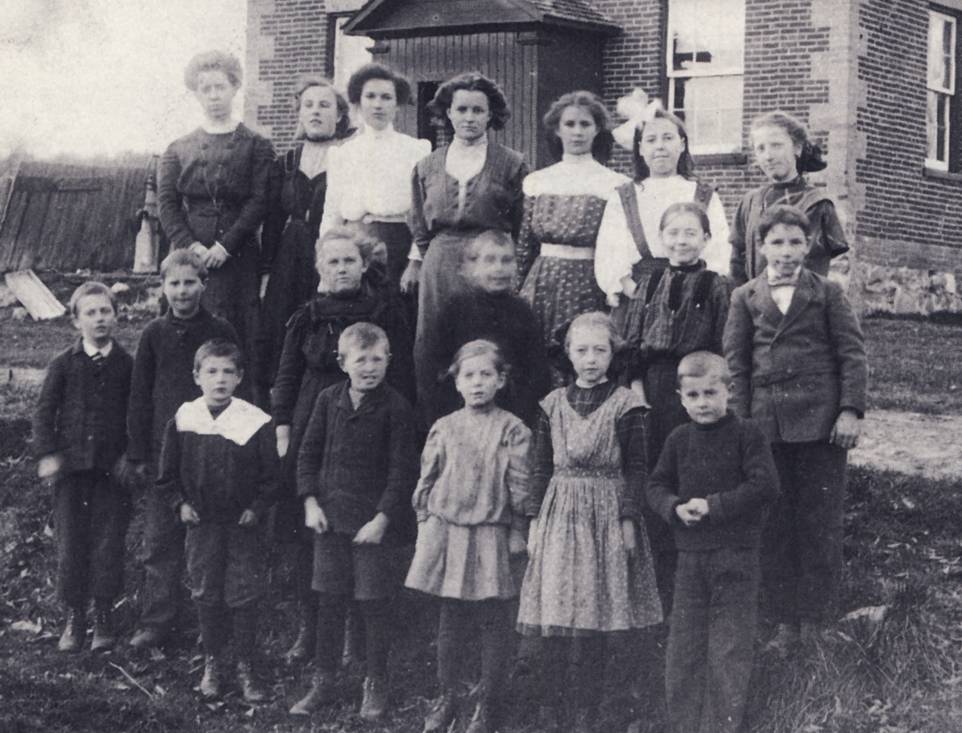 Elmdale School was also known as Section School No. 3, North Monaghan Township. The picture shown here was taken around 1910 and the children are identified as follows:
Back Row L-R: Teacher Miss Elliot, Murton Colon, Vilda Trew, Alma Dobbin, Della Bidgood, Epsie Adamson, Lottie Ball
Middle Row L-R: George Cannon, Jack Whitfield, Annie Brown, George Whitfield, Pearl Cannon, Allie Bidgood
Front Row L-R: Walter Hayward, Harold Ball, Marion Clark, Bessie Wilson, Bob Whitfield
The first school house built in School Section No. 3 in North Monaghan Township, Peterborough County, was a frame building erected on the southwest corner of Lot 4 Concession 11.  At the time, the land was part of the property of Mr. Burney. In 1870, this first school was replaced by a brick structure that was built on the southeast corner of Lot 3 Concession 11. The land for the second school belonged to Luke Berry and later was owned by Anthony Hunter. The inside of the building was finished by hand, under the supervision of Mr. Wilson. The brick laying and masonry was done by Bugler Bennett.
The name Elmdale School was chosen given that there were many fine Elm trees in the surrounding area. It was also known as the Springville School given its close ties with the nearby Springville Church. The school was furnished with blackboards typical of its day, a small library, a pump organ, a small study room and a kitchen area. The school was heated by a wood burning stove. The washrooms, one for girls and one for boys, were located out behind the school house at the back of the property.
The family of Robert Henry Colon and his wife, Margaret Lillico, lived in North Monaghan Township in the early 1900s. Robert was born 20 June 1860 in Hamilton Township, Northumberland County. Margaret Lillico was the daughter of John Lillico and Martha Wilson. She was born in North Monaghan Township. Robert and Margaret were married on 2 March 1892 in the town of Peterborough.
Murton, born Annabelle Murton, was the daughter of Robert and Margaret Colon, born 10 May 1896.  A year after the photograph was taken, Murton was still living at home with her parents. In 1921, she resided in the city of Peterborough. At that date, Murton was a lodger at 209 Murray Street, the home of Elizabeth Mann, a widow and worked as a milner for Richard Hall and Son.
Her father, Robert Henry Colon died on 5 September 1938 at their North Monaghan Township home. Her mother, Margaret (Lillico) Colon, died 27 June 1934. They rest in Little Lake Cemetery, Peterborough. Murton Annabelle Colon died 13 September 1955. She is buried with her parents.
In the 1890s, David Vint Trew and his wife the former, Elizabeth Sarah Ellison, resided in Clarke Township, Durham County, Ontario. There on 17 August 1894, a daughter was born to them. They named her Vilda Eliza. She already had two older brothers, Bingley David, born in March 1886 and Leverne Thomas, born in March 1889.
By 1901, David and Eliza resided in the little village of Springville, North Monaghan Township in Peterborough County. There David ran a small store. During the years the family lived in the village, Vilda attended classes at SS 3 North Monaghan Township, also known as the Elmdale School.
After completing her eduction, Vilda married Lawrence Stanley Lorne Jackson. Lawrence was born in Goderich, Huron County, Ontario on 6 February 1890. Vilda and Lawrence had moved to Weyburn, Saskatchewan where in 1915, their first child, a daughter named Velma, was born. A son, Elvin, was born at Shamrock, Saskatchewan in July 1917.  Four more daughters were born to Vilda and Lawrence over the next several years. Lawrence Jackson died at Moose Jaw, Saskatchewan in March 1957. Vilda Eliza (Trew) Jackson died in August 1964 at Moose Jaw, Saskatchewan.
Alma Ella Dobbin was born in November 1896 in North Monaghan Township. In 1910, she was a student finishing the last of her education in the Elmdale School class of Miss Elliott. Alma was a daughter of George Crawford Dobbin and Elizabeth Ann Preston.
Alma did not marry. She resided for many years in Peterborough where her death occurred on 4 February 1983. Alma was buried in the family plot at Little Lake Cemetery, Peterborough.
Delphine Bidgood, who was known as Della, was born in January 1896 in North Monaghan Township. She was the younger of two daughters born to George Bidgood and Harriet Lockie. George and Harriet married in the town of Peterborough on 25 February 1891. He was a son of William Bidgood and Sarah Coleman. Harriet was a daughter of William Lockie and Harriet Thompson.  Della's older sister was Eva, born in 1893. Her brothers were George, born in 1891; William born in 1897 and Allie born in 1898.
After completing her education, Della married William George Hewitt on 6 January 1927 at Peterborough. They had three children, Elda born in 1925, Robert born in 1927 and another son, Edwin.
Epsie Hephzibah Adamson was born  18 September 1897 in North Monaghan Township, a daughter of Henry Thaddeus Adamson and Elizabeth Ann Forster. Epsie attended school at SS 3, Elmdale School as a child and was a student there in 1910.
Epsie was the youngest of seven children born to the family of Henry and Elizabeth. Her older siblings included: Ethel Ann, born 1888; Ernest born 1888; Charles born 1889; William, born 1891; Lila born 1892 and Edith born in 1896.
After completing school, Epsie married David Walter Johnson, on 8 April 1922, at Peterborough. David, born in 1895 in Otonabee Township, was a son of Benjamin Johnson and Lilace Carstairs.
Lottie Ball was born in Cavan Township, Durham County on 4 July 1898. Her birth registration indicates she was fully named Annie Adeline Lottie Ball and was a daughter of John Ormond Ball and Annie Mary McRoberts.
Lottie never married. She lived her lifetime in Peterborough, her death occurring there on 21 November 1987. Lottie's earthly remains were interred in the family plot at Little Lake Cemetery.
Lottie's younger brother, Harold Ball, also attended Elmdale School in 1910. Harold Clarence Ball was born July 23, 1901, in Cavan Township.
On 20 November 1929, in the city of Peterborough, Harold married Vera Marguerite Donaldson. Vera was born in 1906 in Peterborough. She was a daughter of Joseph and Lottie Donaldson.
George Washington Cannon was born at Nicholls Hospital in Peterborough on 17 July 1901. His parents were Wellington Cannon and Dorothy Wicker.
                          After his years at school, George married Liell Annie Ivey, daughter of Albert Ernest Stone Ivey and Annie M. Merrills. Liell was born 31 May 1903 in Campbellford, Ontario.
They married at Peterborough on 14 February 1925 and thereafter lived in the city where a large family of children were raised.
George died in Peterborough on 6 December 1982. Liell died in Whitby, Ontario on 4 April 1986. They rest in Rosemount Cemetery in Peterborough.
Jack Whitfield was named at birth, John Stanton Raymond Whitfield. He was born 4 December 1891 in Peterborough. As a young boy, Jack attended classes at Elmdale School in North Monaghan Township.
As a young man Jack married Alta Mary Wilson, daughter of William David Wilson and Diana Martha Skuce. Jack and Alta lived in Peterborough raising their family of four children. Jack died on 30 May 1983. His remains were interred at Little Lake Cemetery, Peterborough. Alta died on 4 February 1997 and was interred next to her husband.
William George Whitfield, known as George, was born 24 April 1899 in North Monaghan Township, Peterborough County. He was a son of Thomas William Whitfield and Hortense Thorndyke. George was a student at Elmdale School in 1910.  
In 1918, George enlisted to serve in World War I as part of the Canadian Expeditionary Force.
Returning after the war, he married Ila Florence Blanchard. The daughter of Thomas Blanchard and Rebecca Wills, Ila was born 4 January 1902 in Belleville, Hastings County, Ontario. George Whitfield died in Peterborough on 17 June 1985. Ila Florence (Blanchard) Whitfield died in Peterborough on 13 December 1987. They rest in Little Lake Cemetery.
Pearl Lavina Cannon was born 17 September 1899 in Belmont Township, Peterborough County, Ontario. Her parents were Patrick Wellington Cannon and Dorothy Ann Wicker. Pearl attended Elmdale School in North Monaghan Township in 1910.
After finishing school and as a young woman, Pearl married William Orton Hunter. He was born 22 August 1882 in Otonabee Township, Peterborough County. William passed away 4 April 1946. He was interred at Little Lake Cemetery. Pearl died 14 July 1992 in Peterborough.
Marion Laing Clark was born 15 February 1903 in North Monaghan Township. She was a daughter of John Franklin Clark and Margaret Maude Laing. Sometime after her years at school Marion married Thomas Vincent Whittington. They were married in North Monaghan Township and continued to make their home in the county. Thomas Whittington died 26 July 1949. His remains were interred at Little Lake Cemetery, Peterborough. Marion died in Peterborough  on 18 November 1996. She rests beside her husband at Little Lake Cemetery.
Bob Whitfield, whose full name was Robert William Whitfield, was born 28 October 1902. He was another son of Thomas William Whitfield and Hortense Thorndyke and like his older brother, George, attended classes at the Elmdale School in 1910.
After completing his schooling and as a young man, Robert went to live in the state of Mississippi, United States. There he married Katherine Magruder. They resided in Port Gibson, Clairborne County, Mississippi. Robert died 13 April 1983 in Port Gibson. His wife, Katherine, died 6 February 1988 in Vicksburg, Warren County, Mississippi.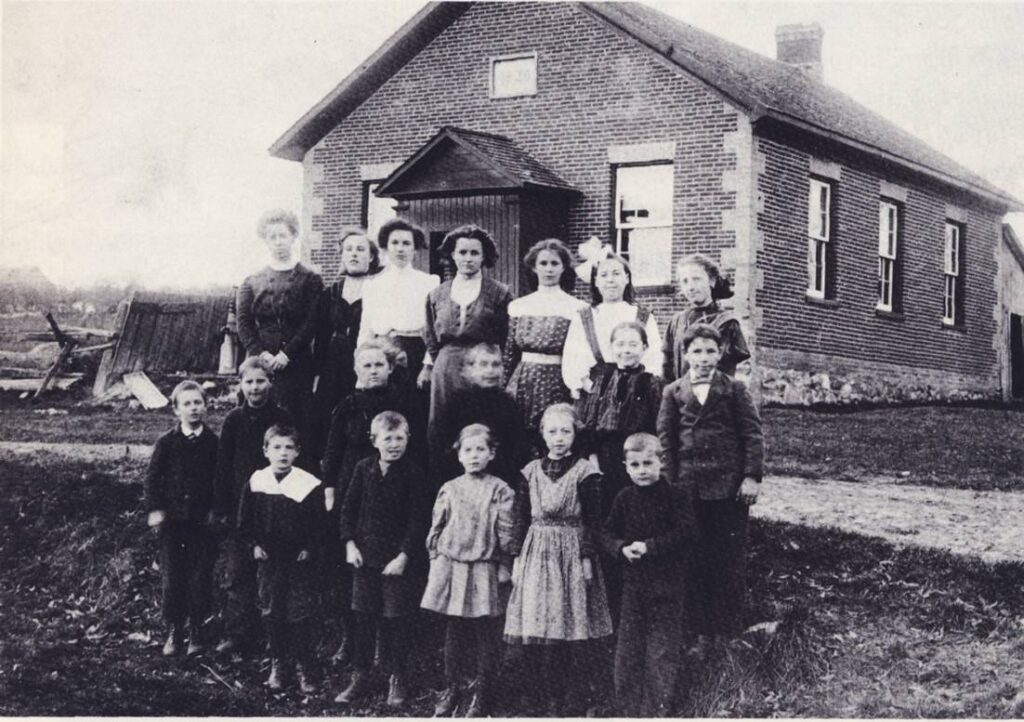 Back Row L-R: Teacher Miss Elliot, Murton Colon, Vilda Trew, Alma Dobbin, Della Bidgood, Epsie Adamson, Lottie Ball
Middle Row L-R: George Cannon, Jack Whitfield, Annie Brown, George Whitfield, Pearl Cannon, Allie Bidgood
Front Row L-R: Walter Hayward, Harold Ball, Marion Clark, Bessie Wilson, Bob Whitfield