Eugene Joseph Moloney and Mary Agnes McAuliffe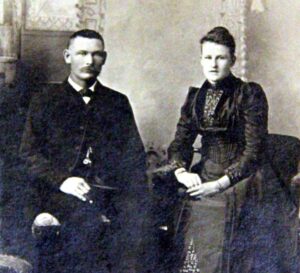 Eugene Moloney was born in Ennismore Township, Peterborough County, on 26 January 1858. He was the second oldest son and fifth child born to Francis Joseph Moloney and Hannah McCarthy. In addition to his older brother, John, there were three older sisters, Maria, Margaret and Catherine all of whom were born before 1858. Of his younger brothers, there were Francis born in 1859, James born in 1861, William born about 1863, Stephen born about 1865 and Paul born about 1866.
Eugene's parents had both come to Upper Canada as part of the Peter Robinson emigration in the year 1825. Francis Joseph Moloney was born in County Cork, Ireland in 1818. His future wife, Hannah McCarthy, was born in 1823 in County Cork. Francis and Hannah married in the town of Peterborough, Upper Canada, at St. Peter's Church on 8 March 1851.
They settled on Lot 5 Concession 5 in Ennismore Township to farm and raise their family of sons and daughters as named above.

As a young man, Eugene Joseph Moloney took up farming. Within a few years he then married Mary Ann Crough. The only daughter of William Crough and Ellen Scully, Mary Ann became the wife of Eugene Moloney on 26 January 1886. They married at St. Martin's Church, in Ennismore Township.
On 20 January 1888, Mary Ann gave birth to a baby daughter. They named her Helen Gertrude Prisca Moloney. Throughout her lifetime she was known as Ellen. Mary Ann Moloney did not survive the birth  of her first child. She lingered for two weeks after the baby's birth, but died on 2 February 1888. Mary Ann (Crough) Moloney was buried in St. Martin's Cemetery, Ennismore Township.

Three years later, Eugene Moloney married again. His second wife was Mary Agnes McAuliffe. Mary Agnes was born 10 April 1871, a daughter of Peter and Ellen (Brick) McAuliffe. Eugene and Mary Agnes were married at St. Martin's Church, Ennismore on 8 February 1891.
The first seven children born to Eugene and Mary Agnes were all sons. Francis Joseph, known as Frank, was born in 1892 and Peter was born in 1893. Paul William Moloney was born and died in 1894. Perry Paul Moloney was born in 1894 and died in 1896. Patrick Moloney was born in 1896 and Eugene was born in 1897. Joseph, born in 1899 was the youngest of the seven sons. Mary Ellen Moloney was born in 1905. Three more daughters who died as infants were born in 1906, 1908 and 1909 respectively.
Frank Moloney was born in 1892 in Peterborough, Ontario. As a young man he married Mary Florence Killen on 12 October 1915. Mary Florence, born 30 May 1955, was the daughter of Samuel Killen and Julia Hickson.
Frank and Mary lived in Peterborough where they raised a daughter, Margaret Mary Moloney. Margaret grew up and married Gerald Francis Healey.
Frank Moloney died in 1949. Mary Florence (Killen) Moloney died in 1955. They rest in St. Peter's Cemetery, Peterborough.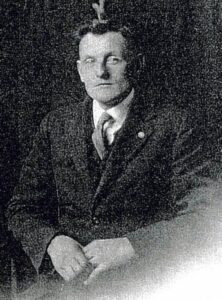 Peter Joseph Moloney was born in 1893. He married Edith Gladys Williams Barton. Edith was born 1897.  Peter served in the Second World War and was decorated for his bravery. Peter and Edith lived in Detroit, Michigan, where they raised a family of five sons. Peter died in 1951. His wife, Edith Gladys Williams (Barton) Moloney died in 1987.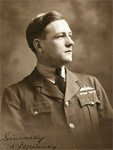 Patrick Herbert Moloney was born in April 1896. He marriage Margaret Holland who was a daughter of Daniel Holland and Elizabeth Harrington. Margaret was born in October 1907, in Ennismore. Patrick Moloney died in August 1973. Margaret (Holland) Moloney died 23 December 1997. They rest in St. Martin's Cemetery, Ennismore.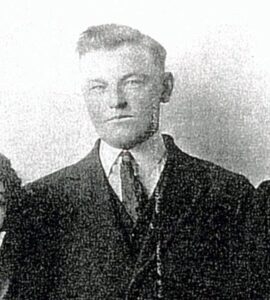 Eugene Louis Moloney was born in August 1897. As a young man he married Gertrude Ellen Perdue. Gertrude was born in February 1894, a daughter of Robert Perdue and Rebecca Herlihey. They married at St. Luke's Parish Church in Downeyville, Ontario on 9 September 1919. Eugene and Gertude raised a family of seven sons and one daughter.
Gertrude Ellen (Perdue) Moloney, died in Ennismore Township in 1956. Eugene Louis Moloney died 30 October 1979.
Mary Ellen Moloney was born in January 1905. She is the only daughter of Eugene and Mary Agnes McAuliffe who survived to adulthood. Mary Ellen married Edward Joseph O'Malley, born in Ennismore in 1896.  Edward and Mary Ellen raised two sons and three daughters. Edward died at Hazel Crest, Cook County, Illinois on 16 November 1973. Mary Ellen (Moloney) O'Malley died at Hazel Crest on 3 January 1882.